Although the NHL season is winding down for the majority of NHL teams, the action will once again begin to heat up as the off-season approaches. Not only does this mean the return of the highly entertaining annual NHL Entry Draft, but also the beginning of unrestricted free agency (UFA) come July 1st.
A number of star players who were set to become UFA's July 1st are already off the market, having been re-signed by their current clubs. Stars such as the Islanders' Johnny Boychuk, Penguins goaltender Marc-Andre Fleury and Rangers blue-liner Marc Staal are off the board, however there are a large number of quality players who remain in search of a potential new home.
With that being said, let's take a quick look at 10 of the top UFA's come July 1st, 2015, in no particular order.
Antti Niemi
Goaltender Antti Niemi will likely draw considerable interest come July 1st. A veteran goaltender with playoff experience and success, Niemi, 31, has logged a ton of postseason playing time with the Sharks, however both he and the team have failed to secure considerable success in his five seasons in San Jose.
As the 2014-15 trade deadline came and passed, the Sharks chose not to deal Niemi, however the plan seems to have backfired as the Sharks will likely miss the playoffs and receive no return for Niemi come the end of the season.
Niemi has had a solid season, while his $3.8 Million cap hit seems fair for his quality of play. The ideal role for Niemi could be with a young, developing team, as such a situation would draw upon Niemi's veteran and playoff experience.
Paul Martin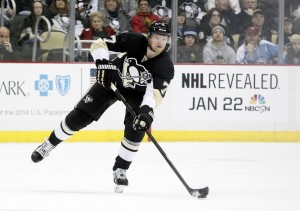 One of the top defensemen available come July 1st, Paul Martin will likely have a large number of potential suitors. At the age of 34, Martin is known primarily for his strong defensive game, yet he does have the ability to contribute offensively.
Martin, whose previous five year contract carried a cap hit of $5 Million dollars per season, could certainly demand a similar salary in his next contract, as his play has been consistently strong, especially this season.
Having never won a Stanley Cup, chances are Martin would prefer to sign with a guaranteed contender rather than a young team which requires time to sufficiently develop.
Carl Soderberg
As one of the most skilled forwards set to become a UFA, Carl Soderberg finds himself in a unique situation. At the age of 29, Soderberg has only played in the NHL for two seasons. In those two campaigns, Soderberg has scored nearly 50 points in each season, yet has failed to come close to the 20 goal plateau.
At 6 foot 3, 215 pounds, Soderberg will be a highly sought after player given his combination of size and skill. A bridge deal of two to three years will be the most likely scenario, however one factor guaranteed to change is his cap hit. Currently retaining a $1.008 Million dollar cap hit, Soderberg is slated for a solid raise.
Given his lack of significant NHL experience, a deal any longer than a few years is likely out of the question, yet despite this, Soderberg will be amongst the most valuable players available come July 1st.
Justin Williams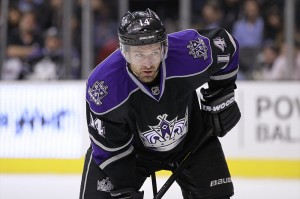 In case you weren't aware, playoff hero Justin Williams is indeed set to become a UFA July 1st.
A pending free agent, chances are Williams will re-sign with the Kings at the conclusion of this season. However, there remains the possibility that he tests free agency, given he has won virtually everything there is to win in Los Angeles.
At the age of 33, Williams is a solid two way player who can contribute offensively as well as secure his own end of the rink. Given his wealth of experience, Williams would be a considerable upgrade for any team hoping to make a deep playoff run.
With a current cap hit of $3.65 Million, Williams' salary likely won't fluctuate too greatly, however the fact that he is a Conn Smythe winner will certainly be taken into consideration.
Devan Dubnyk
Devan Dubnyk has been likely the most inspiring story in the NHL this year. After a disastrous 2013-14 season, Dubnyk's NHL career looked to be coming to an end, however, since being given an opportunity with Arizona and now Minnesota, Devan has established himself as one of the top goaltenders in the NHL today.
Like Soderberg, Dubnyk is also in an interesting situation. Prior to this season, Dubnyk struggled to say the least, making it difficult for a club to reward Dubnyk for one stellar season amid a career of inconsistency.
At the age of 28, Dubnyk has a ton of hockey ahead of him, while his current cap hit of 378K with the Wild, per conditions of his trade from Arizona, make Dubnyk the best bargain in the NHL. His 2014-15 contract, which pays 800K in total, is likely much less than the Wild or any other team will be willing to pay Devan for his services.
Considering Minnesota's lack of goaltending options, the Wild will likely retain Dubnyk with a one to two year contract, as despite his stellar play this year, it's hard to see a large number of NHL teams bidding for Dubnyk's inconsistent services.
Drew Stafford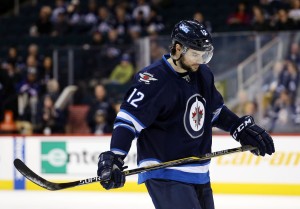 One of the more underrated players in the NHL today, Drew Stafford has quietly been an extremely effective player since his trade to the Winnipeg Jets .
A former 30 goal scorer and consistent point producer, Stafford has scored at nearly a point per game pace this season with the Jets. At the age of 29, Stafford has a long hockey future awaiting him, however which team it will be with remains up in the air.
Depending on the Jets' success this season, they could very well hope to re-sign Stafford. In his previous four year contract signed with the Sabres, Stafford's annual cap hit was $4 Million dollars. As a third or even second line forward, a similar cap hit in a new contract is highly likely, yet his pay could increase given his potential post season performance in the coming playoffs.
Mike Green
A former 30 goal scorer, defenseman Mike Green will be one of the most highly sought after players come July 1st.
Known for his exceptional offensive flair, Green is in the middle of yet another tremendous season with the Capitals, the tenth of his career. A former first round pick by Washington, Green, 29, still has plenty left in the tank and will most likely be on the move this off-season.
With a current cap hit of $6.08 Million dollars, Green would likely hope to once again play for a contender next season, yet will likely have to take a reduction in pay to make such a dream a reality.
Cody Franson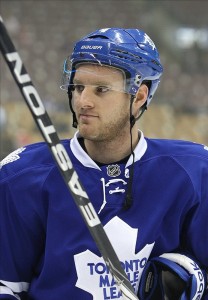 Another high quality defenseman, Cody Franson will be on the move this off-season from a crowded Nashville Predators' blue line.
A top 4 NHL defenseman, Franson will have little trouble attracting potential teams and has expressed interest in returning to the Toronto Maple Leafs. Not only does Franson have great size at 6 foot 5, 215 pounds, but he is very mobile for a bigger player. On top of this, Franson can pitch in offensively and has set a new career high in points this season, however, it is a trait which he has failed to carry over as a rental in Nashville.
At the age of 27, Franson is still a young player, while his $3.3 Million dollar cap hit is a fairly accurate salary considering his abilities, however he could likely demand more on the free agent market.
Mike Ribeiro
Mike Ribeiro is likely the most skilled player headed to free agency come July 1st. Despite the fact that Ribeiro is in the tail end of his career, he is still a dangerous player, as he has enjoyed one of his most productive years in the NHL this season with Nashville.
At 35, Ribeiro is nearing his 1000th game milestone and will likely play a few more seasons in the league. Currently owning a $1.05 Million dollar cap hit, Ribeiro looks to be headed for a raise, especially so if he inks a multi-year contract extension with the Predators prior to free agency.
Mike Fisher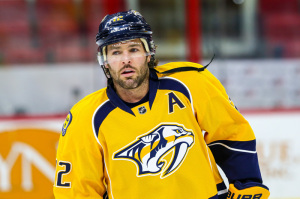 Yet another solid potential free agent is Mike Fisher.
At the age of 34, Fisher still has hockey ahead of him, especially so considering he has enjoyed an extremely productive year despite missing a good portion of the season.
A six time 20 goal scorer, Fisher is a big body at 6 foot 1, 215 pounds who plays an excellent two way game, while he could certainly reach the 20 goal mark this season despite missing almost 20 games.
If Fisher were to walk, it would be a huge loss for the Predators, as Fisher is one of Nashville's top centermen. His $4.2 Million dollar cap hit is average considering his production and influence on the outcome of a game. Despite this, it would be hard for Fisher to walk away from Nashville, where he and his family are comfortably situated, as at this point in his career Fisher likely values term over money. In all likelihood, the Predators will hope to re-sign Fisher before the first of July.