[This is the final part in a three-part series called 'Mario Lemieux, Ron Burkle, and the Future of the Pittsburgh Penguins']
According to the Washington Post, it only took Ron Burkle three hours to be convinced to invest $20 million into Penguins back in 1999.
Burkle was traveling from London to California on his private jet and stopped in Palm Beach, Florida for breakfast with Lemieux and his advisers.  Burkle agreed to invest his millions, Lemieux agreed to roll over the salary he was owed into equity, and the two have been linked for over 15 years since.
By my calculations, Lemieux and Burkle have already cashed out their initial stakes in the franchise through refinancing and restructuring.  That means the combined majority stake the pair still possess — in a team most recently valued by Forbes at $565 million — is effectively 'house money'.
Will Burkle simply let his investment ride or cash out at the top like he did with his grocery chains in the late-90's?
I'm tempted to think the latter.
From a macro perspective, sports franchise valuations are undoubtedly in the midst of a bubble.
Cheap financing will only be available for a short time and billionaires like Burkle circa 1999 are itching to find places to stash their profits before the next inevitable market pullback.
Former Microsoft CEO Steve Ballmer just paid $2 billion for ownership of the NBA's Los Angeles Clippers.  According to Forbes, the Clippers had $20 million in operating income last year on $146 million in revenue.  By comparison, the Penguins had $22 million in operating income on $141 million in revenue.
Finding an irrational buyer like Ballmer to invest in the NHL won't be as easy, but the league has arguably never been in better shape financially.
Long-term broadcast revenue is guaranteed with new national TV deals the league signed with NBC and Sportsnet. Expansion and relocation fees will put more money into the pockets of NHL owners over the coming years.  Even the terms of the Collective Bargaining Agreement are locked in place through 2022.
From a Penguins perspective, the foundation of the franchise is showing cracks.
Last summer, the Post-Gazette reported that the team's season ticket waiting list had been cut nearly in half.  Tickets for Game 7 playoff games nearly went unsold as well and the team's long-standing sellout streak will probably soon be in jeopardy.
Those metrics likely haven't improved as ticket prices have risen to the same unreasonably high level as fan expectations.  The Penguins of the late 90's experienced a similar rise before spiraling into chaos and bankruptcy.
That isn't to say this version of the Penguins is on the verge of a catastrophic collapse.  But where will Ron Burkle find financial upside in his Penguins investment?
The team already built a new arena.  They locked themselves into a long-term local TV deal with Root Sports back in 2011 just before sports TV rights deals started to go through the roof. The Pittsburgh Pirates are quickly becoming the hot ticket in town, just as the Penguins were when they returned to the playoffs in 2007.
Will there ever be a better time for Burkle to lock in an incredible return on his hockey investment?
And don't forget on the ice.  Is it reasonable to expect the Penguins to win at least two more Stanley Cups considering Sidney Crosby will turn 28 this summer?
Of course, 28 doesn't sound old until you read this analysis by Adam Gretz at CBS Sportsline:
"Let's take Wayne Gretzky for example. The greatest player in hockey history and the guy who scored more goals than any other player had his three best goal-scoring seasons by his age-24 season…Doesn't matter the era, or what team they played for, or who it was, the meaty part of a goal-scorer's career is somewhere between the ages of 22 and 26, and then after that, there is an obvious drop."
So what about Mario Lemieux?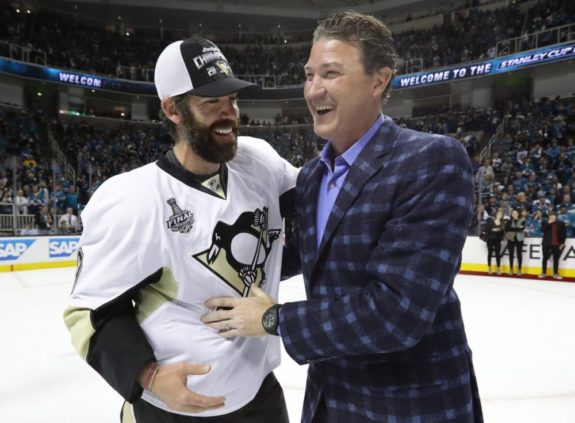 I've always wondered how much Lemieux really embraces his role as owner and public face of a hockey team. His involvement in purchasing the Penguins out of bankruptcy was necessary to have a chance at recovering deferred salary owed to him from his playing days.
The fairytale legend grew as he came out of the press box and returned to the ice in 2000 — again, improving the financial situation of the team and by extension his chances of recovering the millions he was owed.
His final act was securing a new arena for the team in Pittsburgh, which paved the way for him to quietly exit with reputation and bank account intact.
Many forget that Lemieux and Burkle were ready to sell the team ten years ago.  Is it that outrageous to wonder if the pair will explore the possibility again?
The youngest of Lemieux's four children is finishing high school this year and Mario recently completed construction on a $20 million mansion near Montreal.  Keep in mind that Lemieux is not one to flaunt his wealth.  A house of this size (click here for an image), which is far closer to his family in Montreal, certainly doesn't look like a weekend getaway home, does it?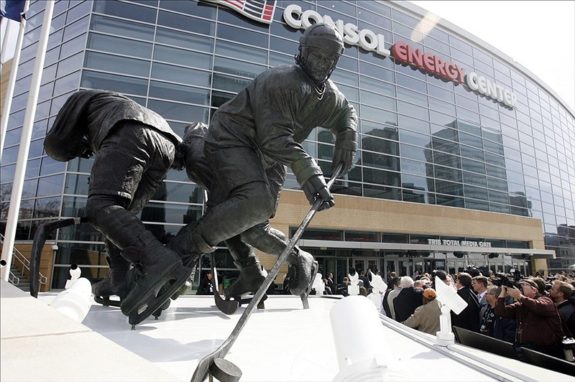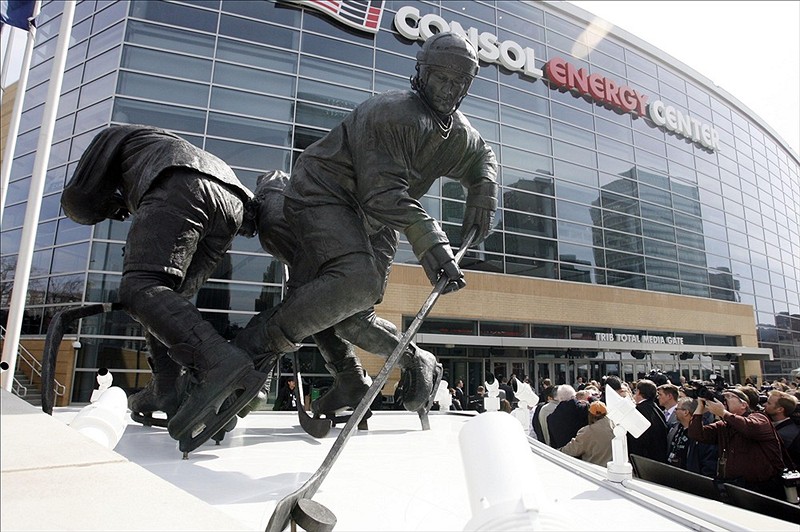 Burkle and Lemieux have very different personalities, yet somehow they seem like a pair that just "works".  Maybe it shouldn't come as a surprise, as different skills and perspectives often lead to successful management teams both in sports and in business.
They seem to approach franchise ownership with different motivations as well — for Burkle, the Pittsburgh Penguins are an investment, while for Lemieux, the Pittsburgh Penguins are his legacy.
But it seems like we're reaching a point where the two might consider moving on.
For Burkle: to his next investment opportunity.
For Lemieux: to the next phase of his life.