The National Hockey League is privileged to boast a wide variety of characters and their unique personalities. From the stern and uptight, such as Chicago Blackhawks captain Jonathan Toews, to those more laid back and playful, such as Montreal Canadians defender P.K Subban, the NHL is home to some of the most entertaining individual personalities in sport.
Players with such great personalities are known for their play off of the ice, in social media and team events, as well as on the ice, fulfilling important roles with their respective teams.
Individuals such as these tend to be amongst the most beloved players. They play significant roles with their teams which typically leads to them becoming fan favourites through both their on ice play, as well as through their unique and widely admirable character.
3. Paul Bissonnette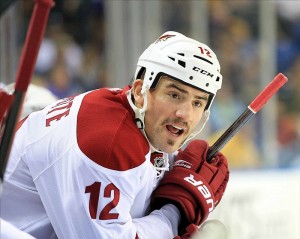 Paul Bissonnette is without a doubt one of the best personalities in the NHL today. Most significantly known for his social media activity, Bissonnette has long gained the admiration of hockey fans everywhere with his playful and comedic personality. Known for his well thought out, sharp re-buttals online, Bissonnette backs up his outgoing personality on the ice.
As most know, Bissonnette most recently suited up for the now Arizona Coyotes, a team with which he competed with for five seasons. His role on the Coyotes was an admirable one; playing relatively little minutes yet being prepared to engage in a fight at a moments notice in order to stick up for and defend his fellow teammates.
Through his five seasons with the Coyotes, Bissonnette played in 187 games, while registering 318 PIM, 240 of which came in his 48 fights with the team.
In fulfilling such as role, Bissonnette became one a fan favourite of the Coyotes faithful. His gutsy, yet often comedic play on the ice, alongside his wild, off ice social media affairs has made Bissonnette one of the greatest player personalities in the NHL today.
 2. Ilya Bryzgalov
Ilya Bryzgalov has certainly become known as one of the greatest player personalities in the NHL.
Bryzgalov, whose NHL career has for the moment come to a halt, was once one of the best goalies in the NHL. Ilya's days as a star goaltender came while with the Coyotes, most notably in the 2009 and 2010 seasons, in which Bryzgalov totalled save percentages of .920 and .921 to go along with a combined 78 wins. It was during these two seasons in which Bryzgalov was named an All-Star in back to back seasons while finishing second in Vezina Trophy voting in 2009-10.
Following his success with the Coyotes, Bryzgalov eventually signed his infamous 9 year, 51 Million dollar contract with the Philadelphia Flyers. Yet Ilya, a star goaltender playing in a major hockey market for the first time in his career, stumbled under the pressure, playing poor, inconsistent hockey which eventually led to his buyout in the 2013 off season.
Along the way, Bryzgalov's true personality began to emerge alongside his chronic frustrations, providing hockey fans with some of the most memorable sound bites in the history of the NHL, cementing his place as one of the top personalities in hockey.
1. Roberto Luongo
Roberto Luongo checks in at number one on the list, due largely in part to his widely attractive personality both on and off the ice.
Luongo is best known for his successful tenure with the Vancouver Canucks. It was during his time in Vancouver which saw Roberto become one of the best goalies in the NHL. A six time All-Star, Luongo finished in the top 10 in Vezina Trophy voting during his first five seasons with the Canucks. During these five seasons, the Canucks reached the playoffs four times, capped off by a trip, led largely by Luongo, to the 2010-11 Stanley Cup Finals, were Vancouver lost game seven to the Boston Bruins.
In the immediate years following the disappointing result, Luongo saw his playing time regress consistently, as emerging goaltender Cory Schneider began to steal the starting job. During this stressful time, Luongo displayed his calm and playful personality, making frequent jokes to downplay the goalie controversy which was brewing in Vancouver.
Yet just when it appeared Luongo's days in Vancouver were coming to a close, Schneider was traded to the New Jersey Devils, allowing Luongo to once again assume the starting role.
This time, Luongo, rather than play off the situation with humor, was understandably frustrated with the Canucks, yet illustrated strong personal strength, vowing to do his best as the starting goalie of the Canucks, a role short lived as Luongo was delt back to the Florida Panthers during the 2013-14 season.
Roberto Luongo still displays his playful and comedic personality, largely through his popular twitter account, in which he often pokes fun at himself and other players for their on ice play.
In looking into the top personalities in the NHL today, it is clear that there is more to hockey and its players than simply playing the game, as all hockey players have distinct personalities which can have great influence on situations and outcomes within the NHL.
Brett Slawson is a four-year veteran of The Hockey Writers who covers the Toronto Maple Leafs, NHL prospects, and the OHL's Mississauga Steelheads.
Contact Brett on Twitter @brettslawson92, or by email at brett_slawson@hotmail.com.