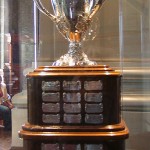 Earlier in the week, we looked at three potential Calder Trophy candidates for the upcoming season.  In the first part of the Not-so-obvious Calder Candidates, Zac Dalpe (Hurricanes), Brendan Smith (Red Wings) and Mark Dekanich (Blue Jackets) highlighted the one forward, one defenseman and one goaltender with a chance to take home the rookie hardware.  All three have their work cut out for them as they either need to outplay more seasoned veterans for a roster spot or have an injury occur to a teammate to gain more opportunity. In the second part, three more not-so-obvious Calder candidates (one forward, one defenseman, and one goaltender) are featured as they enter NHL main camps with one goal in mind – earning more opportunity with the big club.
Forward – Cody Hodgson (Vancouver Canucks)
The Vancouver Canuck fans have waited for what seems like forever for their highest draft pick in the last decade.  Hodgson was the tenth overall selection in the 2008 draft year that featured star players such as the Lightning's Stamkos (1st), King's Doughty (2nd) and Blue's Pietrangelo (4th).  The hometown Toronto kid used his draft year momentum to put together an impressive 2008-09 OHL season with the Brampton Battalion.  Cody finished that season with an impressive 43 goals and 92 points in only 53 OHL games.  It was a performance that would earn him a collection of prestigious major junior awards.  In 2008-09, Hodgson took home the OHL's William Hanley Trophy for most gentlemanly player, the OHL's Red Tilson Trophy for the most outstanding player, was named to the OHL First All-Star Team and was the recipient of the Canadian Major Junior Player of the Year Award.  It was a remarkable season that would earn him a call up to the AHL's Manitoba Moose for their playoff run and Hodgson performed well potting two goals and six points in eleven playoff contests.    Unfortunately, Hodgson's year of success was followed by a season of injury and frustration.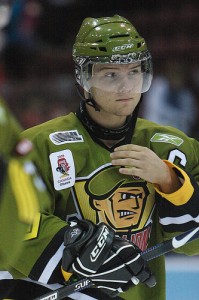 In Hodgson's final OHL season, he was limited to just thirteen regular season games and although his production (8G-12A-20P) was impressive in a shortened season, Cody wanted to finish his final season of OHL hockey on a higher note.  Last season, Hodgson made the jump to the AHL's Manitoba Moose to play professional hockey.  Cody had his fair share of struggles early on but soon found his legs at the professional level.   Again, his success would be short lived when he received an accidental high stick to the face from his teammate and received news that he would miss almost two months with a broken orbital bone.  Eventually, Hodgson returned to the lineup and earned an eight-game call up to the Vancouver Canucks that would turn into a prolonged stay for some playoff games as well.  The former junior star has shown that he can produce at every level but it has been his injuries (mainly back issues) that have delayed his NHL arrival.
Hodgson remains the Canucks' top prospect and he has a true opportunity to move up the depth chart as he enters this year's training camp.  The Canucks will likely be without Ryan Kesler to start the season which opens up the second line center position for Hodgson.  Mason Raymond and Mikael Samuelsson's injury statuses are also questionable and that news provides Hodgson with the chance to earn valuable ice time on special teams as well.  Furthermore, the Canucks have received news that Hodgson is the healthiest he has been in his short career (both physically and mentally) after working out all summer with former NHLer turned fitness guru, Gary Roberts.  Cody Hodgson has also dedicated some off-season time to working with former agitator Claude Lemieux in addressing the psychological demands of being a professional hockey player.  The entire recipe has the potential to make the somewhat forgotten junior star a true Calder Candidate if Hodgson can take hold of the opportunity that sits waiting for him.
Defenseman – Jonathon Blum (Nashville Predators)
Is there an organization better at drafting and developing defensive prospects than the Nashville Predators?  To put it bluntly – absolutely not.  The Predators have had tremendous success at solidifying their defence core with the likes of Ryan Suter, Shea Weber, and Kevin Klein.  The list does not stop with those three as Nashville has a long list of defensive prospects itching for NHL action including Roman Josi, Mattias Ekholm, Ryan Ellis and Teemu Laakso.  Earlier this summer, Predators General Manager David Poile traded away another top defenseman in Cody Franson to alleviate cap space.  It was a move Poile would not have made if the Predators weren't so impressed with the play of 2007 first-round pick Jonathon Blum.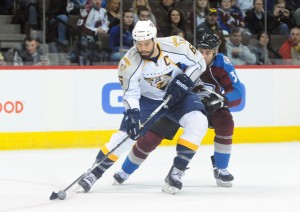 The former Vancouver Giant (WHL) was called up in February last season to the Nashville Predators and impressed the team with his solid play.  Blum is an offensive defenseman that excels as a puck-moving rearguard.  In 23 NHL games last season, Blum registered eight points and demonstrated that he was capable of logging more minutes with the big club.  The six-foot-one-inch Long Beach, California native excelled in the Western Hockey League recording over 50 points in three straight seasons including a remarkable 66 points in 51 games in his final season.  It was a performance that would earn him similar accolades to Cody Hodgson above.  Blum was the recipient of both the WHL's Bill Hunter Trophy (top defenseman) and the Canadian Major Junior Defenseman of the Year Award.  Additionally, Jonathon Blum was named to the WHL's First All-Star team in that successful 2008-09 WHL season.
Blum is poised for a breakout season as he's expected to receive an increase in responsibility and should become the Predators' powerplay quarterback on their second unit.  With the uncertain futures of the Predators' top defence pairing, Weber (RFA) and Suter (UFA), the intuitive Blum could become the undisputed number one defender in Music City within a few seasons.  Jonathon Blum is a name that should not be forgotten when discussing potential Calder candidates – the opportunity, skill set and track record confirms that the twenty-two year old is a serious contender.
Goaltender – Jhonas Enroth (Buffalo Sabres)
The undersized (5'10") Swedish netminder has a few hurdles to leap to become a true Calder candidate but Enroth is a Ryan Miller injury away from backstopping a very talented and driven Buffalo Sabres team.  Under new ownership, the Sabres were determined to get better and the acquisitions of Robin Regehr and Christian Erhoff will certainly improve the defence standing in front of the Buffalo goaltending tandem.  It was reported by James Mirtle that Jhonas Enroth was seriously considering an offer from the KHL but ultimately decided to take a pay cut and remain with the franchise that drafted him 46thoverall in 2006 for another two seasons.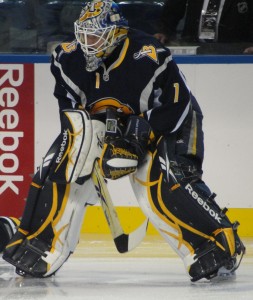 Enroth is one of the rare small NHL goaltenders but has proven that elite reflexes, quick agility and solid positioning are just as important as physical size.  In fourteen appearances last season with Buffalo, Enroth posted a respectable 2.73 goals-against average and .907 save percentage but more importantly earned the trust of his teammates.  The Buffalo Sabres would play to an astonishing 9-2-2 record with Jhonas between the pipes.  In fact, Jhonas was the first NHL goaltender in history to record his first three wins in the NHL via the shootout.  The athletic butterfly goaltender will certainly need an injury to the Sabres' franchise goaltender in order for him to have any chance at competing for the Calder.  In reality, almost all goaltenders in the backup position require an injury to their superior and Enroth will certainly be prepared if that unfortunate situation arises.
The not-so-obvious Calder candidate list continues to grow with the additions of Hodgson, Blum and Enroth.  The opportunity is ripe for both skaters to take advantage of and while Enroth's path is not as clear cut, he certainly stands the chance as a serious sleeper.  If you find yourself searching for potential rookie breakouts do not forget to look deeper into the depth charts and find these gamers sitting NHL ready and eager to make their mark.
Please check back for the next trio of not-so-obvious Calder candidates.  Follow prospects writer Brendan Ross on twitter @rossyyoungblood.
My passion for the game has led me to writing about hockey, specifically dealing with the future of hockey and it's prospects.
You can find more of my work at DobberProspects.com, TheHockeyGuys.net and OHLWriters.com
Outside of the rink, I enjoy spending time with my friends, golfing, kayaking and fishing as well as competing in several of my own hockey leagues.
If you so do choose, please feel free to follow my thoughts and work on twitter @RossyYoungblood