The Flyers have seen a lot of very good players pass through the Wells Fargo Center since the turn of the millennium. Goal scorers, Vezina winners, you name it. Here is a compilation of the ultimate Flyer team of the 2000s (includes anyone that played from 2000 and after).
Line 1: LeClair-Primeau-Recchi
Take all three of these players in their prime, and you have a line that would be absolutely deadly.
John Leclair had probably one of the most lethal shots in the NHL at the time, and was a natural-born goal scorer. While his numbers started to somewhat dwindle in the 2000s, LeClair was still someone to fall back on, which was why he donned the 'A' for most of his Flyer career. LeClair's Flyer career included 333 goals and 643 points in 649 games. He also became the first US born player to score 50 goals in three straight seasons, although that was during his legion of doom days, in the 90s.
As Bill Clement would say, LeClair "bumped the twine with authority."
Mark Recchi is a name that has stuck with almost all Flyer fans, and he was certainly a fan favorite here. Recchi had two, 100 point seasons as a Flyer in the 90s, and was still a force well in to the 2000s, and was one of the big pieces of the Flyers remarkable playoff run in 2004. His most memorable goal of the 2000s was undoubtedly when he scored in the third overtime to beat Toronto in 2003. Don't forget, Recchi wasn't afraid to get dirty and drop the gloves either.
Recchi was the ideal Flyer back in his hayday, and would be great on a first line with Primeau and LeClair.
Keith Primeau is probably the best name on the list. He earned himself the nickname "Suprimeau" because of his amazing playoff performance in 2004, but the list doesn't end there. Countless times through the 2000s, Primeau showed up when the Flyers needed a hero the most. In 2000, he ended the longest game in modern NHL history. In the 92nd minute of overtime, Primeau put one home against Ron Tugnutt to beat the Penguins. No one forgets that one.
Then a few years later in 2004, in the midst of that epic playoff performance, Primeau managed a hattrick at home against the Toronto Maple Leafs en route to ousting them in the Conference Semifinals. There are so many clutch goals it's hard to list them all. Primeau will be forever remembered as one of the best Flyer captains. Oh, and let's not forget this goal. As Bill Clement would say "The Legend of Keith Primeau continues".
Line 2: Gagne-Roenick-Forsberg
Simon Gagne is another one of those guys that is just synonymous with Philadelphia sports. He, along with Keith Primeau just always seemed to find the net at the right time. Gagne struggled with injuries during the course of his career, but still managed 535 points in 691 games as a Flyer.
His knack for finding the net at the best times started in 2004 when he scored in game 6 to lift the Flyers over the Tampa Bay Lightning and force a game 7. The clutch goals continued later on in his career. Gagne came back from injury in game 4 of the 2010 Eastern Conference Semifinals. The Flyers were seemingly just playing for pride at this point, as they were down 0-3 in the series and hanging on for dear life in overtime. Gagne redirected a Matt Carle shot and got the Flyers a win. Little did anyone know at the time, that would spark one of the most memorable comebacks in sports history, And how ironic that Gagne, the man who started the comeback, would be the one to finish it.
Jeremy Roenick was a streaky player as a Flyer, and was only here for 3 seasons, but during that time, he put up 173 points in 216 games. He was also a model two-way forward, finishing his Flyer career as a plus-53.
He, along with many other players, made this list mostly in part because of his involvement in the 2004 Flyers. Roenick moonwalked the Flyers to a series win over the Toronto Maple Leafs in 2004, sending them to the Eastern Conference Finals. He missed time due to injury that season, but would have more than likely led the Flyers in goals if he hadn't.
Peter Forsberg falls under the category of 'What Could Have Been'. Forsberg was signed following the 2004-05 lockout to the shock of many Flyer fans. Just two seasons earlier, Forsberg had led the league with 106 points and almost right away he found chemistry on a line with Gagne. He was a large part of Gagne's career high 47 goals that season.Of course, all of this didn't come without problems. Forsberg had nagging foot problems that he couldn't seem to alleviate at all, and during the historically bad 2006-07 season he was traded to Nashville.
During his short Flyer career, Forsberg managed 115 points in 100 games. You can't help but think if he were healthy the whole time, that he may have been able to break 100 points in a season as a Flyer.
Line 3: Briere-Giroux-Voracek
This one could be the more modern Flyers line.
Danny Briere really speaks for himself when it comes to his Flyer career. He was a leader on and off the ice, and arguably one of the best playoff performers in Flyers history. His 30 points during the cup run in 2010 set a Flyers record, and he was just always in the right spot at the right time. The line of Leino-Briere-Hartnell was lethal during the course of the 2010 playoffs (especially the latter part) and Briere was the centerpiece. Right up until his Flyer career ended, Danny Briere was fist-pumping after his timely goals.
It's hard to find anything bad to say about Claude Giroux. Giroux broke into the league with the Flyers in 2008-09 and quickly made his mark with dazzling moves and 27 points in 42 games. That year he also became the first Flyers rookie to earn himself a Gordie Howe Hattrick in a playoff game. That came against the Pittsburgh Penguins in game 3.
Giroux has proved himself as captain over and over again and has already eclipsed 90 points once in his career. Giroux also holds the Flyers record for most points in a single post-season game, with 6 in game 2 against Pittsburgh in 2012. He will be a household name for Flyers fans for a long time to come and is already more than deserving of being on this list.
Jakub Voracek is another young guy who made this list, and rightfully so. In his four years as a Flyer, Voracek has already put up 238 points in 290 games. He has found chemistry with the Flyers top center, and is all over the ice every night. Voracek has everything going his way after inking a new deal with the Flyers and should only get better. He could easily become a point per game player within the next few seasons and is poised to become one of the best wingers on this list. He'll fight, he'll score, and he'll come up in the clutch.
Line 4: Hartnell-Richards-Carter
Scott Hartnell was an interesting player. He looked flimsy on his feet, but he always found himself in the right position. Not to mention, he was everything Flyer fans wanted. Hard-nosed, gritty, and tough. Hartnell found quick chemistry alongside Giroux, even though their games seemed like polar opposites.
Hartnell played 7 seasons as a Flyer and had 326 points in 517 games. That includes the 2011-12 season where he scored 37 goals and had 67 points as an all-star.
Bringing up Mike Richards' name today doesn't get you very far. You'll hear about legal trouble, a terminated contract, and a player who has just lost it. That doesn't mean Mike Richards wasn't one heck of a Flyer. Richards scored 349 points in 453 games as a Flyer including four of six seasons in which he scored over 60 points. He was a solid captain who night in and night out left it all on the ice. That was especially evident in the 2010 playoffs. He was also one of the most potent shorthanded threats the Flyers have ever seen.
Jeff Carter couldn't be left off of this list. Since 2000, he was no doubt one of the most lethal natural-born goal scorers the Flyers have seen. In his time in Philadelphia, Carter managed 343 points in 463 games. That campaign included a 46 goal season in 2008-09 when he was just 24 years old. Carter was frequently nagged on for not producing in the playoffs here, but he did suffer his fair share of injuries in the post-season.
Regardless, he was one of the best Flyers for and extended period of time, and has one of the best wrist shots in the game.
Defense 1: Pronger-Carle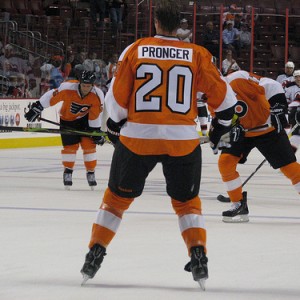 Pronger is probably the most commanding defenseman the Flyers have seen over this time period. He was big, mean, and had a slap shot that no one wanted to stand in front of. He is a first ballot hall of famer.
However, his partner was frequently overlooked. Matt Carle did an outstanding job alongside Pronger during his time here. Carle was a very solid offensive defenseman, and paired very well with Pronger, due to his quickness. Over his four seasons in Philadelphia, Carle was a plus-55, including being among the league leaders as a plus-30 in 2010-11. Carle had more than 29 assists and 35 points in each full season as a Flyer.
Defense 2: Desjardins-Timonen
Eric Desjardins was a staple on the Flyer blue line for an extended period of time. He played 11 seasons in a Flyer and only finished as a minus twice while he was here. He shares the Flyer records for most powerplay goals as a defenseman in his career and season with Mark Howe. Desjardins also holds the Flyers record for most post-season goals by a defenseman.
Kimmo Timonen is another guy that speaks for himself. He was an anchor along the Flyer blueline and seemingly indestructible. Night in and night out, Timonen would lay his body on the line to block shots. He was also the backbone of the Flyer powerplay for so long. He was a plus-44 as a Flyer and had 270 points and only missed 21 games over the course of 7 seasons here (aside from his blood clot issue).
Defense 3: Johnsson-Therien
Kim Johnsson was always a quiet threat along the Flyer blueline, he was also a big piece to the Flyers success in 2004. Johnsson played here for four seasons (three full) and in each of his three full seasons, he put up north of 39 points and 10 goals. He was always solid and reliable. Chirs Therien was well-known because he played 11 seasons in the orange and black. He wasn't known for his offense, but in the day when NHL teams relied on big defenders, Therien thrived. In his 11 seasons in Phialdelphia, he never finished as a minus, and finished his Flyer career as a plus-126. He came back to the Flyers for one last stint in 2005-06, but that quickly ended as he fell victim to the newer NHL.
Goalie: Sergei Bobrovsky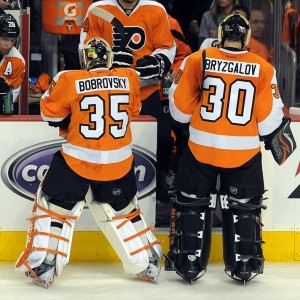 This was probably the hardest decision on the list and falls under the category of "What Could Have Been".
Sergei Bobrovsky broke into the Flyers organization right after their cup run, as Michael Leighton was becoming unreliable, and the Flyers really had no other viable option in net. People quickly realized that Bobrovsky was a very talented goaltender, and even Flyers players and management were raving about what he could become. He was quick, composed, and relaxed. Everything you want to see in a goalie. Despite being young, however, the Flyers felt pressured after Bobrovsky didn't look his best that year in the post-season. They quickly panicked, pulled him, and he undoubtedly lost confidence. That also led them straight into the Ilya Bryzgalov disaster.
Sergei Bobrovsky went on to win the Vezina, something the Flyers haven't had since Ron Hextall in 1986-87. Bobrovsky was no doubt the best goalie to come through the Flyers organization since 2000. The rest, atleast so far, have just been one hit wonders.
Coach: Peter Laviolette
Ken Hitchock comes very close, but he just couldn't beat out Laviolette.
Peter Laviolette inherited the Flyers in the midst of a disaster. When the Flyers hired him in December of 2009, they weren't scoring, they looked lost, and they were dropping like a rock in the standings. It took time, but Laviolette turned that around. By the end of the 2009-10 season Laviolette took a team that looked destined to fail, and brought them to within one game of the Stanley Cup. That's incredible.
He was also admired for the attention he demanded from his players. Most notably in the timeout he called when the Flyers fell behind in game 7 in Boston in 2010. The team rallied behind him and came back to win the game. He was also renowned in Philadelphia for the fire he brought behind the bench, that was evident when he challenged former Pittsburgh coach Dan Bylsma. Laviolette coached the team to great success and is one of the key reasons they turned their season around in 2010. He is no doubt the best Flyer coach of the 2000's.