If there was ever any doubt that Team Canada was the most dominant hockey nation in the world, those doubts can now officially be put to rest.
Before the World Cup of Hockey started, in one of my original pieces I posed the question of whether or not Team Canada would dominate the tournament. Now that Canada has officially won the World Cup of Hockey, I can say that my words rang true. Canada won, but they had to overcome some major adversity on their way to the title.
Buying Into the Winning Culture
Team Canada is managed, coached and plays like a well-oiled machine. Every single player knows their role, even if it's a more non-traditional one. Take, for example, Matt Duchene.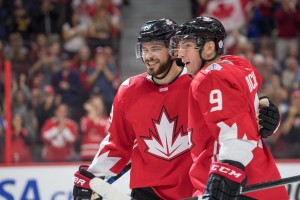 The Colorado Avalanche forward is one of the premier goal scorers in the league today. He plays top line minutes and is always an offensive threat. On Team Canada however, he plays on the fourth line where he is relegated to more of a speed and checking role.
The players selected to the squad are all picked for a specific reason. It's more than just pure talent, which Canada has an abundance of. They are picked because they fit the system that head coach Mike Babcock and his coaching staff have laid out and meticulously poured over.
It's worked in both Vancouver and Sochi in the recent past, and with Canada's latest win, it looks like the system has claimed yet another victory.
During this 12-0-0 streak from start of Sochi to now, Team Canada has outscored the opposition 41-11 (17-3 in Sochi and 24-8 at WCup)

— Pierre LeBrun (@PierreVLeBrun) September 30, 2016
Speaking of Babcock, with the World Cup win, he was able to make a little bit of history. He is now officially the first ever coach to win a Stanley Cup, World Championship, World Junior Championship and Olympic gold medal, and World Cup. It's an amazing legacy for the incredibly smart coach of the Maple Leafs.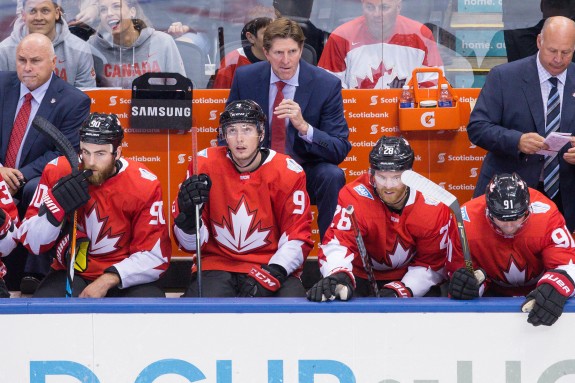 If you want to know exactly how good Canada is, take a second and think about the first game of the final between Team Canada and Team Europe. For the Canadian side, it was not their usual display of dominance. They came out of the gate sloppy and sluggish. It was one of their more flat performances in a number of years. The crazy part of all of that? They still won the game.
With Team Europe already trailing one game to nothing in the best of three, it was imperative that they came out firing on all cylinders in the do or die match. They did exactly that, scoring the first goal and holding off a lethargic looking Canada till late in the third period.
The Canadian side then was able to capitalize late courtesy of Boston Bruins teammates Patrice Bergeron and Brad Marchand. They both scored key goals, Bergeron's to tie the game and Marchand's to win in the tournament in dramatic fashion.
Team Canada is nigh unstoppable and is showing no signs of slowing down, now or in the future.
Canada vs. the World?
Team Canada's dominance of the hockey world is something incredible. Whether it was in Vancouver, Sochi or Toronto, the Canadian squad has gone out and got the job done. Knowing how dominant Canada has been, it was tough for some fans to get hyped about the World Cup.
The reasoning is easy to see. Canada is simply too much of a powerhouse. A victory at the end of the tournament was predictable and assured. That's not a knock against the Canadian side at all, rather, it's a compliment to exactly how good they've been the last five plus years. Let's not forget that this is also a Team Canada without the likes of Jamie Benn, Tyler Seguin and Duncan Keith on the roster.
Now an idea for the future. Fans want to see a more competitive game. They want to see someone give Canada a run for its money on the biggest stage in the world.
#TeamCanada hoisting #worldcupofhockey2016 #WCH2016 after 2-0 series win over #TeamEurope @HC_Men perfect pic.twitter.com/sKdqNOB6zE

— SiriusXM NHL Network Radio (@SiriusXMNHL) September 30, 2016
It's not able to happen in the Olympics, but maybe with the World Cup now out of the way, fans would be alright with another gimmick. Let's limit it to World Cup rosters for this particular idea.
Imagine a team of the best players from all the other squads, taking on Canada in a seven game series. It could include the likes of Alexander Ovechkin, Erik Karlsson, and others. You could play the games in all different cities, to get a unique flavour and experience with each one.
At this point, I don't believe there's a squad that could beat Canada in open competition. They are a talented collection of players, who know how to come together and win. Adversity or not, Canada somehow always finds a way. And with a constant influx of incoming talent, don't count on the dominance to come to and end anytime soon.
---
The Hockey Writers coverage of the World Cup of Hockey 2016 is being brought to you by PrimeSport, the official Fan Travel & Hospitality Package Partner of the World Cup of Hockey 2016.