Kucherov Won't Report to Lightning Training Camp Without Contract
Nikita Kucherov will not be reporting to training camp with the Tampa Bay Lightning until he has signed a contract, general manager Steve Yzerman said, according to the Tampa Bay Times' Joe Smith on Thursday.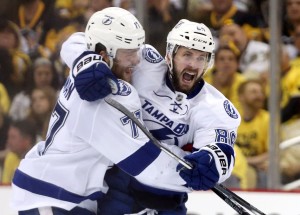 Kucherov's agent, Scott Greenspun, spoke to Yzerman about his client's intentions for training camp, according to Smith. Kucherov, 23, is the last remaining restricted free agent left to be signed by the Lightning in a summer that also included the need to re-sign players like Steven Stamkos, Alex Killorn, Nikita Nesterov and others.
The Lightning are currently in a bit of a salary cap crunch as the team has an estimated $5-5.5 million in remaining cap space, according to CapFriendly.com. Given Kucherov's performance the past couple seasons, including being one of the team's most valuable offensive assets in two deep playoff runs, he could fetch more than $6 million per season.
Yzerman was able to sign Stamkos to a team-friendly eight-year, $68 million contract in June and a little bit of a discount on Kucherov would help the team given its current cap situation. Earlier this summer, rumors swirled that starting goaltender Ben Bishop was set to be traded to clear some cap space, but he remains part of the roster as the team is set to open the 2016-17 season against the Detroit Red Wings on Oct. 13. It is still possible the Lightning explore a trade of some sort in an effort to re-sign Kucherov.
Some believe the six-year, $36 million contract that Nashville Predators forward Filip Forsberg signed earlier this offseason is the benchmark for the Kucherov deal, but Kucherov's playoff statistics—22 goals and 42 points in 45 games— may warrant a much more expensive contract for the Russian right winger.
In 2015-16, Kucherov set career-highs in goals (30) and points (66) in just 77 games, before registering 11 goals and 19 points in 17 postseason contests in route to the 2016 Eastern Conference Final.
After accomplishing the once unthinkable, by keeping Stamkos in a Lightning uniform and managing to sign other key pieces of the team earlier this offseason, the remaining hurdle for Yzerman is Kucherov. Despite Kucherov remaining unsigned at this point in the offseason, Yzerman has been confident in keeping Kucherov and has reportedly not considered a potential trade.
Kucherov was not a restricted free agent who had arbitration rights, which can hinder the process some as arbitration typically expedites a player and team coming to terms on an agreement.
"I think a lot of it is the system," Yzerman said, according to Smith. "With the restricted free agents, there's not really a hard deadline. Closest deadline you can have is probably the first day of training camp or first day of the regular season. Because now both sides really got to make a decision, is the player willing to hold out? Every year, there's a half dozen and this year there seems to be a few more of the restricted free agents without arb rights not yet signed. And I would assume, history has shown, gradually over the next couple weeks they all eventually get signed."
After a 2015-16 full of rumors about the future of Stamkos, Yzerman and his staff certainly want to avoid the potential distraction that a Kucherov holdout or trade speculation would pose this season if Kucherov cannot be signed in the next couple of weeks.
Under the NHL's Collective Bargaining Agreement, a restricted free agent that remains unsigned as of Dec. 1 forfeits the remaining season.
Canadiens' Shaw Suspended Three Preseason Games
Montreal Canadiens forward Andrew Shaw has been suspended for three preseason games, the NHL's Department of Player Safety announced on Thursday.
The suspension came after a hearing that took place earlier in the day to review a play that occurred during Tuesday night's game between the Canadiens and the Washington Capitals. During the game, Shaw boarded Capitals defenseman Connor Hobbs. Shaw received a five-minute major for the hit and fought with Capitals forward Nathan Walker immediately after the play.
Shaw plays a physical style and has been suspended by the NHL's Department of Player Safety for three games when he collided with Arizona Coyotes goaltender Mike Smith.
The NHL's Department of Player Safety provided the following comments about the play, as part of its video explaining Shaw's suspension:
"Hobbs is never eligible to be checked by Shaw on this play. From the moment Shaw arrives at the face-off dot, he sees nothing but Hobbs' numbers. Hobbs makes no sudden movement prior to contact that turns this hit from a legal hit into an illegal one. The onus is on Shaw to ensure he can deliver this hit in a legal fashion, minimize the force or avoid this hit completely. Instead, he hits forcefully through Hobbs from behind, driving him dangerously through the glass."
Since Shaw's suspension for the hit on Hobbs applies to the preseason only, he will not forfeit any of his salary.
Odds and Ends
— The American Hockey League announced its Hall of Fame Class of 2017, which includes inductees Billy Dea, Bryan Helmer, Rob Murray and Doug Yingst. The group will be enshrined in the Hall of Fame as part of the festivities surrounding the 2017 Capital BlueCross AHL All-Star Classic on  Jan. 30, 2017.
— The Edmonton Oilers have trimmed the team's training camp roster to 43 players. Notably, Ryan Vesce was released from his professional tryout (PTO) and goaltender Nick Ellis was assigned to the Bakersfield Condors of the American Hockey League.
— The Dallas Stars signed defenseman Ondrej Vala to a three-year, entry-level contract, the team announced on Thursday. Vala was a participant for the Stars at the 2016 Traverse City Tournament earlier this month.
— The Columbus Blue Jackets have trimmed the team's training camp roster to 52 players on Thursday, according to general manager Jarmo Kekalainen.
— The AHL's Albany Devils will pay homage to their heritage when the team wears the jerseys of the Albany River Rats as part of two "throwback nights" set to take place this season.
— Today is National Coffee Day! We here at The Hockey Writers hope you enjoyed a cup or two!
☕️ #NationalCoffeeDay ☕️ pic.twitter.com/HheAMobMkc

— Edmonton Oilers (@EdmontonOilers) September 29, 2016