A position group devoid of ambiguity, the Blackhawks' goaltenders are led by one of the best players at the position in the world: Corey Crawford. The 31-year-old Canadian recently won his first international game for Team Canada at the World Cup of Hockey, a telling sign of his worldwide standing given that the other two goalies eligible to start that game were former Vezina winners Carey Price and Braden Holtby.
And while Crawford will provide his expected excellence in 70 percent of the games the Hawks play this season, the other 30 percent will provide more intrigue with Crawford's backup situation somewhat uncertain entering the season. The battle for backup goalie might not be as exciting as some of the other roster competitions I discussed in my previews of the Blackhawks' forward and defense groups, but it is the biggest question mark for the position entering the season.
Position Battle: Backup Goalie
The two men in a battle for the job behind Crawford are Scott Darling and Lars Johansson. Both considered late-bloomers at their position, Darling's name should be familiar to all Hawks fans after playing behind Crawford the past two seasons and saving the team's postseason with some heroic relief appearances against the Nashville Predators in 2015.
Darling didn't do anything to lose his job last season — he performed pretty much as expected with a .915 save percentage and one shutout in 29 games played — but he also didn't repeat the success he experienced in his first year in Chicago.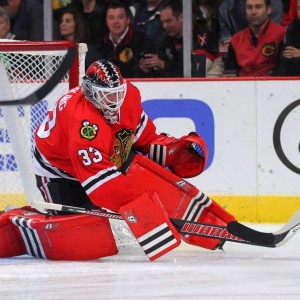 Incumbent backup Antti Raanta was pushed to AHL Rockford that first year, thanks to Darling's consistent play and favor with Joel Quenneville. Raanta was eventually traded to New York with Darling firmly entrenched behind Crawford, but the addition of Johansson makes things interesting for the former playoff hero.
Johansson spent the last three seasons dominating in Sweden for Frolunda HC Goteborg, but he signed with the Hawks this offseason to try his hand at the North American game. The manner in which he dominated a European league before having a chance to compete for a spot in Chicago is eerily similar to the situations of two former Blackhawks goalies.
Those two goalies, of course, are the aforementioned Raanta and former Cup winner Antti Niemi. Before Niemi became a struggling starter in net for Dallas, he was a serviceable backup in Chicago while eventually playing Cristobal Huet out of the NHL. He signed with the Blackhawks following a successful run in Finland's SM-liiga, a league of comparable competitiveness to Johansson's SHL.
Raanta started for SM-liiga as well early in his career, even managing to win the league's best player award in his final season. After a shaky NHL debut, Raanta's two most recent seasons have been his two best, perhaps indicating that time is needed to properly adjust to the more talented league for European goaltenders.
New Swedish goalie Lars Johansson at work pic.twitter.com/9aS3927DHE

— Scott Powers (@ByScottPowers) September 23, 2016
The relative success of those two goalies doesn't guarantee anything for Johansson, but the track record is interesting as a new goalie is added to the list of potential backups for Corey Crawford.
Corey Crawford: Elite Goaltender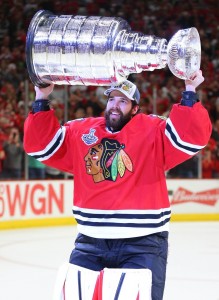 A battle for backup goalie isn't nearly as exciting for fans as a potential battle for starter would be, but that isn't something Blackhawks fans will complain about given who will start in net for their team in 2016-17. Crawford has quickly ascended the ranks of the NHL's best goaltenders over the past few seasons, disproving doubters and winning two Stanley Cups in the process.
Few others in the league can match his résumé after he won a game for Team Canada at the World Cup of Hockey this offseason, and the veteran seems to be approaching a point in his career where he will no longer have to worry about proving people wrong.
Instead, he now stands as one of the most important players on the best team of the salary cap era. He consistently gives his team a chance to win on a nightly basis and should be expected to play around 60 games between the pipes.
Overall, Crawford's consistency and elite ability make him one of the NHL's premier goaltenders, while the competition to back him up ensures that the Blackhawks shouldn't have to worry about losing the season if Crawford is injured. When combined, these factors make goaltender the most stable of the position groups in Chicago, which will hopefully help the team back to the Stanley Cup Final.
David is entering his final year as a sport management and operations and information management double major at UMass Amherst. Originally from the West Suburbs of Chicago, David has enjoyed watching the Blackhawks for as long as he can remember. When not watching or writing about hockey, he can be found working on the McCormack Future Leaders Conference on the UMass campus.