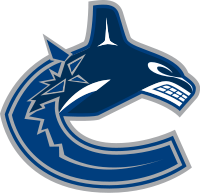 For most in BC, it is hard to fathom that a player may just not want to sign here. A beautiful city with an amazing landscape and great people. Sure it's expensive and the taxes are high but hey, that's a price we have to pay right? The 2011/12 season left a bitter taste in Vancouver and despite 82 great games, a first round exit to the Kings was simply not good enough. Fans wanted to see off-season changes, particularly additions in the top 6 forward group and a franchise blue-liner.
Vancouver Canucks GM Mike Gillis has proven himself to be a stealth tactician who doesn't like to give up team assets unless necessary. While some were calling for his head after he traded Cody Hodgson to the Buffalo Sabres for Zack Kassian, most understood his reasoning after it became quite evident that Hodgson didn't want to be in Vancouver, though both parties remain tight-lipped on the exact situation.
The first name that Gillis and his team were looking at signing was highly-touted college player Justin Schultz. Schultz was born in Kelowna and started his Hockey career in the BCHL with parents who were Canucks season-ticket holders, so all roads pointed to Vancouver. Gillis even hinted in the annual general meeting with fans that the signing of Schultz to Vancouver was a possibility, saying that there was no news yet but adding a highly publicized "perhaps later".
While the Canucks looked to be among Schultz's top favoured teams alongside Edmonton, it was the Oilers that eventually signed the defenseman. The Canucks reportedly lost out on the bidding war due to not offering Schultz guaranteed blue-line minutes, something Gillis was well within right to not promise the rookie who has yet to play an NHL game.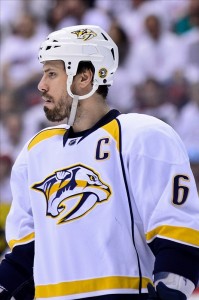 Next on the list was the player the Canucks have had their eye on for a while, BC native Shea Weber. The Canadian Olympic gold-medalist was seen as the answer to the Canucks' lack of a franchise defenseman since.. well.. ever? Signing Weber would not have been an easy task and Gillis and the team met with the restricted free-agent to offer him a deal.
Though the Vancouver Province reported that the Canucks discussed a 1 year, $1 million plus $13 million signing bonus deal with Weber, it was the Philadelphia Flyers that struck first by sending the big defenseman an offer sheet of 14 years and $110 million which he accepted and Nashville promptly matched keeping Weber in Tennessee for the foreseeable future. After the fact, claims were made that Mike Gillis always thought that Nashville would match any offer during the talks and that signing Weber was near impossible.
Moving on to Shane Doan. Despite growing up in small town Alberta, Doan has established BC roots through his wife and her family and often spends his summers in the province. Doan also started his career in the WHL, playing 3 seasons with the Kamloops Blazers, making him another perfect Gillis target.
The biggest problem for the Canucks with Doan is his loyalty towards Phoenix, an organization he doesn't really want to leave and will only do so if there is no hope for the team's survival. Gillis has recently met face-to-face with Doan and the Canucks are one of the few teams considered in the running for his services.
While the latest rumours of Vancouver offering the forward a 4 year, $30 million ($7.5 million a season) deal seem slightly far-fetched, the Canucks will be throwing everything they can at Doan to persuade him to play for the team, as he would be a key piece in the top 6 forward puzzle for the right price. A decision for Doan will not be made until the Phoenix ownership issue is settled and for now the Coyotes seem to be getting the financial backing they need via the Jamison group.
Three strikes so far for the Canucks, though the Shane Doan situation is yet to be finalized. The final name on the list for the Canucks is currently one of their own, Roberto Luongo. The fine play of backup goaltender Cory Schneider last season earned the net-minder a new 3 year, $12 million contract, leaving Luongo with a long contract but a club that no longer requires his services.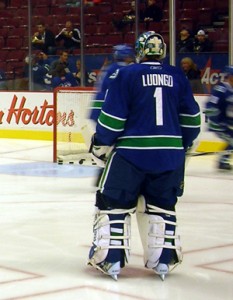 Luongo has so far co-operated with the Canucks, telling the media he would waive his NTC if asked to do so by the team management. The likely destinations for Luongo dwindled down from Florida, Toronto, Tampa Bay and Chicago to most likely just Florida and Toronto. The asking price for the goaltender reportedly began with names such as Erik Gudbranson, Jonathan Huberdeau, Quinton Howden and Jake Gardiner but now is more realistically centering around a deal involving players such as Shawn Matthias, Joffrey Lupul and possibly Nick Bjugstad.
While Gillis is patiently waiting for right deal, thoughts must go out to Roberto Luongo who hasn't really done much wrong and must be feeling frustrated with the length of time it has taken to make the inevitable trade. While Gillis has said he is happy to start the season with both Schneider and Luongo, the 33-year-old who only signed his controversial 12 year, $5.33 per year deal two years might not be too happy to just stick around until the perfect trade is found, leaving his home situation in limbo.
Most fans believe that Gillis is not happy to pay any new player more than the Sedin's $6.1 million a season. This is mainly due to the twins taking a big discount to stay in Vancouver but this rule may need to be broken if the Canucks are to sign a top player to help make a deep playoff push in 2012/13, especially when looking at the large contracts offered to players such as Ryan Suter and Zach Parise this summer.
While Gillis hasn't landed a big name player since the Jason Garrison signing, his theme of targeting players with BC roots is fairly obvious. Schultz, Weber and Garrison were all born in BC and Shane Doan has family in the Province. With the threat of a lock-out looming, Gillis can bide his time with his blockbuster Luongo trade but must keep in mind that Roberto ultimately has the final say in his destination say due to his NTC clause.
The trading and signing season is by no means over and Mike Gillis and his team still seem to have the trust of the Vancouver people… for now anyway.