This year we'll be counting down the days to training camp (Mon-Fri) with player evaluations heading into the season. We'll go in order of highest salary to lowest salary so don't miss out on your favorite players. This year, Duncan Keith will command the highest salary on the team at $8 million so we'll start with him.
Duncan certainly did not replicate his Norris season last year, scoring 40 points in 74 games with a plus-15 rating. However, by comparison it was a step above his 2010-2011 campaign where he ended the season in the minus category for the first time since his rookie season. In the 2012 playoffs he certainly took a turn for the worst like many of the Blackhawks, only notching a single assist in 6 games against the Phoenix Coyotes.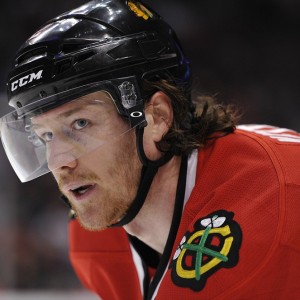 Most would probably agree that Keith just needs to play better than what he has shown. His plus-15 rating could be considered somewhat generous considering Brent Seabrook had a major hand in helping Keith keep that afloat. I don't think many have much of an issue with a 45+ point output from Duncan, as long as he can couple that with safer play in his own end — but we should be expecting at least 50+ points per year in his prime. If he is going to take risks, he needs to put up more points.
To Keith's credit in the last few seasons, he was constantly matched up against the top opposing players more-so than he was prior to winning the Cup — as evidence shows according to a statistic referred to as quality competition*. In fact in the last few years he has typically been in the top 10-15 for NHL defenseman that face the hardest competition and before winning the Cup he was somewhere in the top 20-25. That said, two years of enduring tougher competition hopefully provided a learning experience for Duncan and he can elevate his play to provide the consistency the Blackhawks will need from him night in and out.
At 29 years old, Chicago has witnessed a baby-faced Keith grow into a well-seasoned veteran, three time all-star, Stanley Cup Champion, and Olympic Gold Medalist. We all know what he is capable of. There is still plenty of hockey left in his skates and until he loses that speed there's no question he should be expected to play to the quality as one would expect out of a top defenseman in the NHL next season.
It's hard to predict how much he will produce next season, especially with the emergence of Nick Leddy, who has the potential of taking away some ice-time from Keith on the power-play after proving he can handle it last season. That said, Keith will still average his typical 25+ minutes per game as usual which will give him plenty of opportunity to elevate his game to Norris form once again.
PREDICTION: 82 GAMES | 8 GOALS | 42 ASSISTS | 50 POINTS | PLUS-18
*Quality of Competition is provided by behindthenet.ca, it is the average relative plus-minus of opposing players, weighted by head-to-head ice time.
I started covering the Chicago Blackhawks in 2007 for IndianHeadNation.com and eventually on Twitter and now The Hockey Writers. Although I've never played at a professional level, I have followed the NHL religiously, analytically, and statistically since 1999, and a born fan since 1989. I have one true passion: HOCKEY.