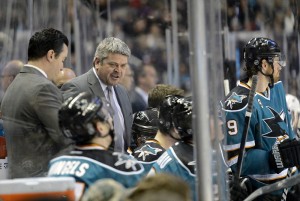 Ok, I confess. As a longtime Kings devotee, I am most definitely not a Ducks fan. That original Disney logo with the duck-shaped hockey mask between the crisscrossing hockey sticks will forever be seared into my memory. And although royalty isn't exactly the most intimidating theme, it carries far more power, intrigue and respect than a damn quacking duck ever could.
Having said that, I don't root for Anaheim head coach Bruce Boudreau's firing, or for that matter, the demise of any NHL bench boss — even John Tortella. They have difficult, demanding jobs and are under the hot spotlight like bugs on a pin most of the year. If an in-season move is deemed necessary, however, it generally happens early. Last season, seven head coaches were replaced over the span of 64 days: Davis Payne, Paul Maurice, Bruce Boudreau, Randy Carlyle, Terry Murray, Jacques Martin and Scott Arniel. The first (Davis Payne) was removed after a scant 13 games, with the change resulting in a dramatic turnaround by the Blues that culminated in the West's second-best record. The last of the dismissals was Scott Arniel on January 9th, with the Union Army ironclad taking on seawater exactly halfway through the regular season.
With that said, the reality is the sword of Damocles hangs precipitously over the heads of at least a handful of NHL coaches to start every season. If their teams don't get off to good starts, it could be adios, muchacho. The question really isn't if there are some on the proverbial "hot seat", it's who.
This year, there are no right answers to that question, and admittedly a list of this kind is bound to stir up some strong feelings. However, no guts, no glory. The following are five head coaches who might be feeling some fire in their britches if their teams do not start off well:
#5: Peter Laviolette, Philadelphia Flyers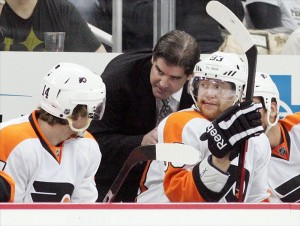 Philly is famous for a lot of very good things, including the Liberty Bell, cheesesteak sandwiches and Will Smith — in that order. What the denizens aren't particularly well know for is patience. Team owner Ed Snider, smarting after the team's ridiculous postseason revolving door of goaltenders the year before, may have played to that by ordering the signing of the enigmatic, otherworldly Ilya Bryzgalov. Bryzgalov space-cadeted his way through an up-and-down season, but the Flyers still managed to finish 5th in the East with 103 points. Alas, they were summarily bounced from the playoffs by the hated New Jersey Devils in the second round, with their all-universe goaltender catching more moonbeams than pucks and waxing astrophysical musings such as this:
Laviolette is entering his fourth season with Philadelphia, but after making it to the Finals his first year, has dropped back-to-back second-round series since. Impatient fans and ownership may be encited to light torches and storm the village if his club falters to a significant degree. It should be noted that Laviolette signed a two-year contract extension extension on August 2 and appears to have a good relationship with general manager Paul Holmgren, but remember that pesky "p" word the rabble lack in Philadelphia. No, it's not "Pluto".
#4: Mike Babcock, Detroit Red Wings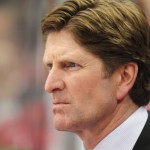 Detroit is another franchise with a culture of winning, even more so than in Philadelphia. Although head coach Mike Babcock's regular-season record is a stellar 304-126-62 since 2005, the team's point totals have dropped out of the pantheon of the elite over the past three years and they have lost in the first or second round every season since their 2008-09 Finals loss to the Pittsburgh Penguins. The fans have set cars ablaze for less.
Deficiencies in special teams and an advancing age seem to be catching up to the Red Wings. Like Laviolette, Babcock probably retains organizational credibility, but you can only lose so many second-round playoff series before a bunch of buses are tipped over in the Motor City. It's just the way it is.
#3: Joel Quenneveille, Chicago Blackhawks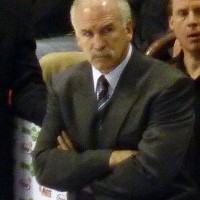 So, what does leading your team in 2010 to its first Stanley Cup in 49 years get you? Fame, fortune, and a hell of a lot of elevated expectations, that's what. Head coach Joel Quenneville's team has finished 8th and 6th in the West over the past two seasons, which has sat about as well as a green hot dog in the hot summer sun at Wrigley Field. Finishing 22nd in goals against and 27th on the penalty kill last year didn't exactly endear the bellicose louts throwing things from the second level.
Jamie Kompon, the much-maligned former Los Angeles Kings assistant coach, was hired by the Blackhawks to help plug the defensive leaks. He'll need to bring his own duct tape, however, as the defense was not augmented this off-season. Neither was the goaltending, as the Hawks have elected to stay with Corey Crawford for at least one more year. The Hawks are going to play 'em as they brung 'em, which may further tighten Quenneville's collar if the team staggers out of the gate in 2012-13.
#2: Alain Vigneault, Vancouver Canucks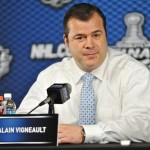 On the surface, you'd think it would be impossible for a team to win back to back President's Trophies and have its coach on a "hot seat" list. On the surface, you'd think it would be impossible for a scrawny, no-talent twerp like Justin Bieber to sell about a billion albums, too. The city of Vancouver has such high expectations of winning that it makes Chicago feel like Modesto by comparison. Sure, it's nice to be able to brag about the hardware, but hey — when you lose 4-1 to the frickin' eighth seeded Kings (eventual Stanley Cup notwithstanding) in round one, your coach is automatically on the hot seat. That's just how it goes.
Vigneault, like Laviolette, signed a two-year contract extension this past off-season, but we all know how things work in the real world. If ownership wants someone gone, they are gone, baby. Vigneault may squint, stew and glow about four shades of red as the team's fortunes on ice turn for the worse, but he's ably guided it to the best record in the league for two years' running. Unfortunately, becoming only the 8th team in NHL history to lose in the first round to the 8th seed puts his rear end squarely on this list.
#1: Todd McLellan, San Jose Sharks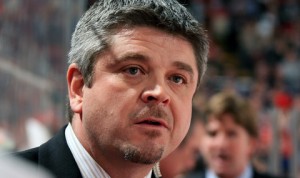 Todd McLellan is a stand-up coach. He fields post-game questions honestly and with as much candor as possible under the circumstances. He tries hard to shake up his team when necessary without losing the locker room, and gets creative as the need arises. He enjoyed success his first three seasons behind the bench, winning three straight Pacific Division titles and appearing in two Western Conference finals series. I'll bet he pets dogs and flosses regularly, too.
But he hasn't done one thing, and that's make it to the Stanley Cup Finals. He's knocked on the door twice, sure, but was soundly defeated by the Blackhawks and Canucks 0-4 and 1-4, respectively. That's just not good enough for the computer geeks paying good money for corporate suites at the HP Pavilion. Last year, the team took several mother-may-I steps backward, finishing 7th in the West. Adding insult to injury, they were then summarily drop-kicked out of the playoffs by the St. Louis Blues. Perennial division-winner and stand-up guy notwithstanding, Todd McLellan has to be front-and-center on the list to start the 2012-13 season.
Walter McLaughlin is a Los Angeles Kings correspondent for The Hockey Writers. He is an avid sports fan, having followed the Kings since living in L.A. in the mid-1970's, as well as suffering through Seattle sports teams' general futility. He has a Bachelor's degree in Finance and has worked in community banking for over 25 years, specializing in SBA loans. He is married and has two daughters.