Anyone out there still thinking Pavel Datsyuk was over rated being picked first overall for the fantasy draft by Zdeno Chara?
Just as everyone in the building was getting ready to head to overtime the Euro Twins reminded everyone of what makes them so dangerous. They don't even have to look at one another – they just know.
With speculation leading up to the game that Henrik Zetterberg would not be playing as the Detroit Red Wings called up prospect Tomas Tatar from the Grand Rapids Griffins (he has since been sent back to the Griffins) the fact that Zetterberg notched his 600th career point on the Datsyuk goal is that much sweeter for Detroit fans.
For a team that for the past handful of seasons has been deemed to be too old tying the NHL record, breaking it, and keeping it growing is no small accomplishment. Also keep in mind that in the process of Detroit lost their starting goaltender to a broken finger and had to bring up Joey MacDonald from the Griffins. MacDonald then took the starting job over from Howard's back up Ty Conklin.
The Nashville Predators have become a hard competitor for the Red Wings in recent seasons as they have taken on a hard hitting game and locked up the brick wall known as Pekka Rinne in net. IT is only fitting that the three stars from the game would be Detroit's Joey MacDonald, Nashville's Pekka Rinne and the magician himself Red Wings own Pavel Datsyuk.
Did you know that Pavel Datsyuk has a cap hit of only 6.7 with two years left on his contract after this season? In comparison Columbus Blue Jackets captain Rick Nash (who is up for trade bait) has a cap hit of 7.8; and Montreal Canadiens Scott Gomez sits at a 7.35 cap hit.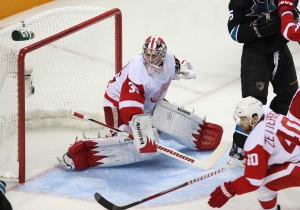 Game 23 is on the line Sunday at Joe Louis Arena as Jimmy Howard comes back into the lineup and the San Jose Sharks make their way to Detroit to end the winning streak.