The NHL off-season is unique in that there really isn't much of one anymore. The Stanley Cup goes to near the middle of June, then there is the draft, free-agency and the next thing you know it's almost August and there's only a little over a month until training camps start.
So, with six weeks or so until we can see for real, here's my list of the five worst moves made by NHL teams this season.
1. The Bruins Trading Dougie Hamilton to the Flames
While it's possible that Dougie Hamilton is being slightly overrated because he played the majority of his time last season with monster possession line Bergeron-Smith-Marchand, certainly the Bruins could have gotten more for a player who could potentially be a top-line NHL defenseman for the next decade.
The Flames paid only the 15th, 45th and 52nd picks in the draft to add Hamilton to their roster. True, the Bruins had to cut payroll, but it just seems impossible that couldn't get more for him. Consider that the Sharks paid a first in 2016 (it could end up higher than 15, since I don't think the Sharks are a good bet for the Playoffs) and a prospect for goalie Martin Jones.
I would take a chance on Jones, but if a first rounder gets you a goalie, a position that historically doesn't bring back a lot in trades, then a star 22 year-old defenseman should cost more..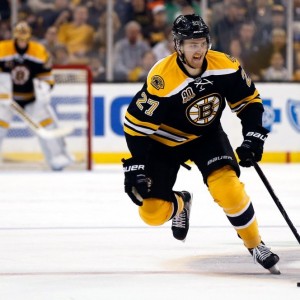 2. Robin Lehner for a First Round Pick
I don't know what Buffalo was thinking on this one. Lehner could be a great goalie, or he might not be anything special – it's very difficult to predict what a goalie will do. Regardless, the Senators had to move a goalie so you'd think they would have been dealing from a position of weakness.
Instead, not only did they get a first-round pick, they also shed the salary of David Legwand.  Personally, I just wouldn't pay that kind of price for a goalie, not when, outside of maybe five or six guys, success seems to be a) team dependent and b) somewhat random.
I think this is too high a price to pay when you consider that the Oilers paid only a second, third and seventh round pick for Cam Talbot, who I'd say is a better goalie.
3.  The Ryan Kesler Contract Extension 
Kesler is four seasons removed from the last time he hit 50 points. His contract won't even start until after he turns 32 and it includes a no-movement clause.
They already even wrote a song about it.
4.  The Coyotes Bringing Back Vermette 
Vermette's game is in severe decline and the Coyotes have a ton of prospects who they should be testing out in the NHL – Domi, Duclair, Strome, Letunov, Dvorak, Samuelsson etc. Also, they filled their bottom six to over-capacity with Downie, Richardson, Scott, and Gordon joining Chipchura, Vitale, Doan and Cunningham, which means that Vermette is likely stuck playing on one of the top two lines.
Last season Vermette was out of his element Tyler Bozak-style patrolling the 1C slot on the Coyotes and, since he can be assumed to have declined further due to age, this year he will likely be even worse. Brought back to service fans of the team, and for no other reason that I can fathom, Vermette will be playing way over his head and taking minutes away from developing prospects.
A bad move all around.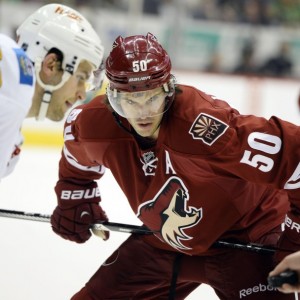 5. Bruins Trading Reilly Smith to the Panthers
OK, so the Bruins needed cap relief and they saved a million bucks by swapping out Smith for Jimmy Hayes, and they got the Marc Savard contract off the books (although it is eligible for long-term injury cap relief anyway) so I understand it, but this trade is terrible.
Smith is a year younger and a better player, in my opinion (although it's not like we're talking a massive difference: they put up similar numbers across the board.)
The main reason I wouldn't have traded Smith is because along with Marchand and Bergeron, they made up one of the best lines in the NHL. Now, granted, anyone will look good along side Bergeron, but the entire line put of a CF% near 60% for the 2014-15 season.
Now, maybe Hayes can step in and play the same role on the same line, but Smith and Bergeron were such a good fit, it's hard to justify breaking them up for a million dollar savings on the  cap. Sure, you save real money by moving the Savard contract, but if you need to save money, maybe don't own an NHL team?
I know some people like this move, but I think Smith can be better than either Beleskey or Hayes and he's a player I really like.
Thanks for reading.