by Jas Faulkner, senior correspondent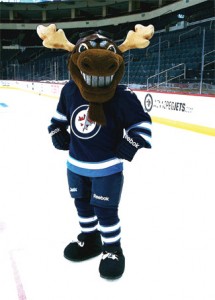 Among the usual email about new sponsorships, roster moves and promotions was an AHL recall notice.  This time it was from Winnipeg. Unlike the announcements about some phenom with a deadly arm or a  netminder with superhuman flexibility  getting a seat at the big boys table, this  press release reported the return of a familiar face to Manitoba's professional hockey arena.  Mick E. Moose would be stepping up as the Jets' mascot.
According to the press release, Mr. Moose  "spent the past 15 seasons with the Manitoba Moose of the International and American Hockey Leagues."  Some of the players on the Jets' roster have been alive only slightly longer than Mick E. Moose has worked in professional hockey.  In hockey years,  (yes, hockey years are different) this puts him just shy of sharing an active professional age group with Gordie Howe, Chris Chelios and Nicklas Lidstrom .
He does, however, have many colleagues all over the continent who share the experience of being the tallest, furriest guy in the arena.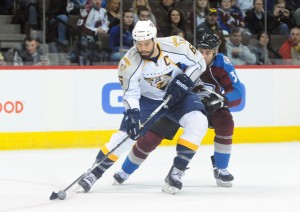 I sat down with some of the NHL's favorite merry pranksters.  They had plenty to say about hockey, the demands of being a mascot, and the Guardian Project.
THW: So who has been doing this the longest?
Harvey the Hound (Calgary): That would be me. I made my debut in 1983 and have been going strong ever since.  Thanks to me, or rather the Flames giving me my big break, there have been thirty-six mascots in the NHL,  twenty-six of which are still active.
THW: You must be a pretty popular guy.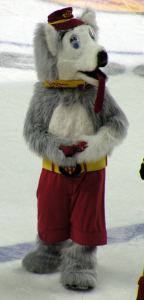 Harvey the Hound:  Oh yeah.  Everybody loves a furry cutup like me.  It's a scientifically proven fact that mascots bring out the best in people and…
Youppi! (Montreal): Ahem! Pardonez-moi Monsieur Hound, but if the Oilers had a mascot, he might offer a slightly different point of view,  n'est ce-pas?
THW: Why doesn't Edmonton have a mascot?
Youppi!: It comes down to the coaching, I think.  Que l'entraîneur précédent, à Edmonton, il a été mauvais!
THW:  Pat Quinn never struck me as particularly evil.
Harvey the Hound: Not Quinn.
THW:  Craig McTavish?
At the mention of his name, everyone in the room gasps and covers their mouths.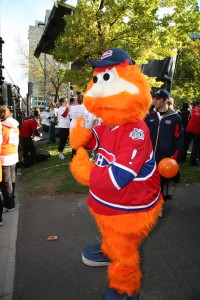 Youppi!: (tut tutting) Mon dieu, Madamoiselle.  It was fortunate that the Flames were not following the old tradition of having a child or a pet animal as a mascot or things might have been very different for all concerned.  Monsieur Hound was…But I really should let him tell you about it.
Gnash (Nashville): I still think we should have gotten the NHLMA involved.
S.J. Sharkie (San Jose), Bernie the St. Bernard (Colorado), Carlton the Bear (Toronto), Blades the Bruin (Boston) and Sparky the Dragon (New York I) all nod in agreement.
THW: The NHLMA?
Stormy the Ice Hog (Carolina):  National Hockey League Mascots Association
Harvey the Hound:  There needs to be a rule about mutilating a mascot!
THW: WHAT?
Harvey the Hound:  That's right. Mutilation. I was minding my own business, sharing my personal conviction that Raffi Torres skates like my grandmother, when McTavish reached over and ripped out my tongue!
THW: Good grief!  How long were you out of commission?
Harvey the Hound:Ten minutes tops.  All it took was a strategically placed safety pin and I was good to go until I could visit a crack mascot specialist in
Kitchener.
Stormy:  You can't be out too long because of the kids.  They take things to heart, ya know.  When I was barely past being a piglet myself, I thought it would be funny to tell some kids I was the new Stormy and the old Stormy was being served at the BBQ place on the mezzanine.  I won't do that again!
S.J. Sharkie:  I think we all have a rookie mistake story.  I pretended to eat a Boy Scout's baby sister.  It was all chuckles and goofs until Joe Thornton picked me up by my ankles and shook me until the toddler fell out.
THW: Are y'all making this up?
Sparky the Dragon:  Getting serious here for a minute.  Being mascots, we are also ambassadors for our teams.  This means we have a pretty strict code of conduct.
Carlton: No talking, always be in uniform in public, no girls…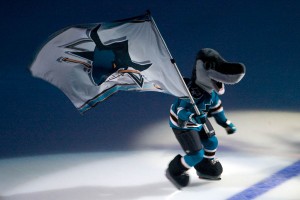 S. J. Sharkie:  That last one is kinda tough.
Carlton:  No kidding.    We're an attractive group of guys.  I mean, look at us.  Blades over there is one cuddly Bruin and he's an expert hugger.  And there's Gnash.  Every home game he does some kind of action hero thing: rappelling from the ceiling, barreling onto the ice on an ATV, running around the arena all night…  Have you seen the guns on that fella?
Gnash:  I have to keep active.  Have you seen what those people in Nashville eat?  They deep-fry pickles.
Sparky:  We do a lot of PR work.  Much of it is with kids. We make appearances at schools, community centres, hospitals, libraries and in support of our cities' heroes, the people who are out there helping others.  It feels good to know we're helping our clubs make a difference.
S. J. Sharkie: Hey, the ladies can't help but love us.  Have you seen the way our ice dancers hang onto us?
Gnash:  We're good guys, Sharkie, but we're also warm and it's pretty chilly in the rink.
S. J. Sharkie:  I hadn't thought of that.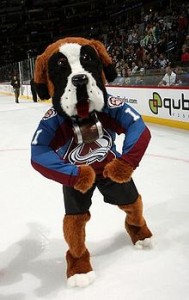 Sparky:  Chicks…
THW: On to another question.  Have you always been hockey fans?
Everyone nods.
Blades: I came for the popcorn and stayed for the game.
Bernie the St. Bernard: It was a fanboy's dream come true to get a chance to work for the Avalanche.
THW:  Yeah.  I've been meaning to ask.  Whatever happened to Howler?
Bernie:  Howler.  Ah.  Well.  Yetis are great guys, they really are.
Carlton:  Poor Howler.  He had a tendency to shed something awful.
Blades:  Let's just say the ice girls in Colorado have a much easier job now that they don't have to sweep up so much Yeti fur.
THW: So what did you think of The Guardians Project?
Carlton:  It was nice of Marvel to think of us.
Youppi!: Some of the choices of talents were pretty creative.
Sparky:  I really liked it!
Gnash: My talent was eating.  Eating.  Really, Marvel?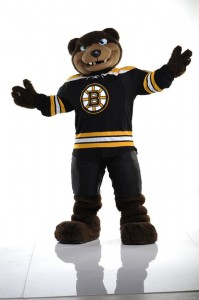 Blades:  I thought they gave you the saliva of death or something like that.
Gnash:  And your talent was?
Blades:  I think I was…a, um…I was The Hugging Bruin!
Carlton:  You didn't read it, did you?
Blades: What can I say?  My "to be read" list was already pretty long at the time.  And lets face it.  We love the game.  We really do.  One thing most people don't know about us is  we're all well-rounded individuals. I, for instance, love the fact that Boston has such a lively arts community. In the off-season, I enjoy the symphony, the city's dance companies and there's the Actors' Shakespeare Project and Wheelock Family Theatre and so many galleries, the Boston Museum of Modern Art…
Harvey: Do you enjoy art in the woods?
Everyone laughs as Blades smiles and shakes his head.
Blades:  You guys!
THW: On that note, I think I'll thank all of you for taking the time to talk with THW today.
Sparky:  Can we end with a group hug?
THW:  Sure.
Everyone gets into a huddle for a group hug.
Sparky:  Stormy, you smell delicious.
Carlton:  Doesn't he?
Stormy:  Guys, that is NOT funny!
Jas Faulkner is a minimally socialised writer and artist who lives and works in Nashville, Tennessee. She hearts her attitude problem.