Hey wait a second. I know we can't wait for the NHL playoffs to begin, but can we please just pause for a second and appreciate the 2009-10 regular season? It took 2,460 games over more than six months but a solid chunk of 14 teams has been eliminated. The other half of the league qualifies to move on to compete for the Stanley Cup.
Some may argue the regular season is nothing more than a long exhibition schedule. I'm not so sure about that anymore. Back in the 1980's when there were 21 teams in the NHL, and 16 made the playoffs, you could make that argument. Nowadays, every single regular season point counts, as evidenced by the Flyers squeaking into the post season this year by one point on the last day of the schedule by virtue of a shootout win.
Congratulations are in order. The Washington Capitals, Chicago Blackhawks and Phoenix Coyotes had their best seasons ever. The Capitals are this year's Presidents' Trophy winner with a franchise record 121 points. It doesn't guarantee them a Stanley Cup, but they do get home ice advantage throughout the playoffs. The Blackhawks eclipsed their 1970-71 franchise record by amassing 112 points. The brave and unbelievable Phoenix Coyotes surpassed the 100 points mark for the first time in franchise history, including all their years in Winnipeg, finishing at 107.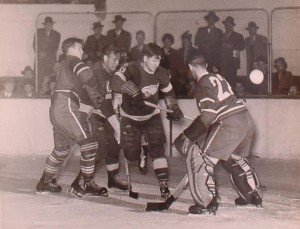 And what about those Detroit Red Wings? Yet another 100-point season, their 10th in a row. Considering some clubs have never had a 100 point season, 10 of them in a row is simply incredible. The Wings were the first team to chalk up a 100-point regular season back in 1950-51. They have now made the playoffs for 19 consecutive years. The Red Wings have just been an outstanding team for a long time. It's great to see in this era of salary cap and league parity.
Regular season success does not ensure for playoff glory. Like every year, there will be upsets. However, the eventual Stanley Cup winner will have won 16 playoff games. In the past 25 years, a team finishing the regular season seeded in the top 8 usually wins the Cup. There have been very few exceptions. The cream always rises to the top. So yes, the 2009-10 regular season has been very significant.
The playoffs are the second straight leg of this grueling 2009-10 marathon. We're half way there. The second set of also-rans will start dropping off quickly now.