The 2009-2010 season for the New York Islanders ended almost exactly the same way as it started. The home opener debuted 1st overall pick John Tavares against NHL phenom Sidney Crosby. The game went to OT and then concluded in a shootout with the Penguins coming out on top. The last and final home game for the Islanders was against the same Atlantic Division rivals and was one where the Isles came back from a 3-goal deficit and forced OT once again, however, Jordon Leopold prevented the game from going further than the extra five minutes.
It might have been the loudest the arena has been all year. Pens and Isles fans filled the sold out Coliseum up to the rafters and were going absolutely insane. Although the Islanders had nothing on the line; nothing to prove; nothing to gain; they went down swinging until the end (literally), searching for a win. You could tell that Dwayne Roloson wanted this one badly. I had a clear view of him as I was sitting in the blog box at section 201. His head was shaking back and forth as he shouted at his teammates to motivate them on their break-outs up ice. He was also seen slamming his stick on the blue paint in his crease every couple of minutes. Usually that's only done when a power play is expiring. If those signs aren't enough proof of how much Roly wanted to win, just go watch the highlights from last night's game; he was playing like a man possessed, making some of the most spectacular stops he has done all year.
Many fans, including myself, were cringing with every Islanders goal that was scored. If the Islanders won, they would have fallen back to the 6th worst spot in the league, seriously reducing their chances of moving up within the draft. This team has struggled to pull in top free agents over the past couple of years and may only find solace by drafting top prospects that will develop into all-stars of their own. Therefore, the Isles did not need to gain any points. But when it was all said and done, the Islanders ended up 13th in the East – exactly where I predicted them to finish back in October – and have the 5th spot in the draft lottery.
But despite all the draft hopes that were involved, it was incredibly encouraging to watch this team rebound after being down 4-1 and 5-2 against the defending Stanley Cup champions. They played with a ton of heart and wanted to end the season on a good note for their fans, coaching staff, management and themselves – and they did. Everyone involved in Islanders country should be excited about what lies ahead for this young team.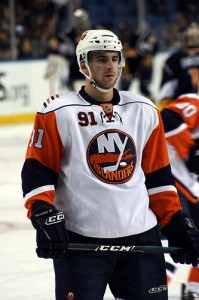 "It was a fun year for us, we made a lot of strides," said John Tavares. "We just need to be a lot more consistent; find ways to win in most of the games we lost. It will be a big difference for us. I think we're really starting to find what works for us, what our identity is. With a young group and the veteran guys that are here to guide us, I think it should be an exciting time next year around this time for us."
Tavares, a likely candidate for the Calder Trophy awarded to the top rookie of the year, finishes the season with 24 goals and 30 assists with a team leading 54 points. He spoke of an identity, something this team has lacked with constant personnel changes. But this team has remained in-tact for the second year in a row, and John sees his team as something to look forward too.
"I think we're just obviously an up-tempo team that's got a really young core with a lot of offensive upside. We compete every night. This year might have been a little bit shorthanded or a little bit inexperienced, but we compete; we work hard," said John.
Although many fans and writers were looking past this final stretch of games and looking ahead to the draft lottery that will be conducted tomorrow night on Versus, the team was only focused on finishing the year with their heads held up high.
"Excluding the two games prior to this, our team has taken a lot of good strides, we're heading in the right direction," said Kyle Okposo. KO had one goal and two assists last night and finished the year with 19 goals, 33 assists and 52 points, second to John Tavares.
"We got a young group of guys. Obviously we didn't finish where we wanted to this year but we matured over this year and that's important stuff in the rebuilding process that we're going through. I can't say enough about the group of guys that are in this room," said Okposo.
Everyone has seen how much Kyle has matured as a player, both on and off the ice. With Doug Weight's future in limbo, many wonder if he will be the future captain of the New York Islanders. Regardless of whether or not the "C" is slapped on his jersey, Kyle will be a reliable leader in the coming years for this franchise. You can tell that he is determined on guiding this team into the playoffs.
"We know what to expect. We grew up a lot over the last couple of years with the core group of guys in the room. Johnny and Matty especially stepped in this year and just played tremendous for us and so you know what? Next year, we're looking to be a playoff team," he said.
Matt Moulson, who not only was a real "good guy" story for the Islanders but for the National Hockey League as well, came into this season as a guy only expected to be a Bridgeport call-up since he only scored a total of 10 points in 29 previous games with the Kings. Last night he scored his team-leading 30th goal of the year and finished with 48 points.
The Islanders have gone through two years of a rebuilding process. The next step is to make the playoffs. Yes, the season just ended with the Isles 13th in the East and 25th in the league. But they only missed the playoffs by 9 points, having finished 2010 with 79 points. Last year, they finished dead last in the league with a dismal 61 points and missed the playoffs by 32 points. That is a significant jump of improvement. Keep in mind that Garth Snow did not add any marquee all-stars in this off-season. With the exceptions of signing Dwayne Roloson and Martin Biron while Ricky rehabilitated his injuries, Snow really did not sign anyone that had a major impact on this team. It was the same group of guys as the year before with the help of Tavares and the lucky turn-out of Matt Moulson.
This team can be even better if Snow can find a way to sprinkle in a few free agents that could help elevate his young team to the playoffs. The hockey gods may smile upon the orange and blue and help them with a draft lottery advancement, but even if they don't, a 5th or 6th overall pick is bound to help this franchise.
Aside from the product on the ice, it was another successful year for the Blog Box. I can't say enough about the people I have met with this opportunity. They have all helped me improve in many ways and guided me beyond my expectations. A special thanks to Isles PR guys Seth Sylvan and Kimber Auerbach, who were very helpful and supportive throughout the season. And also, a special thanks to George Prax, who allowed me to become the Isles blogger at www.thecheckingline.com and Bruce Hollingdrake, who allowed me to be Isles correspondent for The Hockey Writers. And I have to thank Dee Karl, another member of the Blog Box and the Isles writer for www.hockeybuzz.com and her blog at the 7th Woman, as she recommended this web-site to me and it has worked out great ever since.
And of course, thank you to all the readers who continue to give me reasons to write.
Soon I will talk about what Head Coach Scott Gordon had to say after the game with his thoughts on where his team is heading as well as evaluating his performance so far.
Despite missing the playoffs, Isles fans should be excited about the future that lies ahead.