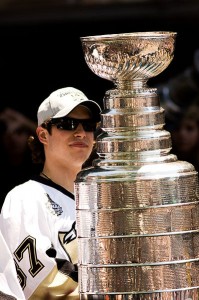 Just like 2007 and 2008, the Pittsburgh Penguins will begin their playoff run against the Ottawa Senators. In the '07 playoffs, the young Penguins seemed just happy to be there and gain some experience as they bowed out in 5 games. The following year, the Pens were on a mission and disposed of the Sens handily in a 4 game sweep. Ottawa didn't quality for the playoffs in 2009, while Pittsburgh went on the win the Stanley Cup. But none of that matters now. It's a new season, a new playoff and hopefully a new start for the Penguins. Although they sit 4th in the Eastern Conference, and 8th overall in the NHL with 101 points, they haven't exactly had the season fans hoped for. They have struggled mightily at times, going on lengthy losing streaks. They have had a miserable power play and have battled to try and find consistency in their game. The Ottawa Senators on the other hand have had a surprisingly good season. The loss of sniper Dany Heatley hasn't seemed to effect them in a negative way, even though the acquisition of Alex Kovalev has been a disaster. He had a career low season in points, and suffered an ACL injury last week that will keep him out for the duration of the playoffs. Expensive goaltender Pascal Leclaire lost his number one job to Brian Elliot, who has been a bright spot of the Sens this season. Many predictions seem to favor the Pens in this series, but let's take a look at how they stack up.
Forwards: Advantage Penguins
Down the middle, the Pens are the deepest team in the league. Jordan Staal, their third line center, would probably be a first line center on any other team. Sidney Crosby, the Rocket Richard winner, has been on a tear lately, and Conn Symthe winner Evgeni Malkin seems to be catching fire at just the right time. The Sens have alot of pluggers and grinders on their team, but not a tremendous amount of natural skill outside of Jason Spezza and Daniel Alfredsson. However, players like Mike Fisher and Milan Michalek have been supplying some clutch scoring.
Defence: Advantage Senators
The Penguin defence core has been shaky all season, and some of their younger defenders have taken a step back offensively. They are certainly missing their shutdown pair from last season of Rob Scuderi and Hall Gill. The Sens on the other hand have one of the best shutdown d-men in the league in Anton Volchenkov. Big Andy Sutton has been a pleasant surprise and Chris Phillips is always stable. If the Sens manage to shut down Crosby and Malkin, the Pens and their average wingers may be hard pressed to find the back of the net.
Goaltending: Advantage Penguins
Marc Andre Fleury has not had a great season, recording only one shutout and having been pulled 8 times, the most in the league. But he proved in the Stanley Cup finals last year that he is big time when it counts, and he has won more playoff games in the past two seasons then any other goalie. The experience alone will be a huge advantage, as Brian Elliott has yet to see any postseason action.
Prediction: Penguins in 6
Marcy, a former hockey player, is a hockey correspondent on CTV News and TSN radio. She began her career as a Sports Journalist in 2009 and has been part of The Hockey Writers since 2010, where she is currently a senior writer and editor.