The Oilers confirmed they plan to name a team captain before the season begins, now the only question is, who will it be? Could it be the newly signed Milan Lucic, who comes in with a wealth of experience, and is still a relevant player in the league? Could it be Jordan Eberle, one of the "elder statesmen" of the Oilers, who has been with the team through all the lows? Or how about young Connor McDavid, a superstar in waiting, a franchise player from the word go. McDavid is the modern-day Gretzky in Edmonton, in terms of being a marquee name, and the guy who puts butts in the seats. But at age 19, is he ready for the role?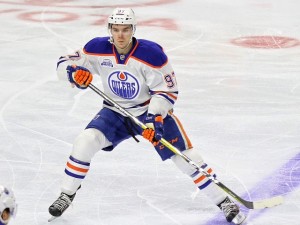 The Pros of Connor Being Named Captain
McDavid's teammates certainly seem on board with him being anointed as their visible leader. Goalie Cam Talbot had this say on the matter:
"I've been asked that a lot. I think he is. How ready is anyone, really, for the captaincy at any age? It's a big jump up and a lot of responsibility, but if anyone's able to do it, Connor can. He's so grounded. He was raised really well, he's got a good head on his shoulders, and he leads by example. He works hard on and off the ice. He's the kind of guy guys are going to follow in the dressing room. I think if you put a leadership group around him and give him the C, he'll grow into it and lead this team for sure." [NBC Sports]
Even ex-Oiler Taylor Hall chimed on the prospect of McDavid getting the captaincy right away:
"They need someone that has a 'C' on their jersey and if that's Connor, he's going to do a good job, there's no doubt about it." [National Post]
At the end of the day, if the rest of the players in that room already see McDavid as the defacto leader, why not just make it official and give him the C? Plus, if they name someone else in the meantime while Connor "gets more ready", they'll have to strip that person of the captaincy and that kind of situation just seems unnecessary. Being a captain is an important role, don't get me wrong, but perhaps we put too much stock into it. Maybe the reason why it seems like such a heavy responsibility is because that's the narrative that has been created. David Staples from the Edmonton Journal also had his say:
"McDavid is known as not only a great player but an obsessive worker, so he's got the right character to lead. His comments on hoping to improve his defensive play would certainly warm the heart of any NHL coach. They demonstrated his head is in the right place because McDavid does indeed need to improve in the d-zone. Good thing he knows it and is saying it because that lesson failed to sink in with some of his teammates." [Cult of Hockey]
There's no doubt that captain or not, McDavid will be seen as a leader in the dressing room, and a go-to guy for the media. He already represents the team, and the players look at him to lead by example. Sidney Crosby was probably seen as being too young, but he has since helped lead the Penguins to two Stanley Cup championships as captain, and they haven't missed the playoffs since his rookie season. I believe that Crosby and McDavid are cut from the same thread, both having that internal ability to handle the ins and outs of being a star, and do it well.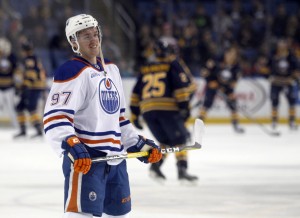 The Cons of Connor Being Named Captain
Not everyone is on board the Connor McCaptain train, however. The obvious concern is the pressure that comes along with wearing the C, especially in a hockey mad city such as Edmonton. McDavid is already facing the daunting task of leading the Oilers with his on-ice play. The thought of having added responsibility off the ice seems like too much for a kid who hasn't even played a full NHL season. Dave Poulin of TSN expressed his trepidation over Connor getting the captaincy so soon, as did Sportsnet's Sid Seixero. And there is certainly merit to their sentiment.
@timandsid no, possibly an 'A' for a year while the team rebuilds – without adding extra pressure on him.

— propellerhed (@propellerhed) August 23, 2016
@timandsid Captaincy is more than playing Hockey. I think Connor should focus on playing Hockey.

— Martin Brunet (@Martin_Brunet) August 23, 2016
If the #Oilers name Connor McDavid captain at 19 years old….that entire organization needs to be fired.

— Adam Nightingale (@ANight92) August 22, 2016
The Oilers are a team fighting to find success and respectability. There is immense pressure for results, and a lot of that will fall onto McDavid's shoulders. And if he or the team falters, does the organization want to hear stuff like "he's the captain he should be better. He's leading the team so the onus is on him. He clearly wasn't ready for the responsibility". It's true that he has yet to play a full NHL season. He is extremely green despite his all-world talent. 
@goodsportsdude if they make Connor McDavid captain at 19 and ruin his life like for real I'm going to burn Edmonton to the ground

— Reba ✨ (@goodsportsdude) June 29, 2016
You could argue that the Colorado Avalanche may have jumped the gun in naming 19 year-old Gabriel Landeskog as their captain. The team has clearly taken a step back, and while that isn't Landeskog's fault, a lot will always fall at the feet of the leaders, that's the way it is. If Connor was just a regular part of the team, sure he would get blame, but he would get more of a pass because of his youth. But the moment he puts on that C, he's held to a higher standard, whether it's fair or not.
Should McDavid Be the Captain?
I believe Connor is up to the challenge. I think he can handle the pressure. Some guys are just special in terms of their make-up, and McDavid is one of those guys. Will it be easy? Certainly not. Could the Oilers have waited one more season to name a captain? That may have been a better choice, but they've made their decision. McDavid also understands the it's an honor to wear the C and he won't take it lightly. If he does get the captaincy, I have no doubt he will carry it well, and his teammates seem to be in agreement. Whether some believe it's too soon is irrelevant. The Oilers will do what they think is best. 
Marcy, a former hockey player, is a hockey correspondent on CTV News and TSN radio. She began her career as a Sports Journalist in 2009 and has been part of The Hockey Writers since 2010, where she is currently a senior writer and editor.