Although they didn't land the mega sniper they were looking for to flank captain John Tavares this offseason, the New York Islanders acquisition of Andrew Ladd gives them a dependable winger who will add leadership and physicality, all the while scoring at a clip similar to the departed Kyle Okposo.
Signed to a seven-year deal worth $38.5 million, the 31-year-old is coming off a 25-goal, 46-point season between the Winnipeg Jets and Chicago Blackhawks, his worst season since 2010. A former captain with the Jets, the Isles wanted someone who could not only score but could be a leader. Courting Ladd for some time, the Isles believe they have their guy.
"Ladd's won the Stanley Cup twice (with Carolina and with Chicago) so I'm sure his leadership will be valued come springtime," Islanders statistician Eric Hornick told TheHockeyWriters. "He has never scored 30 goals, but he has scored 23+ in each of the last five full seasons."
Last Season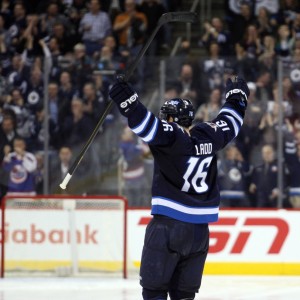 Splitting time between the Jets and the Blackhawks, Ladd's numbers suffered, but there's plenty of reasons for it. Spending time with nine different linemates, including Blake Wheeler, Bryan Little and Jonathan Toews, there was a ton of instability around him. It wasn't until Ladd got to Chicago, where there was more consistency in the lineup, that Ladd began to score at the type of clip people expect him to. With eight goals in 19 games in Chi-town, Ladd would have had a 30-goal season for the first time in his career if he spent all of the 2015-16 season there.
In Winnipeg, away from Wheeler, all of his linemates stats went down as well, but Ladd's shot totals were down as well, even in Chicago. Regardless, Ladd added 10 power play goals, an upgrade over Okposo's seven (Okposo did have 23 points with the man-advantage, compared to Ladd's 14.) and 155 hits and two short-handed goals, making him an asset in all game situations.
Expectations
Nothing against Toews and Bryan Little, but Ladd has never played with an elite offensive center the likes of Tavares. Able to get in the dirty areas in front of the net, Ladd will benefit the same way Matt Moulson did when he was an Islander. Scouts have always said Ladd has lacked offensive consistency, but around Tavares, Ladd will have an opportunity to produce nightly. His ability to hit and kill penalties will make him a vital member of the team and someone who will get plenty of ice-time. Because of this, it's not a crazy idea to see Ladd score 30 goals and add 35 assists in his first season in Brooklyn.
With a seven-year contract, Ladd is going to be a part of the Islanders long-term plans. With two cups and a captaincy on his resume already, this portion of his career will be dedicated to becoming the player he's always wanted to be. With Tavares on the ice with him for five-on-five action, he'll have every opportunity to prove himself.
Over the past ten years as a working journalist, Patrick Hickey Jr. has covered the New York Islanders, New York Rangers and New Jersey Devils, as well as the Brooklyn Aces of the former EPHL, contributing pieces and/or holding Editorial positions at NBC, New York Sports Day, NY Sportscene Magazine and the New York Times. During that time, he has interviewed NHL stars the likes of Brendan Shanahan, Bernie Nicholls, Bob Probert, Martin Brodeur and Zach Parise. He is also the first winner of the New York Islanders Blog of the Year Award, for his work on TheDriveForFive.com in 2008.