The World Cup of Hockey is just one month away, and the eight-team tournament is sure to affect the Red Wings in a multitude of ways.
The participating players — Justin Abdelkader, Niklas Kronwall, Dylan Larkin, Alexey Marchenko, Petr Mrazek, Frans Nielsen, Tomas Tatar, Thomas Vanek and Henrik Zetterberg — will compete against some of the game's best. A highly competitive tournament is sure to have the Wings' top players firing on all cylinders as the NHL regular season approaches.
However, the void left by those players at training camp and in preseason games will certainly be felt, as other veterans and young prospects will have to carry on without the organization's leaders and key players.
For every opportunity that the World Cup of Hockey brings, there is an equal and opposite risk that it poses to NHL teams as well. With that, we take a look at what's at stake for the Wings on the cusp of the world tournament in September.
CRAIG PETERSON: Prospects and Vets Left Behind
What is to be made of the Wings' training camp in Traverse City, Mich., and the eight-game preseason slate without some of the organization's most important players?
Well, it means other veterans like Jimmy Howard, Gustav Nyquist, Jonathan Ericsson and Mike Green will have to play an important leadership role to the younger players. The Wings will be without their captain in Zetterberg, and without their alternate captain in Kronwall, so the need for a leadership group to begin the season is paramount.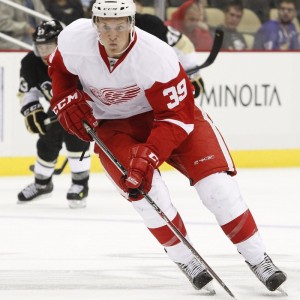 Nine players will be in Toronto competing at Worlds, which means nine openings will be left in Detroit for the Wings' preseason lineups. That should provide young players like Andreas Athanasiou and Anthony Mantha an ample amount of opportunities to showcase their talents.
In 2015 — with a full Wings roster — both players erupted with three goals and six points apiece in five preseason games. Showing an ability to contribute may have had implications later on in the season, as both Athanasiou and Mantha were mid-season call-ups from Grand Rapids to Detroit. If they can show signs of continued improvement in training camp and preseason, it could solidify them as top-nine forwards in the Wings lineup.
Additionally, Tyler Bertuzzi can earn his stripes this year like Athanasiou and Mantha did last year. Injuries are bound to happen throughout the course of the NHL season for every team. Bertuzzi has an opportunity to play top-six forward minutes during the preseason and a strong showing just might earn him the right to a mid-season call-up, should the opportunity present itself.
It could also be the fans' first look at young prospects like Joe Hicketts and Evgeny Svechnikov. The Wings' 19th overall pick in the 2015 Draft, Svechnikov played in two postseason games with the Griffins in 2016 and picked up an assist. However, the organization has yet to get a long look at its highly touted prospect. Hicketts on the other hand was an undrafted free agent signed in 2014 and concluded his junior hockey career after four seasons in the WHL with the Victoria Royals. Svechnikov, who played in the QMJHL last season, could join Hicketts in Grand Rapids for their first full season of professional hockey.
TONY WOLAK: Team Chemistry at Worlds
Another thing the Wings players could gain from the World Cup is the potential to develop chemistry among the trio of Tomas Tatar, Frans Nielsen, and Thomas Vanek on Team Europe.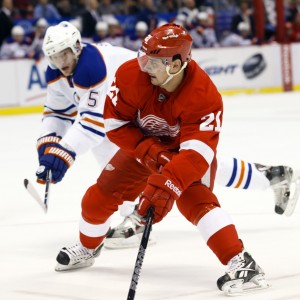 If Team Europe coach Ralph Krueger wants to do Jeff Blashill a favor, he'll stack the three Wings forwards on a line to face top international competition. The three can get an early start playing alongside one another before joining the Red Wings for the remainder of the preseason.
This past year, Tatar, Nielsen, and Vanek all got off to strong starts, scoring seven, nine, and ten points for their respective 2015-16 teams. If the three can gel in the World Cup tournament games, perhaps they can start the 2016-17 season on a roll for Detroit. Considering the Wings' woes with scoring last season, Hockeytown would be quite thankful if its potential second line hit the ice on fire to begin the new campaign. A fast start would also take some pressure off the likely first line, fellow World Cup participants Zetterberg, Abdelkader, and Larkin.
After spending the 2014-15 NHL season reporting as an editorial assistant for the Detroit Red Wings, Craig now covers all Detroit sports as a member of CBS Sports Radio.