Boston outlasted Montreal and finally broke through with a Game 7 win under the leadership of Claude Julien, Zdeno Chara and Peter Chiarelli. The series was exciting with players on both teams really elevating their games.
For Montreal, the series ends in heartache, but the Canadiens have no reason to hang their heads. They fought hard and had an opportunity to win every game. They should be disappointed they lost, but they played their hearts out.
Boston finally got the monkey of not being able to win a big game off its back, and the Bruins move on for another shot at redemption, facing Philadelphia. It was the Flyers who rallied from a 3-0 series deficit (and a 3-0 deficit on the road in Game 7) to stun the Bruins in last year's Eastern Conference semifinals.
Reflecting on this exciting series, here are 11 things we learned watching the Bruins and Canadiens: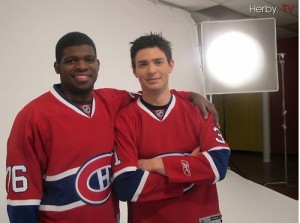 1. P.K. Subban is a great player: Subban logged a ridiculous amount of ice time in every game, scored big goals (including the tying goal late in game 7), killed penalties, helped shut down Boston's first line, and did his job as an agitator. After watching him play in this series, it's hard to argue that he is not the best rookie in the league (even if he doesn't win the Calder Trophy) and it's even clearer he will be a star in this league sooner rather than later.
Although Boston fans hate his as a Hab, they'd love him if he was wearing Black and Gold.
2. P.K. Subban needs to quit diving: The one thing that irritates me more than anything is watching players take obvious dives. Throughout the series, Subban dove in an attempt to draw penalties. It worked many times, but that is beside the point. He is too good a player to be diving. For the record, his dive at the end of the second period of Game 2 was an embarrassment to the game and his talent. If I were Mike Cammalleri or Brian Gionta, I would tell Subban to stop the diving and just play.
3. Tim Thomas can play well in big games: Though he has been outstanding in the regular season, Thomas has been lambasted in Boston for his inability to win big games. Thomas silenced those doubters, at least for a bit, with brilliant play in Games 5, 6, and 7. If not for Thomas, the Bruins would definitely be on the golf course rather than the ice this morning.
4. Dennis Seidenberg can be a Top 2 defenseman: More than any other player in a Boston uniform, Seidenberg elevated his game. He played great defensively, moved the puck quickly, jumped up into the play when he should have, and scored big goals. His play earns him a mention as a possible Boston's series MVP.
Ference\'s goal changed the series
5. Andrew Ference might be worth his contract: Ference (and Chiarelli) took a lot of abuse for the three-year. $6.75 million deal he signed at the end of last season. Why sign an often-injured defensive defenseman to what appears to a more-than-generous deal? At the time, Chiarelli said he loved Ference's grit and leadership. Both were apparent in this series, as Ference's goal and ensuing gesture to the Montreal crowd turned the series around in Game 4, a game in which Boston trailed 3-1 on hostile ice in Montreal. Ference was solid in every game, led Boston with a plus-6 rating, and played the best hockey of his career.
6. Patrice Bergeron is Boston's best player: Bergeron did a little of everything to help his team win. He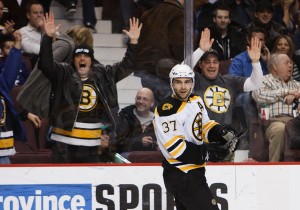 led the team in points, ice time, hits, and face-off percentage, and also was one of the team's spiritual leaders on the ice. Granted he took a foolish penalty in the offensive zone late in Game 7, but his play got them to that point.
7. Nathan Horton is a clutch performer: Horton, playing his first-ever playoff series after seven years in the league, is part of Boston's top line, which was all but neutralized. However, Horton came up big when it mattered, scoring OT game-winners in Games 5 and 7.
8. Carey Price is one of the best: Price stood on his head in games 5 through 7, including making three saves late in game 7 that kept the Canadiens within a goal and gave them the opportunity to force overtime.
9. Mike Cammalleri is a premier player: Cammalleri was arguably the best player in the series, scoring big goal after big goal and creating chance after chance. It's the second straight year Cammalleri has been awesome with the spotlights on, so there's no arguing his credentials as a playoff performer.
10. Tomas Kaberle might be all done: Some of us believed this before the series started, but Kaberle was invisible. No, check that, he was worse than invisible. He was useless on the power play and turned the puck over time after time. He looked slow, old, and out of place. Brought in to spark the power play, he did nothing of the sort, as Boston sputtered completely with the man advantage, going 0-for-21 and surrendering a shorthanded goal in Game 7.
On the plus side (?), the Bruins became the first team in history to win a seven-game series without scoring a power play goal.
11. Chris Kelly was a great pick-up: This series could not be discussed without examining the contributions of Kelly. Despite playing with a cage due to a facial fracture, Kelly was one of Boston's most consistent players. He scored a huge goal in Game 7 that gave the Bruins the lead, and had 3 goals and 3 assists in the series. Chiarelli was criticized for the Kelly trade, but it looks genius right now.
(Steve Kendall is a freelance writer with 20 years experience covering hockey at all levels. In addition to thehockeywriters.com, he has written for The Boston Herald, The New England Hockey Journal, and The Worcester Telegram & Gazette.)