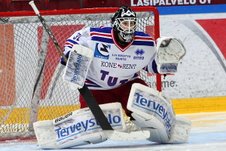 Another season has come to an end for the vast majority of hockey players in North America and Europe, so what better time to take a quick glance at the Calgary Flames prospect pool?
For the sake of argument, here is a brief listing of the Flames ten top prospects. "Prospects" are defined as players below the age of 25 (sorry Ryan Stone and Cam Cunning) who have yet to establish themselves as NHL regulars (like Mikael Backlund). The underlying reasoning for this "best" list is to establish the 10 players whose play has most merited a promotion from their current level of hockey.
#10: LW Spencer Bennett (20)
A native of White Rock, British Columbia, Bennett was drafted by the Flames back in 2009 in the 5th round (141st overall). Originally playing with Surrey of the BCHL at the time, Bennett hit the WHL and posted respectable numbers in 2009-10. He continued playing at the same pace for the first part of 2010-11 before a trade deadline swap to the Vancouver Giants. Whether it was the new surroundings or the new opportunities with Vancouver, but Bennett took off. While he posted a respectable 61 points over 108 games in Portland, he racked up 49 points in 35 games with the Giants. Now eligible to jump to the pros, Bennett will need to be signed before he hits Abbotsford (or somewhere else) full-time. He dressed for two games for the Heat late in their season, but didn't earn any points.
#9: D John Ramage (20)
The son of former NHLer (and Flame) Rob Ramage – a pattern is about to emerge –  and Calgary's 4th round choice (103rd) in 2010, the big blueliner spent his second season in the NCAA much the same way he spent his first. Ramage captained the bronze medal-winning American squad at the IIHF World Junior Championships, then fell short in the NCAA championship tournament. Despite the setbacks, Ramage remains a big, strong blueliner with good hockey sense. He's still got a couple years to mature in college before he starts figuring into the Flames plans, but he's shown a lot thus far.
#8: C Lance Bouma (21)
A native of Provost, Alberta, Bouma was Calgary's 3rd round pick (78th) in 2008. After a productive junior career (which included a Memorial Cup win), Bouma entered his first pro campaign with seemingly modest expectations. Due to his very effective play (often paired with Greg Nemisz and Gaelan Patterson) in Abbotsford, he earned a pair of call-ups to Calgary to play on the energy line. Despite not racking up a heckuva lot of points (20 points in 61 games), Bouma's tenacity earned him 16 games in the bigs, where he got an assist. He didn't look out of place and it's likely that he'll contend for regular 4th line duty in the NHL.
#7: RW Greg Nemisz (20)
Another 2008 pick (1st round, 25th overall), Nemisz entered his first pro year with a bit of hype. After all, he DID have two Memorial Cups from his junior stint with the Windsor Spitfires. While Nemisz didn't set the AHL on fire offensively (33 points in 68 games), he was among the team's offensive leaders and his play earned him a brief stint with Calgary during the NHL team's stretch drive. Granted, Nemisz's skill-set isn't 100% attuned to NHL 4th-line duty, but he asserted himself well and earned an assist during six games. He'll fare better once he puts on a bit more muscle, but Nemisz should be on the short-list for call-ups for the foreseeable future.
#6: G Joni Ortio (20)
A product of TPS Turku, the same team that produced one Miikka Kiprusoff, Joni Ortio (Calgary's 6th round choice in 2009) has matured into a steady goalie despite being a teenager playing hockey in a full-grown men's league. Ortio had a bit of an up-and-down year in 2010-11, putting up respectable numbers in Turku (and in a brief stint with KooKoo in the Finnish "B" league), back-stopping an over-matched Finnish World Junior team to a decent finish and making a brief North American stop in Abbotsford. Granted, he didn't win a championship in Finland like he did last year…and his one AHL game saw him give up six goals. That said, Ortio's still just 20 and went through a bunch of changes and still performed fairly well. He'll be given some time in Abbotsford to develop over the next year or two.
#5: LW Ryan Howse (19)
Another product of the 2009 draft (3rd round, 74th overall), Ryan Howse had a great year this year. How great? 51 goals! WHL Second Team All-Star! He's been a highlight on a Chilliwack team that, sadly, wasn't that great through the year. His defensive numbers aren't fantastic (likely a symptom of his team rather than his own play), but Howse will have time to learn. Plus, given that Abbotsford had a tough time scoring this season, perhaps adding a strong offensive presence like Howse is exactly what the doctor ordered.
#4: C Max Reinhart (19)
The son of former NHLer (and Flame) Paul Reinhart, Max was Calgary's 3rd round pick (64th overall) in the 2010 draft. He's also in the midst of a season that makes the Flame scouts look really, really smart. After 51 points in 72 games with Kootenay in his draft year, Reinhart racked up 79 points in 71 games this season…and in the current playoff year, he's earned 22 points in 14 games. He's thus far shown to be a strong two-way player who can score goals (including FIVE in the game that sent the Ice to the WHL finals) and dish passes. And he's only 19, so he's got an entire year of WHL left…along with a possible spot on Team Canada at the next World Juniors.
#3: D T.J. Brodie (20)
The third of THREE 2008 draftees to appear on this list and play for the Flames in 2010-11, T.J. Brodie (4th round, 114th overall) made the NHL club right out of training camp. He spent three games in the bigs and then headed to the AHL for seasoning. Despite playing on a team that didn't score very much AND being criticized early on for his defensive play, Brodie averaged half-a-point per game (34 points in 68 games) to rank among the team's scoring leaders…and he was +3. He'll likely get a long look at training camp as a possible contender to supplant an existing NHL body on the Flames blueline.
#2: D Tim Erixon (20)
Drafted in the 1st round (23rd overall) in 2009, Tim's the son of former NHL Jan Erixon. Erixon also posted strong numbers as a 20-year-old with his club team, Skelleftea AIK of the Swedish Elite League, and was a strong contributor on Sweden's World Junior team. Having accomplished basically everything he can in Sweden, Erixon is expected to head to North America next season. He's a bit more hyped than Brodie due to having more experience playing in the pros, but the gap in talent level between the SEL and AHL is questionable, so consider them more or less the same, although Erixon may have a higher ceiling for his development. He'll represent Sweden in the World Hockey Championships, which may provide a glimpse to just how far along his development has gotten.
#1: G Leland Irving (23)
Calgary's 1st round choice (26th overall) in 2006, Leland Irving may have been doomed from the start. Calgary has had a TERRIBLE track record for 1st round choices. Their record is EVEN WORSE for goalies in that round. Examples? Jason Muzzatti, Trevor Kidd and Brent Krahn. Other than Mike Vernon and Irving, those are Calgary's 1st round goalies. A poor bunch. Worse, Irving had a very up-and-down year last season, losing his starting job in Abbotsford to David Shantz and ending up with the Victoria Salmon Kings of the ECHL. Challenged by Flames brass to prove he belonged, Irving had a tremendous bounce-back year – ranking among the AHL's leaders in wins, shutouts, goals-against and minutes played, while playing on a non-playoff team. While Henrik Karlsson may be the Flames back-up for now, look for Irving to take a run at the big club before too long.