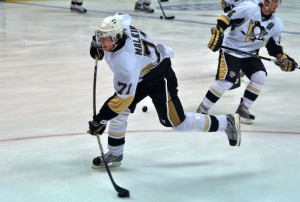 Last season Evgeni Malkin notched 28 goals to go along with 49 assists.  When you take into account he only played 67 games, 77 points for many 24-year-olds would be termed anything but a disappointment.  But reality is Evgeni Malkin is not just any 24-year-old.
In 2007 he won the Calder Memorial Trophy as the league's top rookie.  The next year he carried the team on his back to a Stanley Cup Final appearance and was runner up for the Hart Trophy as NHL MVP.  Two seasons ago he surged into the league's elite class with 113 points, an Art Ross Trophy, and a Conn Smythe Trophy as playoff MVP.  While much is made of Sidney Crosby's impressive resume at such a young age, Malkin is certainly no slouch.
But with such otherworldly performances comes unrealistic expectations and the questions are quick to follow. 'Disappointing work'. 'Sub-par season'. 'Trade Malkin for a pick, prospect, and overpaid injury-prone defenseman'.  I even wondered about distractions or disinterest.
When Crosby is slumping, he's subjected to hours of questioning and the reasons become clear.  For a player like Malkin who still struggles to communicate his frustrations or injuries, it unfortunately leaves the door open for rumors and speculation.
What went wrong?
Had he played a full 82 game season Malkin would have finished with 94 points, good for 6th in the NHL in scoring.  That production is far from disappointing, but what about the stretches where he seemed to go quiet?  Was it disinterest or something else?  We decided to ask a panel of Penguins writers for their thoughts:
DEREK ROCCO (The Pensblog): I disagree when you say he looked disinterested at times. And you aren't the first to say that. I think a lot of people automatically assume that he is disinterested, when in fact he is just trying to do way too much.

I won't disagree that he was making mistakes, but like I said by all accounts he goes into that 'hero mode' when he doesn't trust his linemates.
JESSE MARSHALL (Faceoff Factor): We spoke with Nick Johnson earlier this summer about his experience playing with Malkin. He referenced that Dan Bylsma specifically spoke to [Johnson] prior to his first game against the Capitals and indicated that he shouldn't feel like everything had to flow through Evgeni Malkin. Bylsma was pushing people to go for it and try to make plays on their own. That tells me that Malkin had put way too much responsibility on himself.

TONY FERRANTE (The Confluence at Kukla's Korner): The "easy" answer is that he had 'ham-n-eggers' as linemates all last season. There were easily a couple dozen occasions that he'd lay a perfect setup to someone like Ruslan Fedotenko who would fail to convert. So perhaps he simply felt that he had to do everything himself. That meant attempting to stickhandle through the entire defense, which meant turning the puck over 95% of the time, or getting frustrated after losing the puck by a lazy hooking or tripping penalty.
SEAN LEAHY (YAHOO! Puck Daddy): If you look at the Top 25 points leaders from last year, only Ryan Kesler and Corey Perry joined Malkin with over 100 PIMs and those guys are known as disturbers. That's in the neighborhood of 200 minutes (minus power play goals) Malkin was off the ice and coupled with the 15 games he missed speaks for his "off" year.
JIMMY RIXNER (SBNation Pittsburgh): One thing I think hurts Malkin is that he's always compared (naturally) with his teammate Crosby who's the singularly most focused, committed and dedicated hockey player on the planet. Anyone looks like a slacker in that light.
What can we expect?
If expectations were unrealistic last season, what should fans hope for from Malkin this year?  GM Ray Shero and coach Dan Byslma have made it clear that a shift to wing could be in the cards as they look to unite Malkin and Jordan Staal to create a potent scoring threat. The two showed great chemistry together in 2006-07 and could easily become the Penguins most imposing offensive line.
Most of the talk has focused on Malkin making the shift from center, but Staal's puck-shielding abilities and defensive style might make him the better fit along the boards.  Malkin is at his best when he has space to work with and can glide in and out of the play like center Mario Lemieux used to do.  In some limited penalty killing time last year, he looked awkward trying to stop and start while covering opposing defensemen.
Regardless of how positioning shakes out, our panelists all expect big things from #71 this year:
TONY FERRANTE: Given the right center, Malkin could easily flourish once again, this time on the wing. If Jordan Staal is that center, he's outstanding at puck possession, giving Malkin time to get open for scoring opportunities. But the important part of his game is that he can't continue to try to do everything himself. He has to let the play develop and then make the decision to make a play himself or simply dish the puck off. He may not get back to the Art Ross/Conn Smythe level this season, but I'm excited to see what he can do with Staal as his center.
JESSE MARSHALL: If anything, I think a shift to the wing would be positive. That gives Malkin a talented center to thrive with, and also sheds the faceoff and large defensive responsibilities that a center has to deal with. Not that Malkin was dealing with any glaring defensive deficiencies, but being able to get up ice a little bit quicker via playing wing should benefit him and getting him out of the faceoff circle should benefit the Penguins as a whole.
JIMMY RIXNER: I don't worry about Malkin shifting to wing, because he kind of has been doing that anyways, really. Max Talbot has taken a ton of his faceoffs in years past and Malkin's style is to seek the puck, steal the puck, and go the other way with it. He'll generate turnovers all over the ice no matter what position you have him designated. That's just how he plays. Plus, a player like Jordan Staal is smart enough to compensate for whatever happens, and being as the two are very familiar with each other, it's no big deal. At the end of the day Evgeni Malkin is not the Pens biggest problem. Figuring out how to surround him with skill that he can work with is.
SEAN LEAHY: Although Malkin's size might be suited more for center, he can turn into a power forward on the wing alongside Staal. It's worth the experiment and I don't think Bylsma will tinker with the line combos as much as Michel Therrien did. The fall back solution is always putting Malkin back to the No. 2 center spot and Staal to No. 3, which I believe has worked in the past.
DEREK ROCCO: I was just thinking about our Penguins preview this year, and think about this: Malkin and Crosby have never been rolling at the same time. Every time one of them gets going, something happens to the other.  I just have this strange feeling that we are going to see Crosby and Malkin both put up huge numbers this year.
Malkin says he's excited for the season. If our panel is any indication, the Penguins and their fans should be too.