To get right to the point, TPS Summit Goalie Pads are amongst the best, cheap goalie pads that you'll find. If your looking for pro pads – look elsewhere but if your in a recreational league or your budget is on the tight side then these may be just the thing for you.
According to Sabres35 (from the goalie store):
I have heard the negative comments about these pads and i'm not sure it's all warranted. Perhaps because they resemble the pro model so much people are expecting more? Everyone that has seen them thinks they are 1200 dollar pads…They seem to be built much better than an RBK 6K or Itech 4.8 series pad…but they sell for around the same price now due to the Summit 5 being released. For the money, these can't be beat
We've read a lot of reviews of the TPS summitt pads and the votes are just about unanimous. Light weight with good rebound control, very well built for the price and great speed and great value.
Here are some of the features you can find on your tps summit goalie pads:
Beveled outer roll to help deflect down while in the butterfly
Ergonomically correct break pad bend the way your leg bends
Soft leg channel for comfort and superior shock absorption
Thigh wrap that fits under the pant
11″ wide to meet the new requirements
Pads retailed for over $700 but you can often find them for as little as $200. A cheap price but they are far from cheap goalie pads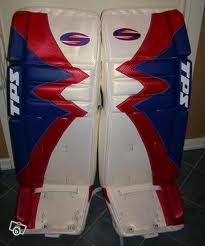 If you're an experienced goalie but spending a thousand buck on a new pair of goalie pads is out of the question the taking a look on eBay may be just the answer. You don't want to buy cheap goalie pads but you still need some quality then consider the TPS summit series 5 pads. They can be hard to find in your local sports shop but looking online you often find amazing deals on goalie pads. Guys don't think that the net is the best place for pads but shipping is cheaper than you think and the quality of pads that are out there is ridiculous. Click on the eBay link above, it will take you to search results with a ton of terrific TPS summit goalie gear.