Last September, there was a sense of disappointment as the hockey world awaited the resolution of the CBA. There was no anticipation for training camp, and no bold pre-season predictions, because nobody know if there would even be a season to predict. This year however, with the lockout far in the rearview mirror, it's business as usual in the NHL. Players are starting to arrive in their respective cities for camp. The end of summer in 2013 has been much happier than the end of summer in 2012.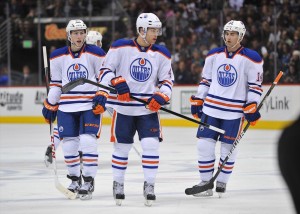 As for the Edmonton Oilers, yet another season of missed playoffs means a little bit of pressure to show some progress. A new coach and General Manager means a new philosophy. But will that translate in a postseason berth? The new division realignment gives the Oilers some heightened competition. Will they finally get over the hump this year? Playoffs should always be the goal, but there are also a few things that this team needs to show to indicate any kind of growth.
1) Taylor Hall and Jordan Eberle Continue to Progress
There's a little bit of added incentive for Hall and Eberle this season. They were invited to Team Canada's Olympic orientation camp, and with so many great players to choose from, it's really the guys who have a start start to the season who will get a closer look. Canada has a glut of center icemen. Hall and Eberle are both wingers, and no doubt the Team Canada brass will have a watchful eye on them. The Olympics usually mean guys will have to play out of their position, but having a few great natural wingers to choose from is obviously an advantage.
Hall had a great year last season. Eberle had a slower start. Both have the potential to be stars, but haven't yet reached star status. Equipped with new long-term contracts, it's these two guys who need to lead this team to the promised land. They are the present and future of the Oilers. Edmonton will go as far as these guys take them. A strong first half will not only help their team in the playoff race, but it also will help their own cause for the Olympic games.
2) Solidify the Goaltending.
The Oilers believe in Devan Dubnyk. Either that, or they couldn't find the right deal to bring in a veteran goalie. Dubnyk has shown flashes of brilliance behind a weak defense, but still has a lot to prove. The Oilers have a lot of depth in goaltending prospects, but none are NHL ready. Therefore it's up to Dubnyk and newly acquired back-up Jason Labarbera. Not exactly the most intimidating goaltending duo.
The Oilers also picked up former Dallas Stars goalie Richard Bachman, who will battle Labarbera for the back-up role. He has NHL experience, and there's a lot of potential there. He may end up being an underrated pick-up for the Oilers. But those three guys may not be the longterm solution. Goaltending is such a crucial position in hockey. Craig MacTavish has to sort out his goalies, and soon. There isn't a huge market out there, but the Oilers need solid goaltending if they want to do anything this season. It's a big year for Dubnyk's career without a doubt.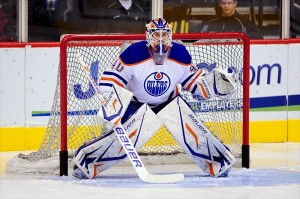 3) Better Team Defense
The Oilers Achilles heel for many years has been their defense. Not just the defensive players, but the team as a whole. Expect the defensive structure and system to change dramatically under new coach Dallas Eakins. There needs to be progress here, however, from guys like Jeff Petry, Corey Potter and Justin Schultz. Newly signed Andrew Ference will be a huge veteran boost for this back-end, and the pickup of former Oiler Denis Grebeshkov will bring in some much needed experience.
The Oilers attention to detail on defense needs to improve. Better decision making and more patience. The forwards have to be committed to playing both sides of the puck instead of waiting for a break-out pass. Eakins is a good coach. He has the ability to reign these guys in, and teach them to play better without the puck. There is a long way to go for this Oilers team. It isn't playoffs or bust. But in the 2013-14 season, it is sustained improvement or bust. A playoff race in March wouldn't hurt either.