Three Nationally ranked teams. A Hobey hopeful. An interstate rivalry. Eight NHL Draft picks. And one of the nicest arenas in all of professional hockey. Consol Energy Center is where you want to be this Monday and Tuesday if you're any kind of hockey fan.
I took a few days off from breaking down every play taking place in the World Junior, to drive ten minutes down the road to the event I have been awaiting for well over a month. And wow, Day 1 did not disappoint.
Game 1. Western Michigan vs. No. 17 Colgate
The safe prediction that this game was going to be low scoring and a defensive struggle, held true. With Colgate holding on to defeat the Broncos of Western Michigan by a score of 2-1.
WMU controlled the play for the majority of the 1st period, but were unable to find the back of the net. While Colgate used the 1st to find their rhythm, the 2nd period provided some see-saw action back and forth on the ice. Finally, after about 38 minutes of play, Colgate senior defenseman Spiro Goulakos blasted a point shot past WMU net-minder Lukas Hafner on a pass from junior Kyle Baun.
Colgate extended its lead to 2, when Taylor Spink buried home a rebound off a wrist shot from Andrew Black half way through the 3rd period. Western Michigan picked up its play following the Raider's 2nd goal and began to take the play to Colgate. WMU finally got on the board when freshman Aidan Muir, an Edmonton Oilers draft pick, corralled a rebound by toe dragging the puck into his skates and finished a wrist shot home to make it 2-1. Justin Kovacs had an asset on the play, keeping his better than a point-per-game average in tact.
Western Michigan continued to pressure Colgate in the latter minutes of the period, getting in close and hitting a few posts, but were unable to beat Raider goaltender Charlie Finn. Colgate held off a buzzing WMU offense late in the game, and earned their chance to play for the Three Rivers title tomorrow at 730 p.m.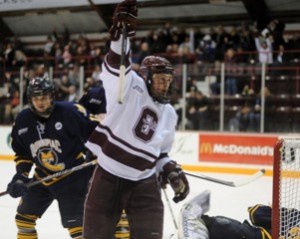 Game 2. No. 20 Penn State vs. No. 19 Robert Morris
The crowd started to filter in as the main event of the evening was getting under way.
The first period saw a pick-up in pace from the first game of the night, a lot of back and forth and scoring chances for both teams. However both tenders stood their ground and kept the opposing side scoreless during the 1st.
The 2nd started the same way, and for the first ten minutes, remained a scoreless tie. However around the half way point of the 2nd, Penn State's senior assist captain, Nate Jensen, took a 5-minute major and a game misconduct for contact to the head. And the Colonials made Penn State pay. Junior Tyson Wilson, while manning the point, found freshman Brady Ferguson in the slot who let a wrist shot go that found the back of the net. About a minute later, Brandon Denham won a battle along the wall and fed the puck back to  sophomore d-man John Rey, showing patience, Rey faked a slap shot and held the puck before releasing a quick snapshot that had eyes and beat PSU goaltender Eamon McAdam, a NY Islanders draft pick, giving Robert Morris a 2-0 lead thanks to the major penalty. Penn State answered at the end of the period  however. Curtis Loik took a shot off an offensive zone face-off that was deflected in front of the net, where freshman Scott Conway picked up the loose puck and finished it off with a near side shot past RMU goalie Terry Shafer. Bringing PSU within one heading into the 3rd.
In the 3rd, we didn't have to wait as long for some scoring. Around the 4 minute mark, RMU's sophomore forward Daniel Leavens tipped in a point shot from defenseman Chase Golightly to put the Colonials up 3-1. Robert Morris carried the 2-goal lead for the majority of the period, until PSU junior Casey Bailey dug out a puck in front of the net from under a RMU defender with under 2 minutes to play, and went roof making it a 3-2 contest. But Penn State couldn't scratch and claw all the way back, and Robert Morris iced that game on an empty net goal by Zac Lynch.
RMU netminder Terry Shafer received player of the game, and rightfully so. He made 35 saves on 37 shots.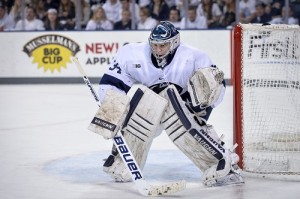 Tomorrow
Western Michigan and Penn State will each look to bounce back after close defeats, and will meet at 430 p.m. While the finals of the Three Rivers Classic will see No. 17 Colgate take on a blazing hot No.19 Robert Morris at 7 p.m. Both games should be close contests, and fans should be looking forward to Tuesday.
Bill is a 2012 Graduate of Franklin Pierce University, where he played D3 NCAA Ice-Hockey. He covers Atlantic Hockey and D3 for the USCHO. He covers College hockey for THW.