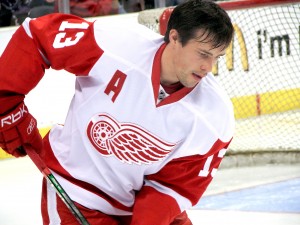 LOS ANGELES– The trend was not your friend in evaluating the matchup between the Detroit Red Wings and L.A. Kings at Staples Center Saturday.
The 4-1 winners from Detroit have had a season of streaks–five wins, six losses, four wins–and they entered the game dazed from a pair of road losses.  The Kings had won four of their last five and three straight following their own five-game skid.
Both head coaches praised Detroit's aggressiveness and strong puck-possession game.  Turnovers, poor breakouts, extended shifts and missed opportunities–including an unsuccessful Anze Kopitar penalty shot that would have tied the game–plagued the lethargic Kings.
THREE STARS:
Third Star- Defenseman Niklas Kronwall, DET, who crept down low to slam home the game-winning goal.  After a slow start, Kronwall put together a five-game point streak and has six of his eight points in Detroit's last seven games.
Second Star- Center Mike Richards, LAK, who pounced on the puck at the start of a Detroit power play to go the other way for an unassisted shorthanded goal.  Richards had six goals in his last six games and became the first King to record a shorty in consecutive games since Ziggy Palffy in 2000-2001.
First Star- Center Pavel Datsyuk, DET, who answered Richards' goal immediately to tie the game at one and later closed the scoring with a brilliant wrist shot off a turnover.  Datsyuk's two goals doubled his season total and snapped a 12-game goalless drought.  He and Henrik Zetterberg had combined for just 18 points in 34 combined games played coming into the game.  Against Los Angeles, Datsyuk scored twice and the tandem recorded 12 shots on net.