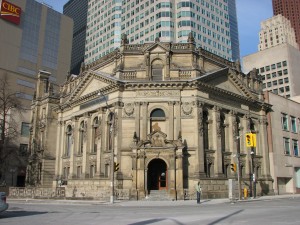 The 2011 Hockey Hall of Fame induction class had a distinct Toronto flavor to it, as all 4 of the player inductees saw their careers pass through the city. That's not to say they will be primarily remembered for their time in Toronto. But the connections are there. While none won a Stanley Cup with the Maple Leafs, and may be better recognized in the sweaters of other teams, many Toronto fans will feel as though some of their own are being inducted.
Even Mark Howe's career detours through Toronto. Best known for a WHA and NHL career spent with Houston, New England/Hartford, Philadelphia and Detroit, Howe spent a season as a member of the now defunct Toronto Marlboros of the OHL in the early 1970s. There, he joined his brother Marty, and scored 104 points on his way to a Memorial Cup win, where he was named the tournament's outstanding player. Mark jumped to the WHA Houston Aeros the following year, playing with Marty and dad Gordie, beginning the pro phase of his Hall of Fame career. I was too young to have been aware of that Marlie team, but for those who followed the old Marlboros, it was a memorable year and a glimpse of greatness.
Of course, for fans of the Maple Leafs, the induction of Joe Nieuwendyk, Ed Belfour and Doug Gilmour sparks memories of what once was… a playoff hockey team and the belief a Stanley Cup was nearer than further away.
With 3 Stanley Cups to his name from Calgary, Dallas and New Jersey, many may forget the one season Joe Nieuwendyk played with the Maple Leafs. Fact is, he played only about 5% of his illustrious career in Blue and White. But in 2003-04, he was a part of what is, to date, the last playoff team in Toronto, and one fans hoped could win a Cup. The team posted 103 points, a franchise record. Despite a collection of all stars including Mats Sundin, Alex Mogilny, Brian Leetch, Ron Francis, Ed Belfour and Joe's long time friend Gary Roberts, they were eliminated by the Flyers in round 2. Although he was a Leaf for only one season, Nieuwendyk's demeanor and history in the Toronto area endeared him to the fans. He grew up in nearby Whitby, Ontario, and played lacrosse as a youth. In a 50 point season with the Leafs, Joe was every bit the classy competitor and showed why he'd earned so much respect throughout the league. He and Roberts were involved in ownership of a well-known golf course northeast of Toronto, and many golfers hoped to catch sight of Joe, Gary or one of their NHL buddies at the driving range. Joe also spent some time in the Leaf front office transitioning to management after retirement from playing, and before moving on to his current job as GM in Dallas.
Nieuwendyk's teammate in Dallas, Toronto and Florida, Ed Belfour was a fan favorite just about everywhere he went, and the Air Canada Centre was no exception. It would take a personality as big as Belfour's to play in a net that had recently been occupied by the extremely popular Curtis Joseph. By the numbers, Belfour was the strong backstop the franchise needed to replace Joseph, as he went 93-61-19 with a 2.51 GAA and .912 save percentage during 3 seasons in Toronto, including setting a franchise record for wins with 37 in 2002-03. In the 3 seasons Belfour was a Leaf, his backups, Trevor Kidd, Mikael Tellqvist and JS Aubin won a total of 37 games. The numbers tell the story of the confidence that the team had in front of him. And the confidence Leaf Nation had in him. When he was signed there was some concern maybe he'd lost a step, aged 37 and coming off a sub-par season in Dallas. But it wasn't long before chants of Eddie! Eddie! filled the ACC as he posted a shutout in his first game. steady eddie, the rock the Leafs could lean on. In contrast to today, when goaltending seems to be in question, Leaf fans think back and remember fondly when there were no concerns about the man with the big Eagle on his mask.
The season the Eagle set the franchise record for wins also saw the return of one of the most popular captains in the history of the Maple Leafs. While the memory of Doug Gilmour going down to injury in his only Leaf game in 2003 hurt, there is simply no doubt what Gilmour means to Leaf fans. Immediately after arriving from Calgary in 1992, Gilmour had an impact, posting 49 points in only 40 games. He finished his Leaf career with the franchise record for points in a single season (127), assists in a single season (95), playoff points (77), as well as winning a Selke Trophy. He was a member of a team that made the Conference finals in 2 consecutive years, the first such playoff success in Toronto since 1978. He succeeded Wendel Clark as captain, and posted 452 points in only 393 games. Truly, in Toronto he became a susperstar. I recall being in a Toronto establishment one night during the 1994 lockout, with about 30 NHL players who were in town for a meeting with the NHL. This group included players who'd scored more than 70 goals in a season, had won the Hart… all-stars. But most of the buzz that night concerned whether Dougie would make any appearance. The image of Gilmour in jersey cow tights asking 'got milk?' was on every bus stop. People would tell their friends how they'd glimpsed his (then) wife in a local market. The local sports radio station created a character obsessed with #93 for Toronto… and people identified with him! It seems the night Doug scored on CuJo in double overtime, in the playoffs, Maple Leaf Gardens somehow grew to fit 100,000, beause that's how many folks claim they were there that night. In 2009, he became the 15th player to have his number honoured by the franhise and his banner raised to the rafter of the Air Canada Centre. Today, any rumor he may yet be associated with the team again is enough to get Leaf Nation talking.
Theres those who often point out that Leaf Nation celebrates mediocrity. After all, none of Joe, Ed or Doug won a Stanley Cup in Toronto, or were drafted by the Leafs. But, they were the heroes of Saturday night. Nieuwendyk's class and smooth abilities, Belfour's quiks and solid goaltending, Gilmour's tenacity and competitiveness – each has left a photo album's worth of memories in the minds of fans. Some say the city has a history of destroying its own. But the induction of the 4 players, Howe, Nieuwendyk, Belfour and Gilmour, gives the fans of the old Marlboros and the Leafs a chance to thank these greats for all they contributed to the city they played in. A chance to celebrate all that is great about hockey.