The 2015-16 NHL season was a disappointing one for the Chicago Blackhawks. When I say 'disappointing' I mainly mean that the team didn't win the Stanley Cup — something they had been able to do in three of the previous six seasons.
Stan Bowman was forced to make some difficult salary cap decisions in the previous offseason, resulting in a 2015-16 team that was slightly below the standard that Chicago had grown used to. And with a tighter-than-expected cap squeeze looming ahead of the 2016-17 season, further roster subtractions may be necessary.
Still, this is a team that expects itself to win championships, and losing in the first round was clearly disappointing for the team's core that had become so used to winning. With that in mind — and the idea that there are ways to improve the team heading into 2016-17 — it seems that looking at the new Stanley Cup Champions would be beneficial for the Blackhawks when analyzing and building their roster. Therefore, here are three things that the Blackhawks can learn from the dominant Pittsburgh Penguins:
1. Build Offensive Balance
One of the biggest reasons why the Penguins weren't able to reach the Stanley Cup again until this season was the team's lack of depth outside of their top-6 forwards. New general manager Jeremy Rutherford set out to change that problem this offseason when he acquired players such as Phil Kessel, Carl Hagelin, Nick Bonino, and Matt Cullen. All four contributed in big ways this postseason, but how Kessel was deployed is what the Blackhawks should focus on.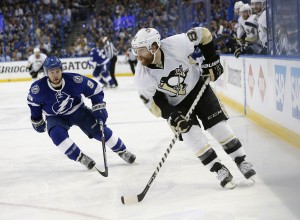 Obviously Kessel is one of the most prolific scorers in the league right now, and as such, I am not about to suggest that the Blackhawks should try to acquire a player of Kessel's caliber via trade or free agency (since it's just not possible). However, Kessel's playoff success reveals something about how the Blackhawks can deploy their offensive core of Jonathan Toews, Marian Hossa, Artemi Panarin, and Patrick Kane.
The Penguins have been adamant about playing their high-profile offseason acquisition on a highly-productive third line with Carl Hagelin and Nick Bonino. That trio combined for 56 points while recording a 65.22 GF% at 5v5 in what was a breakout postseason for all three players. The underlying statistics including a 53.42 CF% and a 58.19 xGF% at 5v5 were nearly equally strong as well (stats from Corsica.hockey).
So what's the point? Well that trio was more productive than any other line involving Kessel this season, including those lines when he was playing with Evgeni Malkin and Sidney Crosby. And while it might seem logical to play the team's best players on top lines, the balance that shifting Kessel down has granted the lineup has actually made them more dangerous overall.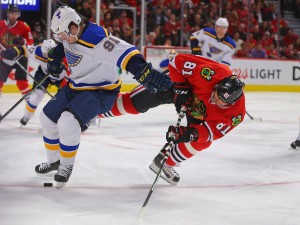 If you haven't caught the drift by now, I am suggesting that the Blackhawks might be more productive if they move some of their offensive leaders throughout the lineup. For instance, moving Andrew Ladd and Hossa down to the third line against St. Louis resulted in Hossa scoring more frequently while also allowing for some shifts in the top-6 that resulted in boosts for Kane and Toews as well.
Having four quality centers in Toews, Artem Anisimov, Teuvo Teravainen, and Marcus Kruger only makes this plan more feasible on the whole.
2. Role With The Stars
Aside from examining how the Penguins have split up their stars to give their lineup more balance, the Blackhawks can also follow Pittsburgh's example by making sure they rely on their star players to deliver season-to-season. The Penguins and Blackhawks both have a core of stars that have delivered big wins and playoff successes throughout the course of their careers, and the teams have been wise to stick with those players even after some disappointing finishes.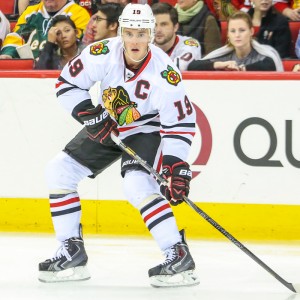 Not that the Blackhawks weren't already aware of the value of giving Kane and Toews large minutes, but the Penguins do offer another valuable reminder of what can go right when they do. It's no mistake that Crosby, Kessel, Malkin, and Patric Hornqvist led Penguins forwards in ice time per game in the team's most successful postseason campaign since 2009.
Kessel and Crosby were the highlights among this group, and having two players of that caliber playing some of their best hockey makes any team incredibly difficult to beat. Continuing to give Kane, Toews, and Panarin big minutes as they go through the prime of their careers gives them the best chance of playing effective hockey, thus giving the Blackhawks a better chance of winning.
3. Value Versatility
Another one of the big stories for the Penguins this postseason was the play of role players such as Bryan Rust and Conor Sheary. Those two combined for 10 goals in largely secondary roles, but perhaps their greatest value comes from how they are able to move throughout the lineup.
Both started near the bottom of the team's forward group but gradually played their way into more ice time. At the end of the postseason these former bottom-6 players found themselves on the same lines as Crosby and Malkin.
Players like this are key for several reasons. For one, playing with high-end players is often a difficult task that depends heavily on chemistry and a willingness to take a back seat at times. A willingness to play this way can be rare, so players that embrace it gain more value.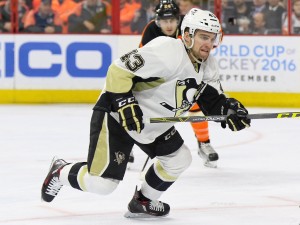 Additionally, playing near the bottom of the lineup requires dedication to a coach's philosophy and the desire to buy-in for the benefit of the team. Some players have a hard time stomaching a reduced role, so players that embrace the ice time they do receive are valuable from both a production and morale standpoint.
And with such a combination of skill and attitude in rare supply across the league, teams would be wise to find these players and try to hold onto them. For the Blackhawks, those players include Richard Panik and Andrew Shaw — both players who will be free agents this summer. Therefore, re-signing each of them should become a large priority for the team after watching how Rust and Sheary impacted the Penguins on their way to a Cup.
David is entering his final year as a sport management and operations and information management double major at UMass Amherst. Originally from the West Suburbs of Chicago, David has enjoyed watching the Blackhawks for as long as he can remember. When not watching or writing about hockey, he can be found working on the McCormack Future Leaders Conference on the UMass campus.