With a severe cold snap pounding us this week, it's only fitting that this post is brought to you by Cotswold Outdoor. They offer a terrific line of clothing geared towards keeping you warm and dry. Check out their lineup of Jack Wolfskin jackets – real beauties.
Three games in and it is all already going to plan for the Minnesota Wild in the 2013 NHL season, they are top of the Northwest division , Edmonton and Colorado look young, it's all going wrong again for Calgary and Vancouver have their own internal turmoil. Minnesota plays Detroit on Friday in their fourth game of the season feeling confident that they are ready to charge towards the second division title in franchise history. Okay, so my tongue is firmly in cheek. Wild fans know all too well from the 2011-12 season that leading the whole league comfortably after 30 games doesn't even guarantee you a playoff place, let alone anything else.
The opening three-game home stand would have inspired some cautious optimism for fans as they hope that a busy and expensive offseason can transform to the end of their woes and a return to the postseason. Here's three opening thoughts from the three-game blitz of action experienced to open the 2013 NHL season.
Plenty of Small Positives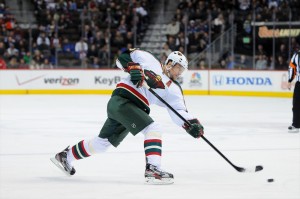 Minnesota Wild fans would have seen a lot from the opening three games to please them. It starts with 2011 summer addition Dany Heatley, who disappointed last season after being traded from the San Jose Sharks. Heatley scored just 24 goals in 2011-12, his lowest total ever in a full season. While a fast start doesn't mean that he is automatically going to erase memories of that disappointment, but Heatley has led the offense with three goals including scoring both of the team's power-play tallies so far. The 32-year old has a useful supporting cast and will be keen to come closer to justify his $7.5 million cap hit.
The opening three games also saw new additions to the offense Zach Parise and Mikael Granlund open their goal-scoring accounts for the 2013 NHL season. Parise scored the lone goal in the 1-0 victory over the Dallas Stars, while star rookie Mikael Granlund scored a goal in the opening win against the Colorado Avalanche.
Meanwhile, Pierre-Marc Bouchard returned from concussion problems after an absence of nearly one year. The 28-year old is a terrifically skilled offensive player and he has scored 285 points in 411 games since the 2004-05 NHL lockout, despite dealing with a number of injury problems. Bouchard has looked rusty at times during the opening three games, but he has handled decent third line minutes and has scored a goal and added an assist while playing on a line alongside Kyle Brodziak and Cal Clutterbuck.
Another positive point in terms of a player making a comeback was the play of back-up goaltender Josh Harding, who made 24 saves in a shutout against Dallas on Sunday. Harding was diagnosed with multiple sclerosis in October leading many to question whether he would make it back to an NHL rink again. However, the 28-year old didn't just make it back to a rink, he stormed back and looked excellent in a shutout performance. Harding's performance highlights the tremendous perseverance of a young man, who should inspire the rest of this hockey roster.
The final point of encouragement comes on the blue-line. Ryan Suter, Tom Gilbet and Jared Spurgeon were indisputably the team's top three heading into the 2013 NHL season, but there were some questions surrounding the rest of the group. Clayton Stoner has partnered Gilbert on the team's second pairing and has logged around 23 minutes per night. He's leading the team in short-handed ice time and is second behind only Clutterbuck with eight hits. Stoner has been solid in recent seasons, but injuries have prevented him from full establishing himself in the team's top four. If Stoner can stay healthy and continue to solidify his position in the top four, then one of coach Mike Yeo's preseason problems has been resolved.
Team Cohesion Issues
The loss against the Nashville Predators on Tuesday highlighted the biggest issue for the Wild right now, which is team cohesion. The Predators were able to pin Minnesota in their own zone for much of the night and especially after they took a 2-1 lead with less than 10 minutes left in the third period. Their breakouts were disorganised and they were far too easily locked out by an experienced and well-coached Nashville squad in the neutral zone. The power-play still has some work to do despite scoring a pair of power-play tallies in their opening game against the Avalanche.
This is a team that has played three home games and secured victories against Dallas and Colorado, who both missed out on the playoffs in 2011-12 and are outsiders to make it in for the 2013 NHL season. They start a mini-road trip on Friday against a Detroit Red Wings team that has its own major cohesion issues, before travelling to face an impressive looking St Louis Blues team on Sunday. In a shortened season, teams will not have much time to put it all together, and this mini-road trip could be a crucial step towards this roster, and particularly the offense, finding better cohesion.
Offense Still A Problem In 2013 NHL Season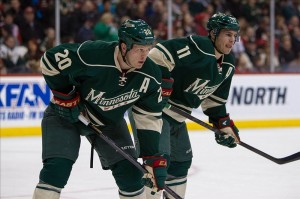 It's early days, but there's little doubt that finding offense, the Wild's biggest problem in 2011-12, is still a problem early on in the 2013 NHL season. They scored just two goals per game in their opening three-game home stand. They scored just two goals in total after an offensive blitz in the home opener against Colorado. Parise and Granlund haven't automatically turned this team into an offensive juggernaught, Yeo and co have plenty of work left to do.
Minnesota potentially have three decent offensive lines, and Yeo is taking the right approach in showing patience with those three lines. It wouldn't be a surprise to see the 'big three' of Parise, Heatley and captain Mikko Koivu split up at some point if the offensive problems continue, but the Wild should get a good assessment of their offense by the end of January as three of their final four games are against less stable defensive teams in Detroit, Columbus and Chicago.
It is too early to make serious judgements about the 2013 NHL season. Still, the problems and difficulties experienced by the Wild so far would not have been unanticipated by the coaching staff, and there have been enough positives to suggest that the fans preseason optimism could be rewarded with a return to the playoffs.