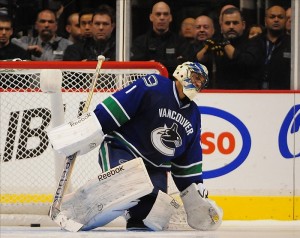 Canucks GM Mike Gillis has said that there is a deal in place for a Roberto Luongo trade with an unexpected team that "has to do something with another player that they have". If this announcement is, in fact, true then what team will Luongo be, potentially, shipped off to?
Gillis has made it clear that it is not a team that anyone expected, that means that the Toronto Maple Leafs, Philadelphia Flyers, and Florida Panthers are not it. Those teams that do not need a good starting goalie right now such as the Boston Bruins, Nashville Predators, Pittsburgh Penguins, etc. can be can be scratched off the list. Teams that cannot afford an expensive contract like Luongo's due to his cap hit or the team's revenue issues such as the Phoenix Coyotes, Columbus Blue Jackets, San Jose Sharks, Minnesota Wild, etc. can be scratched. Also teams that Luongo wouldn't agree to go to like Carolina, Dallas, Washington, and New Jersey take away the remaining excess teams.
This leaves only one team. The Tampa Bay Lightning. If the Tampa Bay Lightning made an offer for Luongo he would most likely accept as it is close to his family in Florida, and Gillis would like the idea of getting a good backup in Garon and a power forward like Benoit Pouliot and of course some draft picks. Benoit Pouliot could prove useful as a physical third or fourth-liner. If all parties agree to these terms the two teams could have a deal done soon, leaving Vancouver's so-called "goalie controversy" in the past.