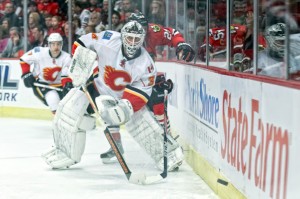 It has been a long time coming, but the need for a complete blow-up in Calgary has never been so evident.   After another loss to Vancouver on Saturday night the Flames playoff hopes were again doused.  The fan base in Calgary has had enough.  Since the lock-out of 2005 the Flames have struggled to make the playoffs, and when they have made it, they have lost in the first round.  Calgary is a huge Canadian hockey market, and expectations run high.  They are expected to at least make the playoffs on a yearly basis.
Problems in Calgary have been developing for many years now.  When I look at the heart of the problem, I first turn to the fact that the Flames have failed to draft with any success.  Another glaring problem is the fact that they have signed way to many players to long extended contracts with no trade clauses.  This unfortunately will not be a quick fix.  Flames fans must prepare to have at least three more years of struggles.  Surprisingly after numerous years of mediocrity Flames fans may welcome a few terrible years.  Welcoming the time to rebuild, and get this turned around.  A great deal of the frustration lies in the fact that they have made no effort to improve, and have just missed the playoffs three years in a row.  What management failed to realize is that this team was close to the playoffs, but if they would have made it, they more than likely would have made an early exit.  The fact is nothing changes over night, but fans just want to see a light at the end of the tunnel.
So were to the Flames management start?  Here is a rundown of what changes I feel need to be made:
I think the first place is at the top.  Last year Jay Feaster was hired to replace Darryl Sutter.  He has had limited time in Calgary, and I think he deserves a fair chance to right the ship.  I would keep him in place, but ownership must instruct him of the plans to completely rebuild.  I would start with firing Brent Sutter the head coach, and Craig Hartsburg and Dave Lowery the assistant coaches.  I would look to replace them right away.  One person that comes to mind for a replacement would be Andy Murray.  I would then move on to the firing of Tod Button the Director of Scouting.  I would also evaluate the scouting staff, and make some drastic changes.
The changes would now move on to the current Flames roster.  Iginla is the heart and soul of this team.  He must remain a Flame.  I do not think that they could get better players in return for him.  I also think that he would be tops on my list, for a leader to build a young team around.  Cammalleri is one that I would look to trade for some good young prospects.  He is a good player, but I also believe he is one that teams would want.  Tanguay is signed through the year 2015-2016, and this will make it hard for them to move him.  He also has a no move clause in his contract.  Stajan is signed for 3.5 million a year until 2013-14.  This may be the worst signing in Flames history.  There is no way they will be able to move him.  The only option on this one is to bury him in the minors.  I believe he would clear waivers.  Jokinen is an unrestricted free-agent at the end of this season, and I am back and forth on what to do with him.  He has expressed he wants to stay in Calgary.  I would offer to sign him, but would not offer him more than his current 3 million per year salary, and would not give him a contract for more than two years.  Glencross is signed through 2014-2015 at a good price so this should be fine.  Comeau is a restricted free agent at the end of the season.  I would let him go.  Stempniak and Moss are unrestricted free agents, and I would let them move on.  Backlund is signed for one more season, and although he was injured often he seems to be progressing.  Kostopoulos is a unrestricted free agent at the end of the season.  I would offer him a one year deal at 1.2 million, but not more than that.  Jackman is signed at a good salary, so they have a good tough player that can also play the game.  On defense Bouwmeester is signed until 2013-2014 at 6.8 million, and also has a no trade clause.  He has been a huge disappointment, and one the Flames should try and trade, if he waives his clause.  Giordanno is signed for five more year,s and he is poised to become one of the best in the league.  Sarich is an unrestricted free agent, and should be let go.  I like his hard hitting style, but he just does not have what it takes to be part of the building process.  Babchuk has next year left on his contract, and is a player who has shown signs of greatness.  He also lacks consistency, but deserves another year to build upon.  Hannan is an unrestricted free agent at the end of this season.  I actually thougth this was a good pick up last year.  If they can resign him at his current one million dollar salary I would say jump on it.  Brodie is signed for next season.  He stepped up this season, and looked good.  He is a good one to keep through the rebuild.  Now to the goaltender position.  Kiprusoff has been rumored to be the guy on the move when the rebuild starts.  I disagree with this.  He is the main reason that this team is even respectable.  He is signed until 2013-2014, he can train Irving, and win games as he does it.  Karlsson is gone, he must be released.
As for the players in the Flames farm system.  Although there is very few players to talk up, there is one that is flat out amazing.  Sven Baertschi is set to make the team next season.  I also think that he will have a huge impact next year.  This guy is set to carry on the torch that Iginla has carried for so many years.  A few years under the wing of Iginla, and this guy will be a NHL star.  Markus Granlund is another young prospect that needs more action before he is ready, but is one that will be good.  Leland Irving has done a great job in Abbortsford for a few years now, its time he moves up, and learns from Kiprusoff.  Joni Ortio is a young goalie prospect, that was acquired in the Cammalleri deal.  He is expected to be the real deal, and should see a lot more time in Abbotsford.  Max Reinhart and John Gaudreau are young players that also may quickly become part of this building process.  As for 2008 first rounder Greg Nemisz, he was called up a few times this season, and failed to produce.  His skating skills are holding him back, and the Flames should look to move him.
I know many of these thoughts are harsh and drastic, but it is time now to take very strong action.  The Calgary Flames are a very proud organization, and the fans deserve to see progress.  It will not happen by saying "I think we have the right squad, and this year they will pull together, and make a run".  Its time to clean house, take a step back, and start the rebuild process.  The fans will understand the struggles, and will know that the direction, and plan is to win the Stanley Cup.  The time has come, now lets see what happens?
I am a hockey fan that enjoys every aspect of the game of hockey. I developed a hockey news, and information website in 2010, Inside Edge Hockey News.