After finally regaining playoff-team status in the 2008 NHL postseason in surprise-fashion during Bruce Boudreau's first season as the team's head coach, the Washington Capitals still have found themselves no further than before. The 2007-08 and 2008-09 seasons were beginning steps to try to make a serious run, as it was early in their plans to be a true Cup-contender. However, 2009-10 and 2010-11 continued the disappointment of being a real favorite to win it all and not even making it to the Conference Finals.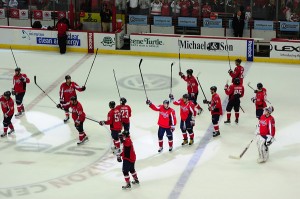 Painful for some, I know. But after this season where the Southeast Division was completely inverted at one point, the Caps are not quite division champions (at least yet), and have stumbled their way into the postseason. The only difference this time is that the teams' expectations were so high to begin the season that a playoff entry would be the bare minimum.
An underwhelming playoff berth, though, could bring hope that it's not absolute destiny that their season wasn't worth it. In fact, a Montreal Canadiens team in 2009 that made it in on account of a lot of help bolstered their faith when they defeated the President's Trophy winning Capitals and the defending Stanley Cup champion Pittsburgh Penguins the next round. Their dream ended in the Eastern Conference Finals when they played another lowly team, the Philadelphia Flyers, but those Flyers took the Cup-winningChicago Blackhawks to six games before bowing out in overtime.
The following season, while the Caps were able to handily take the New York Rangers in five games, they faced a Tampa Bay Lightning team that swept them and then gave the eventual Cup-winners, the Boston Bruins, a fight for seven games. Oh, that 1-3-1 trap… Could the Caps' chip-and-chase style be that frustrating to play against in this postseason? Another thing to consider for the Caps this year.
Brooks Laich, who had the game-winner in Thursday's playoff-clinching win over the Florida Panthers, commented on these recent Caps' unfamiliar territory. "It's real fresh right now," said Laich. "I think if we played the way we played tonight, we're going to be a team that's going to have to be a team that has to grind it out in the playoffs."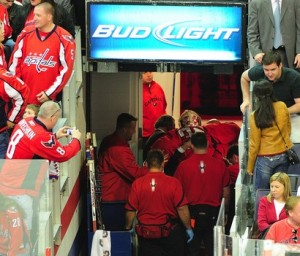 Laich continued, "To win games in the playoffs they're going to have to be like they were tonight: close checking, blocking shots, not giving up chances, special teams have to be big. I think we know the identity of the team — it's going to have to be a little different in than in the past but we're fine with that."
Is it necessarily fact the Capitals will be the 2012 NHL playoff spoiler? Absolutely not — and it wouldn't surprise me if they were not spoilers this year. More injuries have hit the team, especially in the area where they've actually been successful — in net. After Tomas Vokoun was shut down for the rest of the season, Michal Neuvirth suffered a rough knee injury against the Panthers. A positive about that, however: the Caps, who seemed to be sitting back with a 1-0 lead already, rallied after the injury to Neuvirth. They will now have to carry that same rally-type effort through Saturday's game against their [potential] first-round opponent, the Rangers. Playing spoiler is initially an uncomfortable position to be in, yet, it's something to think about for a team that needs a run sooner rather than later.
Angie represented The Hockey Writers at the 2011 NHL Winter Classic and is credentialed for Washington Capitals home games. She is a NHL Contributor for SB Nation's "NHL Scores & More" and covers high school hockey for The Washington Post. Angie attended American University where she studied broadcast journalism.