Three straight Western Conference Finals appearances. Two Cups on the mantle. If there were ever an NHL franchise with little right to complain about their current state or uncertain future, it'd be the Los Angeles Kings.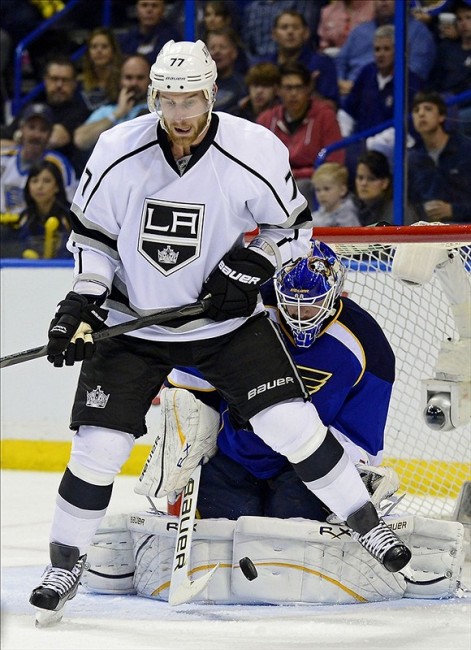 And yet, there are plenty of things keeping general manager Dean Lombardi up at night. At 21-18-12 as of this writing, the Kings are just 12th in the Western Conference with 31 games left in the season. Not only are they fourth in the six-team Pacific, but they are five points outside the second wild card slot. Worse still, their prospects for this season are decidedly cloudy, as the Kings have been heading in the wrong direction for a long, long time. Not only has Los Angeles gone just 1-5-2 in their past eight game, but they haven't been playing particularly well for months. It's been a slow, steady slide.
But wait … there's more.
As pointed out in these pages a few weeks ago, the Kings' roster is stuffed to the gills with long-term contracts, severely limiting Lombardi's ability to maneuver. It's a problem of his own making, but on the surface, his rationale made some sense: the Kings had one of the best rosters in the league, so keeping the band together would ensure contention for years. Furthermore, the longer the contract, the lower the cap hit.
However, as every investment counselor understands, risk and reward are forever interrelated. If risk (long-term deals) is taken, then reward (on-ice production) should justify it. And for L.A., that's the problem.
The Kings face a potential future with millions in dead cap space
Los Angeles has a number of players whose on-ice contribution (relative to their cap hits and contract terms) are worthy of discussion. Cases in point:
– Dustin Brown: Solid leader, two-way player and all-around good guy notwithstanding, Brown has been mired in a 1 1/2 year slump offensively, with just 23 goals and 48 points over his past 130 regular season games. At a $5.85 million cap hit that runs far into the future (eight years), that level of production is unacceptable.
– Mike Richards: The tale of Mike Richards has been well-documented, both here and elsewhere. Age, concussions, and perhaps his hard-drinking history may have finally caught up to him, as he hasn't scored 20 goals or reached 45 points since his Flyers days. Yes, Darryl Sutter's defense-first approach has something to do with that, but clearly his game wasn't up to snuff or the Kings wouldn't have waived him a few weeks back. His $5.75 million cap hit (minus $925,000 while he's in Manchester) is on the books for another five years.
– Jeff Carter: Carter has impressive speed for a player his size and looks every bit the difference-maker out on the ice, but in the end, is 25 goals and 55 points — roughly his pace of production since 2013-14 — worth $5.273 million for the next seven years?
– Marian Gaborik: Like Carter, Gaborik demonstrates high-level skill on just about every shift. However, his injury history and age make his $4.875 million cap hit for six more seasons questionable.
A bit like the famed "Gordie Howe Hat Trick", Gaborik apparently has coined his own tongue-in-cheek version:
https://twitter.com/Jagrmeister/status/5201487522
– Alec Martinez: Despite his game five heroics in last year's Finals, many believe Martinez is a #5 defenseman. If so, that makes his $4.0 million cap hit over the next six years a significant allocation of scarce resources.
– Matt Greene: Like Brown, a solid leader, not to mention a fierce hitter. However, at 31 years old and with an iCorsi of 94, $2.5 million for a #6 defenseman is substantial, especially considering his contract has three more seasons to run.
– Slava Voynov: By now, everyone knows the alleged domestic violence saga of Slava Voynov. With his future unclear, and even with the temporary cap relief granted by the NHL, his $4.167 million over the next four years (unless ultimately voided) looks more and more like an anchor around the team's neck.
– Jonathan Quick: Despite his pedestrian (2.52/.909) regular season stats, there is no goaltender in the NHL who elevates his game during the playoffs better than Quick. However, some believe the Kings have a knack for producing good goaltenders out of their system, thus rendering his ten-year, $58 million contract excessive.
For the most part, it isn't the cap hits that present the challenges. It's the years remaining on the contracts.
A less-certain future would create greater longer-term certainty for the Kings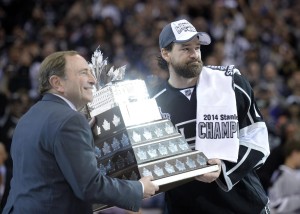 Without question, Dean Lombardi
has demonstrated strong loyalty to his players
. That being said, the Kings are now mired in salary cap purgatory, with
$53.5 million tied up
in just nine players.
Given how they've played in recent weeks and despite the fact that the wild card is five points away, Los Angeles has a steep hill to climb to get back into serious playoff contention. They've done it before: the 2011-12 club went on a tear that resulted not only in a playoff berth, but an improbable Stanley Cup championship.
This isn't 2012. These Kings are nearly three years older, battle weary and squarely in the cross-hairs of every club they face. They've got a bevy of under-performing players on long contracts with precious little room to maneuver now or in the near future, even with Justin Williams, Jarret Stoll, Robyn Regehr and Jamie McBain slated to fall off the books after this season.
With the rumors swirling about the Kings attempting to add a defenseman by the trade deadline, it begets the question: should the Kings be buyers? Consider the following:
– The Kings have a number of teams to leapfrog over, with time working against them
– Their future is squeezed by the plethora of long-term contracts
– Anze Kopitar, Tyler Toffoli, Tanner Pearson and Martin Jones will need new contracts soon
– Jeff Carter, Alec Martinez, Matt Greene and a number of others have trade value
Darryl Sutter and Dean Lombardi are considered to be at the top of their respective positions, and we've certainly seen both men pull off minor miracles to get the Kings into position to win championships. However, with the cap not expected to rise significantly next season and a ton of money on the books for years, should the Kings resist the natural urge to fight for a final playoff spot, trade away salary in a measured fashion, and stabilize their future going forward?
The Magic Eight Ball says, "All signs point to yes."
Leave your thoughts below, or send me a message @McLaughlinWalt