The Colorado Avalanche have dug themselves a little hole to start the season off. Most predicted that Colorado probably wouldn't be able to sustain their torrid pace they set last season. People expected a slide down the standings, but no one expected them to fall this far, and struggle so hard out of the gate. It has been a trying time for the team, nobody saw it coming, and maybe the Avs thought they could just pick up where they left off.
Is time running out on the Avalanche so early on in their season? From a fans point of view, the team has looked completely lost in some games, while looking like they are just about to breakout of this funk and turn the corner in others. This hasn't been the start Colorado wanted or expected. Sadly they haven't managed to turn the corner yet, and time is ticking away.
No Longer Early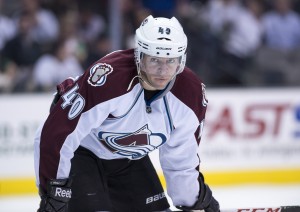 If there was ever a time for the Avalanche to start playing to their capabilities while stringing some wins together, it is right now. They are lucky that even with their terrible start, they are only 5 points out of the 8th playoff spot in the west. Coming up on the 20 game mark, it is no longer early on in the season. Colorado is now in the thick of it and have played more games than almost any other team.
Last season, the offense was scoring consistently and the Avs best players were their best players. They were one of the NHL's most lethal offensive teams. Colorado's outstanding goaltending by Semyon Varlamov along with their explosive offense were able to cover up for the defensive lapses that are costing them so badly this season. If they want to turn the corner and right that ship, the Avs will have to wake up offensively. Goaltending isn't to blame for their current struggles. Colorado's young but extremely talented core of forwards are just not putting the points up that they expect from themselves.
Its no longer early in the season, and the players know that they can no longer fall back on that line if they happen to lose a game. You can safely say that the Avalanche to a man, are not happy at all with the start, and are preparing themselves for a real grind to get back into playoff contention.
Can They Bounce Back?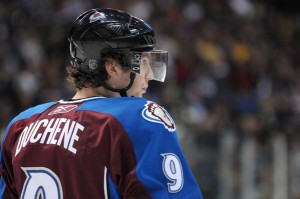 Is there enough time left to salvage this season that has such high expectations? The answer would be yes, they can. However, they need to start winning NOW, and winning consistently. No more one step forward, two steps back. They must string together a good run of wins to not only put themselves back in the mix, but also for the teams confidence. Its not early anymore, but its not too late either.
Thursday night's game in Madison Square Garden could be that game that turns this Avs team around. Colorado's top centers in Matt Duchene and Nathan MacKinnon both scored goals in the Avalanche's 4 to 3 victory over the New York Rangers. Getting those two going is exactly what the doctor ordered. Ryan O'Reilly played his best game this season, while Alex Tanguay continues to amaze. Maybe, just maybe, they can push on from here and keep putting the puck in the net while building confidence. When the Colorado Avalanche offense is going, they are a very tough team to stop.
Defense has been improved but not by much. Some changes have been made with their defensive zone coverage and it has made a difference, even if its just a minor improvement. Although, like I mentioned previously, if the Avalanche can get their potent offensive game going, any defensive lapses will be much less noticeable.
Hopefully their hard fought victory over the eastern conference champions will do a world of help in getting their game back to where we all know it can be. This team oozes potential, but potential is just that, its not certain. They have all the character they need on the team to do it, but time is not going to wait. As coach Patrick Roy would say, now is the time to put their balls on the table.
Sebastian Noble is currently in his third year with The Hockey Writers covering the Colorado Avalanche and Florida Panthers. Liverpool, England, and of course Colorado Avalanche & Florida Panthers supporter. You can follow him on Twitter @SebastianHNoble