Throughout Ray Shero's tenure as General Manager of the Pittsburgh Penguins, he was known to draft a multitude of defensemen. However, in 2010, the Penguins drafted Beau Bennett with their first round pick, hoping that they had found a skilled top-six wing for the foreseeable future. What they didn't count on was Bennett's slow development and inability to stay healthy.
Bennett played two years of college hockey following the 2010 draft, prior to signing his three-year entry-level deal with the Penguins in 2012. He only missed five games during his freshman year, which he recorded 25 points in 37 games-played. However, he injured his wrist during his sophomore year, forcing him to miss most of the season. Bennett recorded 13 points in ten games that season. Injuries would be the story of his career from that point forward.
Bennett's first NHL game was on February 15, 2013 vs. the Winnipeg Jets after he was recalled from the Penguins' AHL affiliate in Wilkes-Barre/Scranton. He played well, earning a role in the NHL playoffs that season as well. But, he has only been able to accrue 121 NHL games since his original call-up due to missing significant chunks of each season with various injuries. So far, the 2015-16 campaign has been no different and it's truly time for the Penguins to consider parting ways with the promising, yet injury-prone 24-year old.
How Long is Too Long?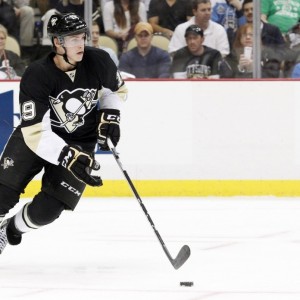 If there's one thing you can say with complete confidence regarding the Penguins' organization, it's that Pittsburgh has shown a tremendous amount of patience with a few of their young prospects. Yes, they've traded away a lot of their future. However, individuals like Bennett and defenseman Derrick Pouliot have been given ample time to develop and grow within the organization. Both have had stints in the NHL and both were viewed as mainstays this season, with Bennett taking that opportunity by the horns and playing his way into the top-six. But, here we are again, with Bennett on injured-reserve.
Quite often, when discussing Beau Bennett and his future with the Penguins, you'll hear things like "be patient" or that he has yet to realize his full potential. While the latter is likely correct, how long should the Penguins wait? Salary cap dollars are far too important in a cap-driven league, especially with a team that spends to the ceiling each and every year like the Penguins. Bennett's $800,000 isn't much in terms of NHL salaries but consider that a player like Matt Cullen, a 39-year old veteran that makes similar money, has played in 48 games this season and tallied 13 points. It's a frustrating situation when you think about the skill set that Bennett possesses but this is a business. Moving on is what's best for business.
Can the Penguins Replace Beau Bennett?
A common concern among the Penguins faithful and those that cover the team is their bare prospect cupboards. Pittsburgh has very little in the pipeline when it comes to players capable of playing full-time NHL roles and contributing. They're a team with a lot of individuals on the fringe of playing in the big leagues but fail to consistently impress. Has Bennett proved to be much more than that?
While I thought Bennett played well in his 25 games so far this season, his production isn't irreplaceable. He has ten points throughout those 25 games, netting five goals and five assists or in other words, .4 points-per-game. That isn't terrible by any means but at this point in his career, while playing alongside some of the best centers in hockey, I'd expect an uptick in scoring given his talent level. We aren't seeing him grow into the player that he's capable of because he isn't on the ice enough.
Bennett has the pedigree to be a very good forward in this league but unfortunately for him, his body doesn't seem up to the task. I've always hoped he would become what Pittsburgh expected when they drafted him and wish things could have gone different but it's time to part ways. There are other areas to apply his cap hit.
Thanks for reading. As always, tweet me at @Michael29Angelo and give me a follow for continuous conversation regarding the Penguins and everything NHL.
Pittsburgh Penguins writer for TheHockeyWriters.Com and PittsburghHockeyNow.Com. Youth hockey coach, and student of the game.