For nearly a decade, Alex Edler has been a mainstay on the Vancouver Canucks defence. Since becoming an NHL regular in 2007-08, Edler has played in 598 regular season games, and in most of those playing top four minutes. Despite this, he's never become the true number one defenceman fans expected him to be early on in his career. He's been a reliable player for the Canucks barring injuries, meaning perhaps now is the best time to see what the trade market is like for him.
Why Should He Be Traded?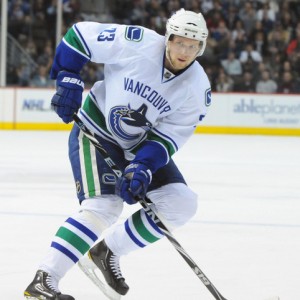 Edler is 30 years old right now, and will be 31 come next April 21st. At this age, players tend to start to regress in terms of playing ability, and most likely Edler will be no exception. Edler put up 20 points in 52 games last season, good enough for a 31 point pace over the course of a full season. This is very serviceable for a top four defenceman, however, from this point on, 31 points could become an exception rather than the norm. As well, Edler has a history of fairly serious injuries. Last season, he fractured his fibula on Feb. 9., forcing him to miss the rest of the season. Edler also missed significant time in 2011 with a back injury.
There is also the contract situation. Edler has three years left on a deal that carries a $5 million cap hit annually, and he will be 33 by the time the contract expires. That may seem like a long time, but the team does not want a repeat of the Dan Hamhuis situation, where a defenseman ends up walking via free agency for nothing. Edler does have a no-trade clause, which means the ball is in his court in terms of where he gets traded to if he wants to get traded at all.
His Potential Value
Still a top four defenceman, Edler will have some fairly high trade value. As a defenceman who can put points up on both the power play and even strength, there will be a demand. For example, Jason Garrison had a similar cap hit and contract situation when he was traded from the Canucks, and fetched the team a 2nd round pick. James Wisniewski is also comparable and was traded to Anaheim Ducks in 2015 for a 2nd round pick, William Karlsson, and Rene Bourque. The aforementioned contract of Edler's could also be a source of value, as a team trading for him this season will get Edler at two more years at a fairly reasonable cap hit. All things considered, Edler could fetch a 1st or 2nd round pick, plus a mid level prospect.
Conclusion
If the Canucks goal is to make a return to the playoffs this season, then keeping Edler would help the team immensely. However, if the team wants to truly kick-start the rebuild, then trading Edler sooner rather than later would bring back some solid future assets. Alex Edler is still a great top four defenceman; the Canucks should consider cashing in while this is still the case.