It looks like the Ottawa Senators aren't "that young team" anymore. Equipped with a new general manager, new coaching staff and a few veteran player additions, the team has taken a step towards fixing its biggest weaknesses: leadership and special teams.
One of their strong points, on the other hand, was scoring. It's only realistic to expect them to take a step back from the high-risk, high-reward type of hockey if they want to see more success than last year, especially if they plan to slip into the playoffs. It's all about balance.
If you're a fantasy hockey addict, don't worry, it's normal to be sweating bullets right now. Are there any Sens that you should keep an eye on during your draft? Can Erik Karlsson maintain a point-per-game pace? How will recently-acquired Derick Brassard perform with new linemates? Well, take a deep breath and keep reading.
Most Goals – Mike Hoffman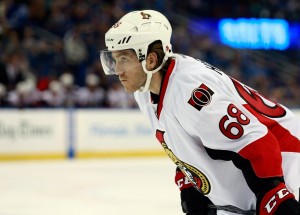 Once the 2015-2016 season came ended, the Sens and Mike Hoffman planned to head to arbitration, but, managed to agree on a deal before the date of the hearing came around. Hoffman signed a four-year deal that will pay him a total of $20.75 million.
In the past two seasons, he scored 27 and 29 goals, respectively, so it's safe to say that the Sens management is expecting big things from the speedy sniper, especially with an annual average of $5.185 million. It's time to break 30 goals, Mike.
Most Assists – Erik Karlsson
When it comes to racking up the most assists, leave it to the team's captain and quarterback. If you've watched the Sens, you know that Karlsson plays on every power play, logs the most ice time, has an advanced hockey IQ and impressive agility (among other qualities).
Based on his ice-time alone, many think he will tire out, show less effort, get injured, etc. He seems to be using those comments as his fuel, often proving everyone wrong and placing himself in a super-human category. Sure, he might have the odd giveaway, but, it won't be surprising if he also leads the team in blocked shots, takeaways and shots on goal.
Anyway, he played 82 games last season and finished with 82 points. Let's leave it at that.
Best Plus/Minus – Derick Brassard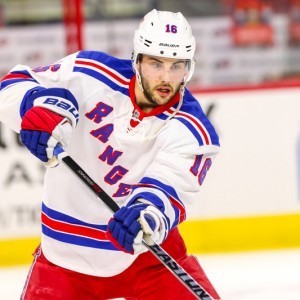 It's unclear as to who will be the team's first-line center this year as Kyle Turris only played 57 games last year and he was clearly injured for a majority of them. Now, with the acquisition of a top-six centreman in Derick Brassard, you can expect head coach Guy Boucher to juggle the lines and try out a variety of combinations.
Either way, Brassard has been positive in the plus/minus column for four years in a row. Although that may not be overly surprising considering he played on a strong playoff team in the New York Rangers, his sense of responsibility and improved defensive play will continue to serve him well.
PIMs – Chris Neil
If you look at the Sens' all-time leaders, you'll notice that Neil only tops one category, but boy, does he ever top it. In his 14 years in the NHL—each of them with the Sens—he's racked up a total of 2,459 penalty minutes.
If you break that down, it's just under 41 hours spent in the box. That also makes him the league leader out of all active players and 24th of all-time. Sure, Zach Smith and Mark Borowiecki like to throw their weight around, too, but it'd be flat-out crazy to expect them to top Chris Neil in this category.
Honourable Mention – Mark Stone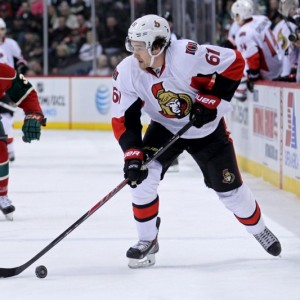 Although Stone may not top any of these categories, he has been the Sens' best all-around forward. He has an uncanny ability to sneakily takeaway the puck from opponents. In fact, he led the league in takeaways with 128, takeaways per game with 1.71 and takeaways per 60 minutes with 5.09, according to www.sportingcharts.com.
It's amazing that he lead in each of those categories, but it's also amazing that the runner-up was nowhere near him in any of them. Mark Stone's strength is that he is a balanced, smart hockey player. He has the ability to pass and score, but most importantly, he sees the ice on a level comparable to Erik Karlsson, which is saying something.