The New York Rangers surprised the field last week, signing Jimmy Vesey to a two-year, entry-level contract. The deal could be worth as much as $3.775 million annually should he earn all of his bonuses. While the Rangers were among the teams known to be interested, other clubs, including Toronto and Boston, were thought to have a better chance to get Vesey.
There's little question the signing is a good one for the Rangers – any team would be thrilled to add a quality NHL-ready prospect on an ELC after all – but does this move boost the Blueshirts chances to compete for a Stanley Cup? If not, what can the team do to shape its roster into one capable of challenging?
Vesey Projections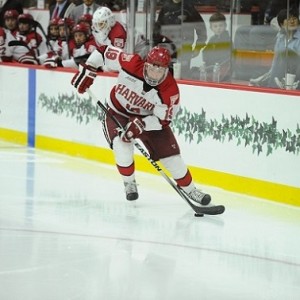 Before we go any further, let's talk about what can reasonably be expected from Vesey in terms of production. After dominating hockey headlines for the last six weeks you might get the impression Vesey was the biggest star on the open market. Of course he wasn't but circumstances conspired to inflate his importance. It's not often you can add a talented UFA in his prime without having to win a financial bidding war to do so. With little in the way of competing news after the first week of July through the middle of August – when Vesey officially became a free agent – and the whole hockey world focused on Vesey. Usually that much attention is reserved only for the game's biggest stars; not some former third-round pick coming out of Harvard. It's why expectations for Vesey might be unfairly high in 2016-17.
My THW colleague, Pete Judge, already composed a piece discussing reasonable scoring projections for Vesey. He cited the work of Rob Vollman, who has created a scoring "translation factor" for every major hockey league in the world relative to the NHL. According to the research, a player can be expected to score 0.23 points for every point they scored in their final year in the ECAC. Using this factor, Vesey can be expected to produce about 30 points in an 82-game season as a rookie.
Presuming Vollman's projection is close, 30 points is equal to roughly 0.37 points-per-game. That rate would have placed him in a tie for 214th among NHL forwards who appeared in at least 50 games in 2015-16. Given there are 30 teams in the league, Vesey's projected scoring rate is equivalent to that of a good third line player.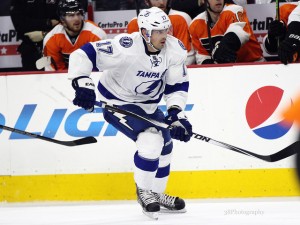 Vollman would also go on to compare Vesey's likely career arc to that of Alex Killorn of the Tampa Bay Lightning and free agent forward David Jones. Both also competed in the ECAC and produced similar offensive totals while at Harvard and Dartmouth respectively. Given a choice, Ranger fans would likely prefer Vesey to follow Killorn's path considering that the Tampa winger has developed into a consistent 40-point regular season contributor and an outstanding playoff performer with 33 points in 47 postseason contests.
Forward Depth
Naturally, signing Vesey doesn't directly improve the Rangers on the blue line and defensive play was their Achilles heel in 2015-16. But if you are unable to add quality players at one position, sometimes a smart alternative is to build up enviable depth at other positions. And with Vesey joining the ranks, the Rangers now have 14 quality forward options; including fellow rookie Pavel Buchnevich but not veteran winger Tanner Glass.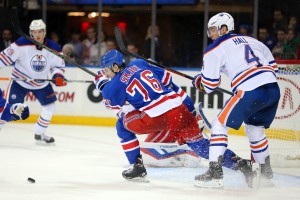 I'm sure Jeff Gorton tried to address the blue line this summer. But frankly, without trading or buying out one of Dan Girardi or Marc Staal, the team simply didn't have the cap or roster space to accommodate a quality free agent. For that matter, the lack of cap space prompted the trade of Keith Yandle's negotiating rights earlier this summer. And chances are, even if there was a team willing to take on most of Staal's or Girardi's salary cap charge, they would have wanted the Rangers to sweeten the pot, likely either by including Brady Skjei or Buchnevich in any trade. That simply wasn't going to happen.
Instead, Gorton decided to add to his forward depth in the hopes that if all goes well he'll be able to flip a scoring forward for a puck-moving defenseman at some point. It's also probable that the best time to make that kind of move would be closer to the trade deadline as opposed to late this summer or early in the campaign. That gives the Rangers and any potential suitor an opportunity to see how their roster performs to open the season before making any serious changes. Specifically as it pertains to the Rangers, Gorton and company can see if a full summer of rest and recuperation can help Staal and Girardi rediscover their games.
Regardless, if it gets to that point, Gorton would have the ammunition to go out and get a solid defenseman using some of his forward capital.
If There Is a Deal, Would Nash Be the Player to Go?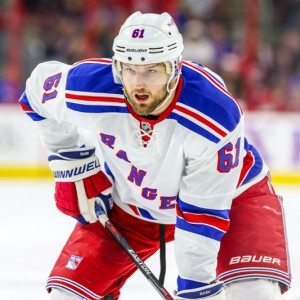 This is where it gets complicated. The Rangers might be more than willing to move Nash, especially if Vesey and/or Buchnevich step in and contribute as rookies, but the reasons they'd be so inclined are the same ones other teams might prefer to target someone else. Nash didn't play particularly well last season finishing with 15 goals and 36 points in 60 games. He's also 32-years-old and carries a $7.8 million cap hit for two more seasons. Right now his trade value can't be particularly high.
However, waiting until closer to the deadline also allows Nash to rebuild some of that value. Remember, Nash is just one season removed from a 42-goal campaign. At this point, it'd be a stretch to project another 40-goal season but Nash should be capable of challenging for 30. A player of that caliber generally isn't easy to find on the trade market.
Looking around the league it's hard to identify a team that can both reasonably afford Nash's cap charge and has a quality defenseman they might be willing to move. It is interesting that Kevin Shattenkirk's name keeps popping up in rumors since he's been linked to the Rangers much of the summer. Yet it doesn't seem likely St. Louis would make that deal at this point given comments made by Blues GM Doug Armstrong a few weeks back. It's possible the two teams could revisit this scenario prior to the trade deadline, however.
The bottom line is Rick Nash is probably the player the Rangers would most want to move to upgrade the blue line. But if the right deal comes along involving another forward for the right defender don't be surprised to see Gorton jump.
Where's the Improvement Coming From on Defense?
Sadly, for those looking for drastic change on the blue line, all the Rangers have done so far is trade Yandle and acquiring Nick Holden in separate deals. Also, Dan Boyle has sailed off into retirement. However you may have felt about Yandle's defensive abilities or about Boyle as a whole, there is little room to argue the team's defense corps is worse today than it was during the playoffs.
Yes, Skjei should be ready for full-time duty and he has solid upside but he can't be expected to provide offense from the back end like Yandle did. Dylan McIlrath had some good moments as a rookie and could be ready to hold down a regular spot on the third pair but he's likely nothing more than a capable defender at best who adds toughness.
Alain Vigneault could also alter his systems somewhat to try to help his defenders more. Pittsburgh won the Stanley Cup with an average group of blue liners outside of Kris Letang. But the Penguins speed and quickness up front helped mask the team's defensive deficiencies. New York should get back to the speed and pressure game the team employed during the 2013-14 and 2014-15 seasons, and like Pittsburgh utilized this season.
Staal and Girardi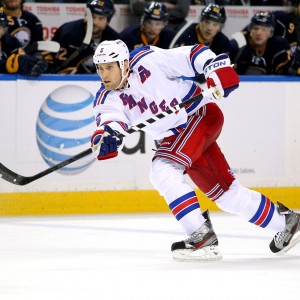 The reality is that while the above options can help, the Rangers need at least one of Staal or Girardi to again be a competent top-four defenseman. According to Puckalytics, Staal ranked 177th out of 198 defenders with at least 500 minutes at five-on-five in 2015-16 in CF% at 45.34%. Girardi finished dead last in the puck possession department with a CF% of 41.7%.
For his career, Staal is essentially possession neutral with a 49.8% CF%. Girardi is also close to even with a career CF% of 48.5%, though his play has progressively declined since he was a 50.5% CF% during the 2012-13 season.
These guys hurt the Rangers tremendously with their play this past season but with no significant reinforcements imported this summer, the best way for the team to improve overall would be if Staal and Girardi are far better next season.
Expect the Status Quo
Chances are the Vesey signing will be the last significant addition the team makes for a while. Rangers fans will have to cross their fingers and hope Staal and/or Girardi find the fountain of youth or some magic elixir. Because it's likely that the roster is essentially set for the start of the 2016-17 season.
Native Southern Californian who somehow adopted the New York Rangers as my favorite team. I've written for quite a few websites during my days as a blogger including: Inside Hockey, Ranger Nation and SNY.tv. By day, I work as an operations manager.