Have you heard the story yet of the Red Wings fan whom was ejected and fined after throwing an octopus onto the ice *in* Joe Louis Arena during game one of the NHL Playoff series between the Detroit Red Wings and the Phoenix Coyotes?
Stories first started coming out yesterday and some fans thought it was hard to believe as there octopus have been thrown onto the ice for Red Wings playoff games back before Joe Louis Arena was even a thought.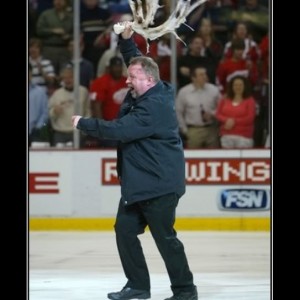 The octopus is not some new thing for Detroit it is older than many of the teams in the league; and I do not mean the players but the franchises themselves.
So when some set out to find out what was going on with the story many were shocked when they found out that it was in fact the NHL leading the charge in the anti octopus throwing; which has been named #Octofine on Twitter.
On the Wings Matt Saler was able to gather this information:
Officer Bullock informed me that the enforcement of Municipal Code 38-5-4 is at the request of the NHL. Evidently, police supervisors were informed Wednesday night, either before or during the game, by League representatives that they don't want anything thrown on the ice. An officer has to witness the throw and nab the thrower on the spot, but it's something they can and will enforce.
For the entire story from Saler please check out his post over at On the Wings.
But that isn't all…
Oh no it never is in Detroit; and as the Chrysler ads from the Super Bowl forward are pointout Detroiters are a proud people so why try and kick us down all the time?
Chris Osgood may not have been born and raised in south Detroit but he has spent the majority of his early adult and adult life in and around the Detroit area and this is what Osgood had to say about the league and Gary Bettman: (link removed)
Geroge Malik from Kukla's Korner's The Malik Report has been on top of the story and is posting all new information he finds it.
The Second Amendment to the United State Consistorian give all Americans the right to bare arms – and in Detroit that means all Eight.