You need consistent contributions from your leaders and star players to get you to the playoffs. You bank on their efforts to win a game or two for you in the playoffs. You get a hot goaltender to steal a few, or even an entire series, from time to time. But you're not winning the grand prize unless you have a true team that embraces the challenge which the Stanley Cup Playoffs presents, together — not in this league, not today.
A Designed Earthquake
What were the Pens' odds? In November, there was a coach in charge who managed to make Sidney Crosby look like your slightly above-average bottom-six center, riding the roughest slump of his career to start the season. There was Evgeni Malkin publicly speaking up about the fact that his team doesn't look and feel right. There was Phil Kessel not finding his groove with either one of the above mentioned.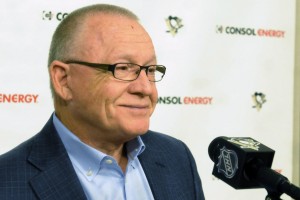 Heck, there was Rob Scuderi, locked into a top-six position on defense.
Less than two months later, the Penguins' roster and head coach both looked drastically different. I'm looking forward to reading General Manager Jim Rutherford's memoirs, my focus on what he'll share about the process of Trevor Daley's acquisition. I mean, how on earth did he do that? It must have taken the sales pitch of a management generation to get Chicago's Stan Bowman to take on that player with THAT contract (consider the Blackhawks' own cap situation!), even if Pittsburgh were to retain a chunk of the salary.
By the NHL's All Star break, a bunch of misfits wearing black and gold was desperately trying to get a feel for each other. They were also holding on for dear life to put themselves into a playoff spot after a major in-season shake-up.
Coming Together, Catching Fire
How do you become the arguably best coach in the NHL within 6 months? Well, you have to go from zero to hero, and Mike Sullivan has done exactly that. His first coaching gig in Boston didn't go so well. So, he's been learning his lessons and preparing himself for over a decade for the opportunity to be a head coach in the NHL again one day, and when his chance arrived he simply ran away with it.
In retrospect, I believe that what brought everyone on this team together is that they were all on the same page to start with, by their personal history. They were underachievers, misfits, journeymen, choking or haunted stars and whatnot. They were all given a shot at a relaunch, together.
Fatefully, they clicked. They had one of the more dominant months in franchise history by ending their regular season 14-3 after March 5. They suddenly were the league's hottest and most entertaining team heading into the post-season, despite Malkin's injury and Marc-André Fleury's concussion.
These Penguins not only found an identity. They found themselves.
Read Between the Lines
Enjoy this for a while, Penguins. What you've accomplished this season is truly special. Get on that parade on Wednesday, celebrate the Stanley Cup with your fans. Soak it all in and keep these memories dear. Your legacies as hockey players have added a big chapter during the last few months.
You'll from now on be a part of hockey's history forever — deservedly so.
You're also going to be the team that everyone will look to beat once the banner gets pulled up into the rafters at Consol Energy Center, when the next campaign kicks in. What a wonderful feeling that is, huh? You're also going to be the template for a championship team and expectations will not shrink, since for the biggest part, the team will stay together for at least the next year.
You're also going to be regarded as the blueprint for other teams to build their squads after. Whether that's a good thing or not for them? We shall see. You've demonstrated what it means to execute an identity, what it means to stick with it when things get hairy and what it means to believe in one another.
To build your team a certain way doesn't guarantee success in today's NHL. The only thing which matters in that regard is to have pieces aboard, who understand that:
Together
Everyone
Achieves
More.
You've clearly read between the lines of that plate hanging at your locker room's entrance, Penguins.
Congratulations.
Hi, I'm a 27-year-old hockey maniac from Switzerland who's studying Communication with a major in journalism at Zurich's college of applied sciences. When I'm not busy learning about the game or from books, I like cooking, watching films and going out or jamming with friends in my little home-studio.