The San Jose Sharks had a wonderful run this season. They lost to the Pittsburgh Penguins in Game 6 of the Stanley Cup Final, and with that loss, their season ended.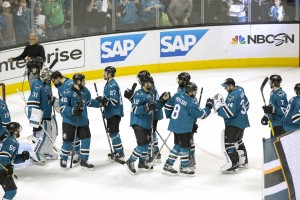 The Sharks season was anything but predictable. New key players came into the fold along with an entire new coaching staff. The dysfunction of the 2014-15 season had to end, but it was not at all clear what might replace it. A modest start to the season kept the Sharks on the playoff fringe, but January saw a major uptick for a variety of reasons. The Sharks carried momentum and more importantly, improved play into the postseason. The Sharks postseason combined good fortune and good hockey, and they made their way to the Stanley Cup Final.
In the Final, the Sharks were beaten by a team that played better than they did. No team on either side of the playoff bracket had an answer for the Penguins speed. The Sharks did not come particularly close.
In six games, the Sharks were solidly outskated four times. Once the Sharks had the better of the play and on another occasion, managed to hold their own.
In Game 6, Sharks goalie Martin Jones dropped from being superhuman to merely excellent and it was not enough. A slow start for the Sharks resulted in a first period where they generated just four shots on goal, though a breakaway by speedy Matt Nieto was among them. If the Sharks were to have any chance, they would need to win key moments. Pens goalie Matt Murray's stop on Nieto (plus the Sharks inability to come up with a rebound chance), was among the key moments that did not go San Jose's way.
http://gty.im/539744732
Two seasons ago, Sharks general manager Doug Wilson commented "with all due respect to the Matt Irwins and James Sheppards, they can't be your only goal scorers … ." Buzzing through my mind late in the first period of Game 6 was a similar thought, "with all due respect, Matt Nieto and Roman Polak can't be the only players with a shot on goal."
Another key moment gone bad for San Jose also came in the first period. Dainius Zubrus was called for tripping and the Penguins promptly loaded up perhaps the least dangerous power play unit San Jose has seen all postseason. It immediately scored. Brian Dumoulin's point shot beat Martin Jones. It was Dumoulin's first career power play goal and only his second career power play point. Not on the ice at the time, any of the Pens big guns; Kris Letang, Sidney Crosby, Evgeni Malkin or Phil Kessel. In a series where the team in front of Jones left him no room for error, Jones made a rare error.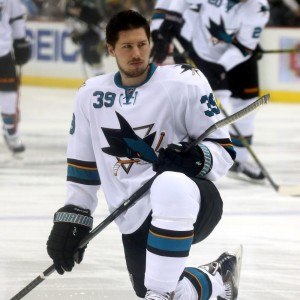 Perhaps, though, nothing sums up the series better than what occurred midway into the second period. Logan Couture's clever wrist shot got past Murray for a tying goal and the Shark Tank erupted. It didn't phase Pittsburgh. Barely a minute later, Pittsburgh took the lead right back, largely a result of Letang's superb individual play.
If San Jose was serious about mounting a comeback, Pittsburgh was more serious about making sure San Jose never got close. A 2-1 lead might seem tenuous, but not the way these Penguins handle their business. The Sharks were held to a single shot on goal for almost the entire third period. The Pens held the Sharks under five shots in a period twice in Game 6. They held San Jose under five shots in five of the 18 periods of hockey. San Jose crossed the ten shot mark just three times.
All in all, San Jose can not really look at any one thing and say "if only." Still, there are some "if only" issues to address and those will come in my next piece.
Pittsburgh beat the Sharks in so many ways, the scores of the games do not reflect the totality of the beat down. The team who played better won. Things do not always go as they are supposed to go in life, but in this series, this is exactly what happened. Which is why Pittsburgh has a Stanley Cup and the Sharks, after a long and mostly wonderful season, have a short summer along with a trophy no one wants to touch.
Zeke's Notes
With the mass murder in Orlando, it was an understandably difficult day. Prior to the game, there was a moment of silence held at the Shark Tank. At the start of period two, there was a tribute to Gordie Howe. It is awkward switching from bedlam to somber and back to bedlam again. I have no idea if there is a good way to place these important moments into a high energy event like a Stanley Cup Final. But I know it must be done.
On my way over to the Shark Tank, I walked past an LGBT Center. I noticed the nearby walkway for crossing the street was painted with rainbow colors. I'm not certain if this was new or I simply had not noticed it before (most of the times I walk past the spot, it is after dark). Passing the walkway, it was impossible not to feel the contrast between the game and the Orlando tragedy.
After seeing the high inventory of tickets and the falling prices for Game 6, I expected a sizable contingent of Pittsburgh fans in the Shark Tank. There were indeed, plenty of Penguin fans in the house.
I've had some inquiries about my First World Problems article and for the record, yes, she made it back from Europe for Game 4 with almost a whole hour to spare. And yes, because Game 6 ended in regulation there was no issue getting her to the airport in time for her redeye back to Europe.
After Sidney Crosby accepted the Stanley Cup, the next three people to hoist it all had something in common. They did not play in the Stanley Cup Final. First was Trevor Daley, who missed the series with a broken ankle. Next was Pascal Dupuis, who had to stop playing earlier in the season due to health issues. Third was goalie Marc-Andre Fleury, who backed up Matt Murray, but never saw action in this series.
ZEKE is a native of the DC area where he witnessed the birth of the Capitals franchise. After graduating from Cornell University, which had seen hockey glory before he arrived, he moved west to San Jose. There he witnessed the birth of the Sharks franchise. His wait to witness a Championship from any of these teams finally ended in 2018.