About a year ago, I wrote an article where I discussed 'this team'. In context, it was about the commitment Sharks management made to the 2014-15 version of the San Jose Sharks. It was not much of a commitment and the results were not pretty.
For 2015-16, management made a different commitment, and the results have been different for this team.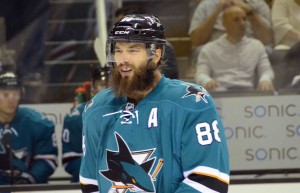 On Wednesday, the San Jose Sharks will play for a trip to the Stanley Cup Final and many will cite the history of the franchise and attempt to fit this team into that context. While I'm comfortable describing history, I'm not as comfortable putting this team into that context. Because each team, every season, is its own unique entity. Yes, there are elements that seem the same, but perhaps not as much as one might guess. For example, in 2014-15, defenseman Brent Burns was a disaster on defense. In 2015-16, manning the same spot, he was genuinely good on defense. Same player, same spot, a lot different.
One reason this team is succeeding is it does not spend much time trying to identify with those Sharks teams of years past. To a minor degree there is some of it. Logan Couture took the bait following the Sharks' win against the Kings when he spoke about history and some comments from Drew Doughty which got under his skin. But what was notable about Couture's comment is how it came off as the exception, not the norm.
This team seems focused on being this team, not some evolutionary variant of past Sharks teams. Nor does this team seem very interested in the future beyond the next game. Once the game starts, their future vision seems limited to the next shift. This team is focused on 'now'. Not 'back then,' not 'sometime later.' Now.
Several seasons ago, I came across a charming comparison. A person likened the Sharks to a '401K match.' Their effort would match that of their opponent. With this Sharks team, it is hard to tell the score just by watching the Sharks' effort on the ice. They are not matching other teams' efforts. They are playing hard and if the other team wants to compete at a similar level, they can try. This team is playing with an effort independent of the scoreboard and opponent. This team plays to its own level.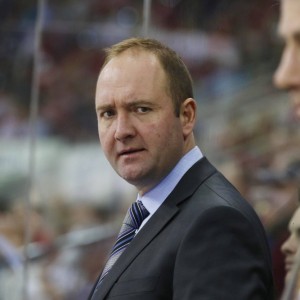 Sharks coach Peter DeBoer has made it tough to match up against this team. He is a big fan of rolling four lines (as am I). Earlier in the season, it sounded more like coachspeak, as the actions did not really match the words. Come midseason, though, DeBoer showed he was true to his word. Added depth and healthier players made a difference.
Rolling four lines allowed the Sharks to push hard for 60 minutes. Other teams have been challenged to keep up. And when teams are challenged to keep up, they often commit penalties. Playing with more energy means more power plays. Power plays further drain opponent's energy levels. It also helps to have hockey's best power play. The Sharks led the NHL in power-play goals in the regular season and they've been even better in the playoffs, averaging a goal per game, best among the remaining teams in the playoffs. Special teams have been a major part of the team's success all year long. In the playoffs, the Sharks are 7-1 when winning the special teams battle.
Statistically, individual Sharks are prominent on postseason leaderboards. One gets a sense the players could care less about any statistic other than wins. History and statistics are for the fans and media. The Sharks players, to borrow from Rhett Butler, frankly don't give a damn.
The Sharks are laser-focused on what is in their immediate future. The narrow focus of this team, this version of the San Jose Sharks, is among the most fundamental reasons they have come this far. And why they may still have further to go.
Zeke's Notes
When collecting data, I noticed the NHL.com statistics described teams' postseason records and included columns for OT and Points. Neither is relevant for the postseason. You would think the NHL would know this.
Including all meaningful games this season, both Joe Thornton and Joe Pavelski have 99 points in 99 games. Thornton is plus-30, Pavelski plus-29. Defenseman Marc-Edouard Vlasic is plus-27 (in 84 games). Brent Burns is a minus-1, which is quite a turnaround from where he was mid-season.
The Sharks won the shot battle in Game 5, the first time in the series the team with more shots on goal also had more goals.
Roman Polak got into a fight with Blues forward Dmitrij Jaskin in Game 5. Polak took offense to something Jaskin did; though, I did not see anything that stood out on the replay as worthy of Polak's violent response. I do think Polak should be fined for his punches to Jaskin that happened before Jaskin could defend himself. If Jaskin did something dirty (such as a slew foot, as some have suggested), he may also be worthy of a fine. Punches to the head of a player not able to protect himself is something player safety should not ignore.