You could see it coming in December when Marc-Andre Fleury missed time with his first concussion of 2015-16. Matt Murray, after a historic performance in the AHL one year prior and another hot start to the season, got his chance to show what he could do at the NHL level.
He flourished.
The Penguins put together a modest 2-1-1 record in Murray's first NHL stint. However, he put up a .938 save-percentage and looked like a goalie that belongs at this level. When he took over in March after Fleury suffered yet another concussion, it was more of the same from the young net minder. Except this time, he would put together a 7-1-0 record down the stretch and help launch the Penguins into second place within the Metropolitan Division.
Prior to his concussion issues, Fleury was having a career year with many around the league placing him in Vezina Trophy conversations. He was arguably the main reason Pittsburgh stayed afloat prior to Mike Sullivan taking over in mid-November and without his stellar play early in the season, there's a real possibility they would have missed the playoffs.
Watching Fleury to this point in his career has been a real pleasure, both on and off the ice. He's a fixture in Pittsburgh, a fan favorite and one helluva guy. The day he is officially no longer a Penguin will be quite strange but thanks to multiple factors, that day is likely coming sooner rather than later.
There's No Turning Back Now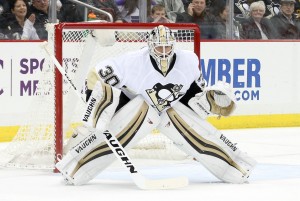 There's an important question in all of this. Can the Penguins really go back to Fleury now? Even when discussing next season, is it plausible that Murray will be a backup?
Murray was spectacular throughout much of this playoff run and when he wasn't, he was still providing quality starts and gave Pittsburgh the opportunity to win. That's exactly what you want from a goaltender at this point in the season. As I've often stated, you don't need stellar goaltending for an entire postseason run to be successful, you simply need consistently good goaltending. He has provided a little of both.
And, all of this is following that outstanding stretch to end the regular season.
Fleury had the opportunity to start in Game 5. He put together an average outing but allowed two soft goals in a game that ended up decided in overtime. It was a game Pittsburgh should have won, despite it not being their best performance. The Penguins turned to their rookie once again in the ensuing elimination game on Tuesday night and beat the Lightning in Tampa Bay, forcing a Game 7.
How do you reverse things now?
Jim Rutherford made it clear that Murray is the future for this team when he immediately shot down any inquiries about his availability at this season's trade deadline. There's no question head coach Mike Sullivan has full confidence in his young goaltender as well. After the way things played out this postseason, it's nearly impossible to imagine a scenario where Murray is a backup to Fleury.
Plus, there are other circumstances that will impact this situation.
Expansion, Cap are Large Factors in Future of Pittsburgh's Crease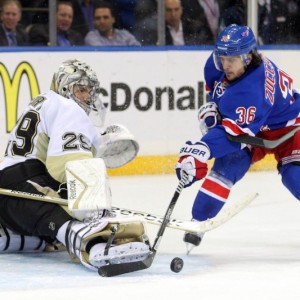 A potential expansion draft has been a major topic in recent months. It already meant Rutherford would have tough decisions on the horizon but the scenario playing out in front of us right now makes it even more interesting.
We've learned recently that players with no-movement clauses will have to be protected, and they'll count toward the team's allotted slots. For example, according to the rules discussed previously, each team will be permitted to protect one goalie. Fleury has a no-movement clause, which means he has to be the goalie protected and Murray will be exposed.
The Penguins can't risk that happening.
Pittsburgh also needs to consider their cap situation in this scenario. They're a cap team that spends to the ceiling each and every year. Olli Maatta's new contract kicks in this summer and the Penguins are already dangerously close to the projected $74 million ceiling. Fleury makes $5.75 million per year, while Murray counts for only $628,333 on next year's cap.
The writing is on the wall, and it has been for quite some time now.
Pittsburgh is without a first round pick in June's NHL entry draft. They could easily acquire one, plus other assets in the form of prospects or depth players for Fleury's services. Would the Calgary Flames give up the sixth overall pick for him? Finding something that works in that regard isn't out of the question.
A lot can happen in a Game 7 and if the Penguins advance, there's no telling how the Stanley Cup Final plays out. However, it's very possible we've seen Fleury play his last game in a Penguins jersey. Unfortunately, there's a business side to the sport that dictates decisions like this.
Pittsburgh Penguins writer for TheHockeyWriters.Com and PittsburghHockeyNow.Com. Youth hockey coach, and student of the game.