We could talk about the Penguins' best players finally being their best players. Or about their rookie goalie all but locking up his spot in the crease for at least the rest of Pittsburgh's playoff run. Or how Olli Määttä is recovering from his flaws while producing a second consecutive, very solid game in Trevor Daley's absence. How about Kris Letang having his strongest game of the Eastern Conference Final? Then, there were all the little contributions made by the core's supporting cast.
Say, Chris Kunitz' very notable veteran presence during the last three games or Patric Hörnqvist stripping the puck from the Lightning's break-out. That actually set the stage for Sidney Crosby's highlight-reel, third game-winning goal of the series.
But I don't want to go there, to be honest. I'll go above all that — like, literally.
The Eagle's Eye up in the Sky
Have you ever heard of Andy Saucier? It's not that big of a surprise if you haven't. His regular contributions to the Penguins' success happen in the dark. He spends hours analyzing tape sequences of things the players have executed well and things they could have done better out there. Then, he would take his findings into plenary or one-on-one sessions with the players.
As you've certainly picked up by now, Saucier is the Penguins' video coach. Saucier fills a role that's so critically important for in-game adjustments today but also a role that isn't going to be lauded very often. That's just the way it is with the job's background nature. Or at least that's the way it was, until this season.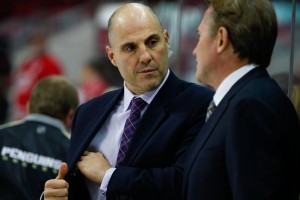 You could argue that Saucier has saved the Penguins' playoff lives during the early goings of Game 6 in Tampa. Before this season, the video coach would have been a silent, yet attentive spectator during the game — for lack of a better word. Saucier's role, however, has drastically changed with the installment of the coach's challenge in the NHL.
Saucier, via radio, is constantly connected with the Pens' bench, providing insights on disputable plays.
He reportedly told Rick Tocchet to let the officials take a look at Jonathan Drouin's zone entry before he put the puck into an open cage on a Lightning rush a little over 5 minutes into the game.
Contributions in Every Possible Form
Mike Sullivan, Rick Tocchet and Jacques Martin followed suit and challenged the play. Saucier's call proved to be right and the referees overturned the Lightning's putative go-ahead goal.
What a shift of momentum. The Pens caught a huge break that both jump-started their game and silenced the house. Having this goal off the board was the most decisive element in Pittsburgh's eventual victory.
Had it counted, Game 6 would have been an entirely "different ball-game," as Hörnqvist admitted in post-game interviews. In big games, you need contributions from everywhere and the Penguins are getting them — even from the eagle's eye upstairs.
A little luck in succession, then, provides the cherry on the cake.
Hi, I'm a 27-year-old hockey maniac from Switzerland who's studying Communication with a major in journalism at Zurich's college of applied sciences. When I'm not busy learning about the game or from books, I like cooking, watching films and going out or jamming with friends in my little home-studio.