Wilkes-Barre/Scranton Penguins forward prospect Tom Kuhnhackl played just 11 games in his rookie season in 2012-13 and scored four points before sustaining a shoulder injury in December that ended his campaign before he could truly get going.
Given that he had also dealt with a serious knee injury while playing in the OHL with the Windsor Spitfires, one would think Kuhnhackl might feel frustrated or unmotivated.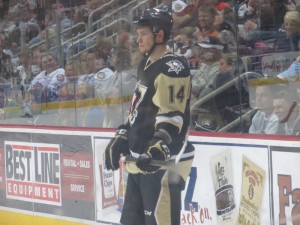 But the second-year pro, who will turn 22 later this month, didn't let it get to him.
"Obviously, it's a terrible feeling," he told The Hockey Writers on Tuesday. "It's your first year and you want to make an impression. I just tried to stay positive…and I think I never realized that I missed the entire season."
Last season, he said it was difficult to be back in Wilkes-Barre when his teammates went to road games and he was working out and undergoing rehab. However, he said he never felt like he wasn't a part of the team and tried to interact with his teammates. It was about doing "the little things," he explained, just asking fellow players about their weekend and building relationships.
Kuhnhackl credits the Penguins organization with helping him get back on track as he recovered, especially during his offseason training.
"Of course it was hard to get into game shape and just get your regular routine going again," he said. "The team did a great job to help me improve during the time I was not able to play hockey, especially in the summer when I went back home to Germany. Joe Lorincz (WBS Penguins strength and conditioning coach) gave me an unbelievable workout program."
Kuhnhackl added that back in Germany, he was able to work out with another AHL player from his hometown of Landshut and enjoyed the experience, saying, "It feels better when you're not working out by yourself and you have someone to talk to."
He felt ready to come back strong this summer and started things off with the Penguins rookie tournament in London, Ontario. He remembered, "I showed the coaches and the organization what I am capable of doing."
Although Kuhnhackl sees this an important season, he didn't really set goals for himself when coming back to full strength and kept things simple:
"I want to show everyone that I'm a good player and I can help the team make the playoffs and make it far there. I don't want to pressure myself or anyone else. I want to go out there, have fun, enjoy the time and play hockey."
He felt the organization agreed with his philosophy during training camp. "They just wanted me to go out there and see what it's like to go back on the ice."
Kuhnhackl may still have a solid spot on the Penguins' depth chart, but noted that nothing is coming easy in what he essentially sees as his rookie season.
"You have to work for your ice time," he said. "The more that you do what they want you to do and you do it the right way, the more the coaches are going to trust you. They're going to put you in different situations on the power play and penalty killing. You have to work as hard as you can every shift to earn the coaches' trust."
In the last couple of months, Wilkes-Barre/Scranton has almost been a revolving door of players due to injuries in the Pittsburgh lineup. Some who started the year in the AHL have stuck in the NHL, while players who have made a mark with the Wheeling Nailers in the ECHL are earning time on John Hynes' team.
However, the constant changes have not messed with WBS' chemistry. The Penguins are currently fourth in the Eastern Conference with a 22-11-1-3 record, and Kuhnhackl feels that shows the organization's depth and ability to achieve on-ice success no matter who switches teams.
It also doesn't affect him personally, and he seems to welcome the comings and goings.
"For me, nothing changes," Kuhnhackl said, almost feeling relaxed. "It's just new players in the lineup. You know everyone from the camps earlier in the season and everyone plays the same system. Obviously, there are different faces in the locker room, but you're still preparing for every game the same way."
He even took a challenge of all the call-ups and turned it into a good thing.
"Your linemates are going to change," he explained. "But that's just how hockey is and maybe you've got to work even harder."
"I think we're doing a really good job in Wilkes-Barre after we had that many call-ups and we're still up in the standings where we are, you can see that the organization does a good job."
Kuhnhackl has 10 points (8+2) in 35 games this year and has only missed two of the Penguins' regular season games. However, it's clear that even as players go up to Pittsburgh and return, he has the right attitude to keep the team in the Eastern Conference playoff race. He thinks about his own goals, but does not sacrifice team success to put himself first.
With a personality like that, he could end up being one of the driving forces to help WBS earn a postseason spot for the 12th consecutive season.