Just over a week ago, fellow Red Wings Contributor Brandon Peleshok discussed whether sending forward Tomas Jurco back down to the Grand Rapids Griffins would allow him to rediscover his scoring touch.
While I certainly agree that a trip to GR would benefit Jurco, who is waiver-exempt, I want to discuss why that could be a bad idea for the Wings.
In 106 regular season games with the Griffins, Jurco has tallied just 60 points (27 G, 33 A) and a +16 rating, those numbers don't exactly scream NHL. As for 32 playoff games with GR, Jurco has posted 21 points (13 G, 8 A), that's a little bit better, except for a -4 rating.
Due to the abundance of injuries to the Wings last year, Jurco found himself in a position not many 21-year-old Detroit prospects do, a spot on the Red Wings roster.
In 36 games with the club, he posted a respectable 15 points (8 G, 7 A) and an even plus/minus rating. But fast-forward a year and Tomas Jurco makes the roster out of training camp. In 18 more games this season, he has the same amount of points (2 G, 13 A) as last year. That means regression.
This regression is why Brandon Peleshok has suggested the idea that a trip to the AHL may allow Jurco to regain his confidence and hopefully his scoring touch.
Looking Forward
As much as I would love to see Jurco potentially tear up the AHL after a prolonged look at the big league, it could be a financial mistake for GM Ken Holland.
Jurco is currently playing out the last year of his three-year, $2.775 million, entry-level deal and will become a restricted free agent at the end of the season. It is almost guaranteed that a larger paycheck is coming his way regardless of his year-end statistics.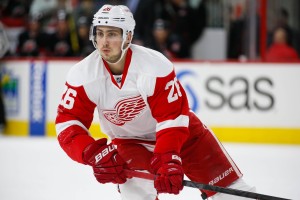 Stay with me now, because if Jurco plays out the last few weeks of the season with the Griffins and plays well, that paycheck will increase. But, if he stays with the club and plays first line, fourth line or just becomes a healthy scratch, then Holland proverbially holds all of the cards for a new contract; citing his regression as bounds for a cheaper deal.
While I may be talking merely cents to a team's salary cap, money adds up fast when other Detroit free agents include Gustav Nyquist, Brendan Smith, Teemu Pulkkinen, Joakim Andersson, Jonas Gustavsson and Dan Cleary. Holland could also potentially bring back one or both of his deadline acquisitions Marek Zidlicky and Erik Cole.
RELATED: Deadline Acquisitions Paying Dividends for Detroit
Now, looking at that list of names, Dan Cleary ($2.5 million) and Jonas Gustavsson ($1.85 million) are sure-fire departures. Cleary could be finishing up the last year of his career and it wouldn't come as a surprise should he be offered a front office job by Detroit.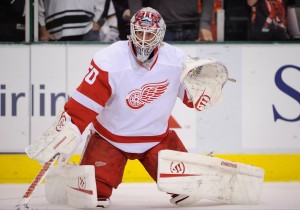 The injury-plagued Gustavsson will also probably find a new team as Petr Mrazek has played his way into the back-up role and Gustavsson's numbers don't argue a case to stay.
RELATED: Why Mike Babcock Should Give Petr Mrazek Another Chance
Nyquist ($950,000) and Smith ($1.26 million) are up for significant raises while Pulkkinen ($698,000) and Andersson ($732,500) should see an increase in money as well.
Zidlicky, at the age of 38 and Cole, who turns 37 in November, should come in cheaper than their current respective deals (Cole $4.5 million/ Zidlicky $3 million) no matter where they end up.
Statistics compiled from NHL.com, ESPN and TSN. Contractual statistics provided by Spotrac.
I offer opinions and insight on the Detroit Red Wings organization and its prospects.