In this translated interview, originally appearing on Russian portal sports.ru, Red Wings defenseman Alexey Marchenko talked current season, playing with Pavel Datsyuk, crossing the ocean, and becoming an NHL player.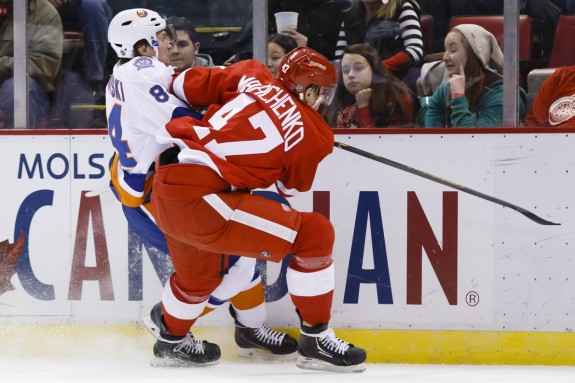 * For the original sports.ru interview by Andrey Osadchenko, click here.
Current Season
– In spite of your serious injuries, you managed to play in the KHL first, then in the AHL, and finally in the NHL. Is this your time now?
– Everyone picks up injuries. The only thing is that maybe I got more of them than other players. You need to go through this, work hard and become better every day. I think that the harder you work, the more you'll gain. If you work hard, other people will see that and give you a chance. And then you have to take advantage of it.
– At the end of January you have been called up by the Wings. You also played a few games last year, your time on ice wasn't bad.
– Yes, this year in my first game I didn't play many shifts. Then the situation changed. I try to play better and better with every game, and I think that I'm doing pretty well.
– In junior hockey you always shot the puck a lot. Why do you have problems with it now?
– I try, but the puck doesn't get to the net. Maybe I don't have a hard enough shot (laughs). Seriously speaking, after all only shots on goal count, and I somewhat have a lot of blocked shots or something like that. Or maybe I think that a line mate is in a better position and I'm gonna to give him the puck for a better shot attempt. I always try to play a passing game. But yes, I think that I should shoot more. Sometimes I still play Russian hockey.
– Many have the impression that in Russia not much attention is given to defensemen, therefore a couple of years in North America can be very useful to Russian blue liners.
– Here the practices are conducted at a very high tempo. This is what surprised me the most once I got to North America. Then I practiced in Moscow, and everything seemed to me very slow. Here the practices are more intensive, and you get used to it pretty fast. And also, here the game itself give defensemen something to add to their game. You need to think faster and have less time to take a decision. Even if you are hardly pressed, you still must be able to give a pass. "Take a hit to make a play", as people say here.
– Someone says that playing in the NHL is simplier than playing in the AHL. Do you agree?
– It's simplier, but both leagues have their difficulties. In the NHL the game is smarter and faster. You have less time to take a decision, you need to play the puck faster, and so on. But your team mates are tactically more prepared. They know where to go, and this is a huge advantage. But the AHL is a good league too. There you can get used to the more physical game, because every time you play under pressure. They teach you to play faster, and in the NHL you have to play even faster.
[…]
Crossing The Ocean
– In the past you said that it makes no sense to cross the Ocean without being an impact player in the KHL. Did you think you were ready to this step?
– It's a new experience. Until you're young and you have a chance, you need to get advantage of it. I didn't move to America from the junior leagues, I spent 4 years in the KHL, even if not all of them were full seasons. I've played pro hockey since I was 17, therefore I know what it means. I wasn't a superstar like Vladimir Tarasenko or Evgeny Kuznetsov, but I also practiced a lot and tried hard. During the lockout season I played against very good opponents. Detroit offered me a contract, giving me a chance to play here. Of course I knew that playing here would be hard, because the game is very different, if compared to the KHL. The AHL in terms of style, is closer to the NHL. You need to play there and to gather the necessary experience. Here you also learn to know that you need to work hard and wait your chance. The harder your work, the most probable is that you'll get your chance to play in the NHL.
– Considering your history with injuries, weren't you worried about moving to North America, considering that hockey there is more physical?
– Until you don't get here [to North America], you don't understand how they play hockey there. In any case you won't be ready. If they give you an offer, it's up to you to decide. I wouldn't say that I was scared, quite the opposite, I was curious about the different play and I wanted to improve as a player. Here the hockey is different, therefore you become more universal, you'll play better under pressure and improve your physical game, you learn how to deliver and how to take a hit. In the small ice you learn to think faster. This is a very useful experience.
[…]
– What did you like and dislike the most in the AHL?
– I didn't like travelling by bus. Grand Rapids is pretty much in the center and we don't have teams which are geographically close to us. The shortest travel is to Chicago, and it takes about four hours. We are between Iowa and Rochester. From one end to another it's about ten hours, they travel to each other by plane, but we travel only by bus. In what I like I'll include Grand Rapids itself. It's a pleasant city. In the Western Conference there are many good cities, Chicago, Toronto, Milwaukee, Cleveland. We have a full arena in every game, about 8-9 thousand people. Last year we were the second best team in attendance. It's great to play in front of so many people.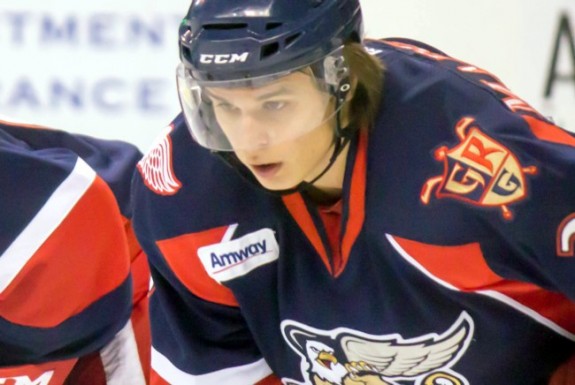 – Do players still play cards?
– Even if now you can play a console game on the bus, cards are still the most popular game, especially among veterans. The busses are equipped with special places with tables. People play cards for the whole trip there. In the NHL it's the same, I play domino with Datsyuk. We play with Sergey Chekmarev, the Red Wings' masseur, he lives here for twenty years already. I know the rules, but need to learn some tactics. Pavel and Sergey are very experienced players.
– They say that Datsyuk is always the first player to approach Russian rookies in Detroit, giving his phone number and telling to call whenever is needed.
– It's like that. He always calls you to invite you to dinner or simply for a greet. We are always together in away trips. Once we get back, he usually sends me a text asking to hang out together. During the games he always talks to me, he says what I'm doing right and what I'm doing wrong. He's not one of the guys who tells you that if something went wrong it doesn't matter and that you're doing great anyway. He can tell you that you played bad. But if he tells you that you played well, then you really played well.
– In the NHL there is a undisputed tradition: the rookies dinner. Is it the same in the AHL?
– Of course, it's the same. We played paintball, but the curious thing was that rookies had no guns. We simply run around, and other guys shot at us. We also had no defense. We were six, two of us dressed up as a chicken. With a big wing on the back.
– In the AHL there aren't many Russian players this year. You have a significant experience in this league, do you know why they preferred moving to the KHL?
– Well, someone prefers playing home, maybe a few other guys didn't get chances. Someone else doesn't adapt to the different game, and maybe other players don't get acquainted with the different lifestyle. Everyone has his reasons and his own life. You can't judge other guys.
Some players get a chance, someone else do not. Nikita Nesterov, for example, played in the AHL, then he got called up to the NHL, he's playing well, he scored a goal. On the other hand, Maxim Shalunov wasn't lucky. Rockford is a very good team. It isn't always easy. In Syracuse there are many Russian players, they can help each other. If a player is alone, then it's harder. Especially if you don't play, but just warm the bench. We had Mattias Backman. He got there at the end of the season, and he scored six points in ten play-off games. It was looking like he would play in the NHL. In Sweden he had one of the best plus/minus in the league. This year he went back, but simply there wasn't a spot in the roster for him. He got here because he wanted to progress, and not to sit on the bench as seventh defenseman. This is why he wanted back home. And now he's one of the best in the SHL, which is one of the best leagues in Europe. And how can we judge him if he wanted to play, but he didn't have a spot in the roster? At this point it would have been better for him to get back home. I think that many Russian players are in the same position.
Read also: Do the Red Wings Need to Trade With Alexey Marchenko?
A professional hockey writer and translator. Loves Russian culture, language, and hockey. Reachable on twitter @AlexSerenRosso