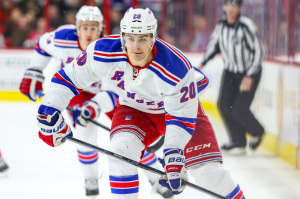 Chris Kreider displayed how his physicality and strength could impact a game Sunday night. The Rangers aren't an overly physical team, they are 18th in the NHL in total hits. If they are going to go thorough the rigors of the playoffs, they will need Chris Kreider to continue to bring a gritty element.
Kreider Using His Size
Kreider's performance on Sunday night was a perfect example of how the young winger could impact a game. Kreider was the center of the Florida Panthers attention, he was flying around the ice, winning corner battles and throwing heavy checks. Late in the third period he threw a hit on Erik Gudbranson that stirred the Florida bench.
You can see that Gudbranson had just gotten rid of the puck, Kreider turned his body as if to let up, but sent Gudbranson to the ice awkwardly. John Giannone who works between the benches for MSG tweeted on Monday afternoon about the tension.
From last night: there was plenty of Panther outrage at Kreider hit on Gudbranson. Coach Gallant at referees, players toward Kreider(1/2)…

— JOHN GIANNONE (@jaygeemsg) March 16, 2015
(2/2) Most vocal was Jagr, who through expletives accused Kreider of not respecting game. Score/standings dictated lack of physical response — JOHN GIANNONE (@jaygeemsg) March 16, 2015
After Gudbranson got back on the ice it was obvious that he was going after Kreider. Late in a one goal game Panthers coach Gerard Gallant decided to take Gudbranson off the ice to make sure he didn't take a penalty, or make a reckless decision. Kreider didn't respond with his stick or his gloves, but he did add a bit of gas to the fire by giving Gudbranson a friendly wave, as he made his way off the ice.
The animosity t'words Kreider actually started early in the game when Kreider sent Panthers defensemen Willie Mitchell flying in the corner.
After this hit, Gudbranson could be seen whacking Kreider with his stick on the way to the bench. I don't know if Kreider finished his hit later in the game because of the slash, but I do know that he wasn't allowing Gudbranson to intimidate him.
Why the Rangers Need This from Kreider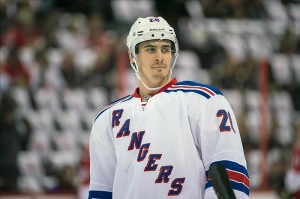 Having a player that can produce offensively, be physical and agitate, has become key for playoff teams. Look around the league at players like Brad Marchand (Boston Bruins), Justin Abdelkader (Detroit Red Wings), and Andrew Shaw (Chicago Blackhawks). These players have all been successful in playoff situations, because they have a way of getting under opponents skin, and drawing attention to themselves. When people are focused on them, they aren't focused on players like Rick Nash or Henrik Zetterberg.
At the moment the Rangers are missing one of their grittier players in Kevin Klein, and it will be hard for Tanner Glass to get into the lineup come playoff time. So if the Rangers are going to have some bite in their lineup, it will need to start with Kreider. Last year Kreider was injured for a chunk of the post-season, when he was getting close to coming back against the Penguins, Rangers Coach Alaign Vigneault said to Steve Zipay of Newsday, "The size and speed he has would put pressure on the defense, and obviously, Kreids is real good with the net presence on the power play," The big winger did change the series, as he helped the team rally from being down 3-1. Kreider has had consistency issues in his career, but if he can maintain this play he will make the Rangers even better.
I graduated from Brooklyn College with a B.S. in Broadcast Journalism. Shortly after, I began writing for the Full Tilt Hockey Network, where I still contribute, covering a broad range of topics across the NHL.
I have been contributing to The Hockey Writers since February of this year focusing on the New York Rangers. My articles tend to focus on analysis of players, and possible directions that the organization could go.