*Before the Season Ends
The San Jose Sharks season is awkwardly careening to an end, almost certainly without a playoff appearance. Still, there are important things that can get accomplished at a time like this. Perhaps it is time to see what back-up goalie Alex Stalock can do in an extended look, we already know enough about upcoming free agent Antti Niemi.  Moving Brent Burns back to forward?  I'd like it and as would others, but we are more likely to get a foot of snow in San Jose than to get the stubborn brass to make that obvious move.
It is always a good time to win games and while the Sharks are a long shot for the postseason, their games remain meaningful at the moment. The longer this team plays meaningful games, the more players can develop with actual pressure to succeed. The Sharks next game, on Tuesday in Winnipeg, could be the last time this year the Sharks will have meaningful '4 point' game. And while I hope for meaningful games the rest of the way, the odds are heavily against that.  So it makes sense to look at some things that could actually help this team for longer term.
5. A Hat Trick for Tomas Hertl
Tomas Hertl had two multi-goal games in his first 3 NHL games and 6 goals in total. You knew that pace was not going to last. For the moment, let us forget that even happened.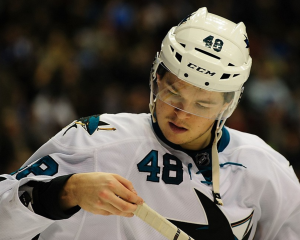 Starting in game 4 last season, the rookie netted 9 goals in his next 31 games. 8 of those goals were at even strength, corresponding to a rate of slightly over 20 even strength goals per year. That is a big number for almost anyone, let alone a rookie.
All that goodness came to an end when Hertl was taken out by Dustin Brown in a knee-on-knee hit, requiring surgery for Hertl on multiple ligaments.
This season, Hertl has scored only 11 goals and has just 1 multi-goal game, a 2 goal effort against Carolina. The burst that was so evident in his game prior to the injury is only now showing signs of returning. Certainly the physical aspect of the injury is an issue, but one also wonders about the mental aspect with such a young player.
For the Sharks to become a good team again, Hertl must become a goal scorer again. This is made even more urgent by the rapid decline in goal scoring from Patrick Marleau. The need is there and this talented 21 year old is the best candidate for filling that role. A hat trick would be a message that Tomas Hertl is finally back. A message that probably would help Tomas Hertl as much as anyone.
4. Matt Tennyson in the Line-Up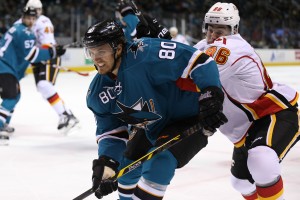 The future is filled with question marks, but if Doug Wilson's rants about equity in the offseason were to be believed, everyone earns their place. Matt Tennyson earned his place. At least one would have thought so. He has the best goals against per 60 minutes at even strength play of any Shark. Further, he is a right-handed defenseman, an area where the Sharks are light. An area that they should get even lighter because there is no way that Brent Burns should be back on the Sharks blue line next year.
There is a rational contractual explanation for Tennyson being in Worcester instead of San Jose. But that rationale should be superseded by Wilson's prime directive, that pedigree doesn't matter and young players will have the chance to take a job if they earn it. Further, Tennyson would likely be paired most frequently with Scott Hannan. Being on ice with the savvy veteran would seem to be an ideal way to develop. For the sake of both the team and the player, Matt Tennyson needs to be in San Jose's line-up.
3. A Fight for Mirco Mueller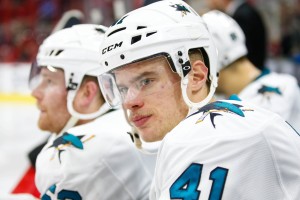 Mirco Mueller was not an NHL ready rookie when he began the season and even now, he's still on the cusp. Mueller is a teenager for a few more days, perhaps part of the reason he has not been overly physical. Playing in about half the Sharks games, Mueller has only had 3 minor penalties that involved contact.  His 6'3″ frame suggests than could and should change. Physically, he was a kid playing a man's game at the start of the season. He needs to become a man. Various reports had him gaining close to 20 pounds in the past year, likely a combination of training and filling out naturally. While both of these processes are likely to continue for him, he is a lot closer now to the frame he'll carry as an NHLer than he was a year ago. He is learning how to adjust to his extra size and strength. This season should have helped him figure out a lot of what he needs to become.
Mueller came close to a fight against, of all people, Anaheim's Ryan Getzlaf.  They dropped the gloves and the two circled for a few moments. That happened back in October. The refs, spotting both a mismatch and some separation between the players, wisely jumped in between the two and prevented any punches from being thrown. 2 minutes each for unsportsmanlike conduct. Getzlaf would fight later on in this brawl filled game.
Mueller is going to need up his physical play.  More snarl, more hits, more battles.  And while taking penalties is not a good thing, you will put up with more penalties if it is coupled with more aggressive play. He will have to fight someone sometime. Call it a rite of passage. It'd be good to have that happen this year. Hopefully though, with a different opponent than Ryan Getzlaf.
2. Firing of John Tortora
An unfamiliar name to many, John Tortora is the top executive for Sharks in San Jose. He has proven remarkably tone deaf in his interactions with the community. Given the team's play this season, having the goodwill of the community matters more than ever. The Sharks have built up a lot of it over the years, it is foolish to see it squandered.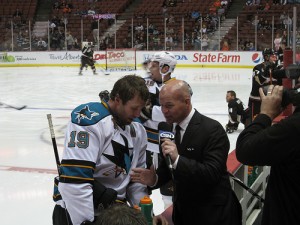 Tortora's 'ice girls' decision was a big to do about nothing, but did get people to pay more attention to the upstairs brass. Firing the well-regarded broadcaster Drew Remenda was harder to figure, especially with the non-explanation that came with it.
Telling the season ticket holders they needed to pony up more money for next year's season tickets and commit to an earlier renewal date was never going to be an easy sell. But Tortora made it worse with his accompanying explanation (energy costs, travel costs, building maintenance). The Sharks went to demand pricing in order to increase revenues when demand exceeded supply. Now that supply is exceeding demand, he wants the fans to think that prices should be based on operating expenses. Further, the examples he cited would seem to be bogus. Energy and fuel costs are both down in cost, with jet fuel a major part of travel costs.
As for building maintenance, just stop. The venue sells 700,000+ tickets to non-sporting events, many at prices that exceed hockey game prices. I paid a whole lot more to send my girlfriend to see Andrea Bocelli at the Shark Tank and she wasn't even sitting on the glass, or whatever that equivalent is when Andrea Bocelli is in the house. The hockey team does not own all the building maintenance. If you really want fans to think you care about facilities, put a few extra pennies into making the ice surface better.
The organization seems to be struggling with Tortora sitting in the top chair, running the show for a largely absentee owner. People do not seem to be buying what Tortora is shoveling. Unlike decisions about coaches, players and hockey operations staff, ousting Tortora does not need to wait for the season to conclude.
1. A Forward Line of Brent Burns, Joe Thornton and John Scott
OK, maybe it is just me, but it sure would be fun to see. Thornton, who is nicknamed Jumbo and is one of the largest centers in the league, would be the smallest player on that line.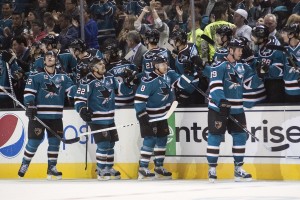 Vertically speaking, these are the 3 largest Sharks. They use the 3 longest sticks and have the 3 longest reaches. Reach is one of the more intriguing aspects of hockey. A long reach can influence play over an unusually large area. If there has ever been a forward line with 3 reaches that equal that of this potential line, I don't recall it.
It would be interesting to see how all that impacted time and space on the ice. It would be especially challenging for a defense to get the puck and make a clean zone exit. That line holds the potential for opportunities like freakishly long offensive zone possessions and drawing a lot more penalties. Whatever it would be, it would create a new definition for 'big boy' hockey.
Roll that line for a period, maybe even a game. I can't say if it would work, but it would be a nightmare match up and force a very unusual style of play. Yeah, it's a bit of madness. The bigger question and ironically the bigger risk: what would you do if it works?